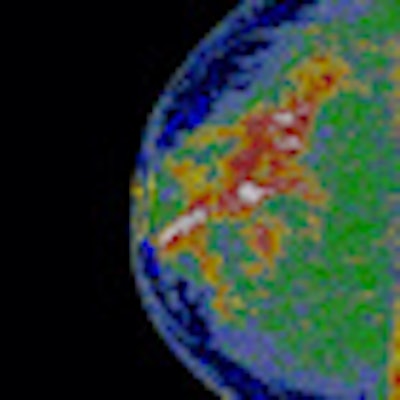 Image processing software developed by NASA to uncover hidden topographic details in satellite imagery may someday reveal disease hidden in the complex features of medical images.
That is the promise of Med-Seg, image enhancement software developed by Bartron Medical Imaging of Largo, MD, with help from scientists at NASA's Goddard Space Flight Center in Greenbelt, MD. The application could eventually improve the diagnostic prowess of CT, MRI, mammography, ultrasound, and general radiography, according to Bartron CEO Fitz Walker.
NASA assembled key figures involved in the technology's transfer from space to medical applications on October 13 for a down-to-earth teleconference, coinciding with National Breast Cancer Awareness Month, to describe its prospects.
Hierarchical segmentation (HSEG), the original NASA satellite imagery software, was designed by NASA computer engineer James Tilton, PhD. It allows users to focus on the specific features of an image that are not easily distinguished by other methods.
Tilton explained that HSEG improves upon software that enhances resolution only on a pixel-by-pixel basis by expanding the scope of analysis to large objects that have shape, pattern, and size relationships similar to other relevant objects in a defined region. The software separates the regional objects into regional classes. Their characterization is refined after several levels of automated enhancement, while the high resolution of their edges is preserved. Color is added to make them more conspicuous.
Tilton presented a series of satellite images of inland lakes in northern Wisconsin to illustrate HSEG's performance. The precise number, location, and size of the lakes were impossible to ascertain from the unprocessed images. After enhancement, however, the lakes colored in blue were easily detected and assessed from a presentation where all land features were coded in brown in the background.
Walker recognized the potential of applying this approach to medical imaging while attending a NASA technology transfer conference in July 2001. The experience led him to license the software.
"When I saw the technology that Dr. Tilton was working on, it really made me excited that I could see something in it that could make a company grow out of it, a technology that could be applied to developing an analysis of different types of imaging modalities, such as MRI, CT, and ultrasound," he said.
Bartron's Med-Seg software received 510(k) clearance from the U.S. Food and Drug Administration (FDA) for medical image segmentation and enhancement indications in July. It uses the same hierarchical image segmentation strategy that powers Tilton's software. The Med-Seg workstation consists of a front-end terminal for segmentation feature extraction, pattern recognition, and medical image classification. Three monitors display images and data. HSEG was modified for DICOM compliance to process data originating from various medical imaging modalities.
Molly Brewer, MD, a professor of gynecologic oncology at the University of Connecticut Health Center in Farmington, showed images demonstrating Med-Seg's ability to produce detailed maps of breast density from digital mammography. The maps offer a more detailed evaluation of breast density than is possible from radiologists' general assessment of density from viewed images, she said.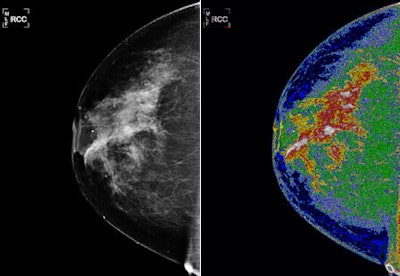 Med-Seg processing of the digital mammogram (left) produced a colorized density map of breast parenchyma. Regions of the highest breast density appear in white. Declining density levels are characterized in areas colored red, yellow, green, and blue. Images courtesy of Bartron Medical Imaging.
"The thing about mammography is that we have a reasonable false-negative rate, particularly with women with dense breasts," Brewer said. "One of my ideas was that if we could adapt this technology to adequately and more accurately read mammograms, it might save money and actually improve care for women."
Clinical testing is just getting under way, Walker said. Alan Lurie, DDS, PhD, director of oral and maxillofacial radiology at the University of Connecticut School of Dental Medicine, also in Farmington, has presented the most advanced scientific inquiry on Med-Seg up to now. A poster presentation by his group compared a Med-Seg map of bone density in the human jaw with measures from dual-energy x-ray absorptiometry (DEXA).
Brewer stressed the need for more research and additional product development to capitalize Med-Seg's potential.
"We need to do clinical trials, compare our finding with known pathology, and then develop an algorithm that can tell us: probably cancer, probably not cancer, and benign," she said.
By James Brice
AuntMinnie.com contributing writer
October 20, 2010
Related Reading
Bartron nets FDA OK for software, October 18, 2010
Road to RSNA, Advanced Visualization, Bartron Medical Imaging, November 18, 2004
Copyright © 2010 AuntMinnie.com