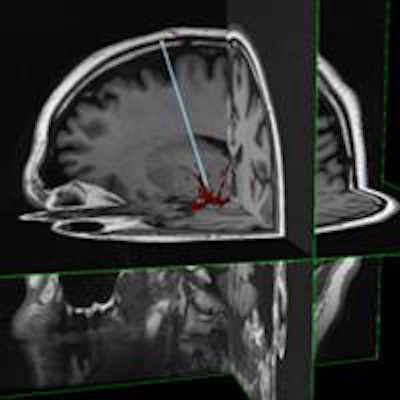 Wisconsin researchers are developing a new software platform that would allow surgeons to observe the brain in real-time on MRI during surgical and therapeutic drug interventions. The goal of their company, called InseRT MRI, is to develop customized MRI-guided minimally invasive procedures.
InseRT MRI hopes to make MRI-guided procedures easier by developing real-time interfaces and scanning capabilities that can be customized for individual interventions. What's more, the company's platform is independent of scanner vendor, potentially creating an easier regulatory path for users.
"We are trying to change a diagnostic imaging modality and make it into an interactive, real-time modality," said Walter Block, PhD, company co-founder and professor of biomedical engineering, medical physics, and radiology at the University of Wisconsin-Madison. "We want to create a real-time, interactive environment by which a surgeon can interact with a [MR] scanner in a way that is similar to what they do every day using the techniques they've used for generations without MRI."
MR-guided applications
In its current configuration, InseRT's software platform interacts with an MRI scanner through a "portal" being developed by start-up firm HeartVista. Block has worked with HeartVista for five years to develop applications on its RTHawk platform.
With the help of InseRT MRI's software, the RTHawk portal controls the operation of the MR scanner, including image acquisition and reconstruction and tissue visualization, but remains separate from other software within the scanner, except for related patient safety functions.
InseRT MRI sees two prime applications for its MR-guided platform. One is drug delivery to the brain for patients with cancer, degenerative neurological diseases, and psychiatric conditions.
As Block explained, therapeutic drugs move at different rates through the brain's gray and white matter. The availability of real-time data and information on where the drug is moving would allow surgeons to change the location of a catheter or the flow rate of the medication.
"The blood-brain barrier accepts only a small number of molecules, so given the number of different therapies in the brain, you need to create access to the brain," he said. "If you were to do a craniotomy, you insert catheters into the brain. A technique called convection-enhanced delivery creates pressure, and the spaces between the cells in the brain expand. That creates room for the liquid-based drug to move into that region of the brain."
A gadolinium-based contrast agent is added so that drug delivery can be tracked on MRI.
"We use [gadolinium] as a marker, and by doing a series of MR images, we can quantitatively determine the tracer concentration and thus determine whether gene therapy has been delivered," Block said.
So far, the company has successfully guided convection-enhanced delivery procedures in vivo in swine brains, as well as five gene delivery procedures in a nonhuman primate model.
The software platform has achieved millimeter accuracy in catheter placement and monitoring infusions as small as 12 mL, Block estimated.
A second potential application for the software is robotic-controlled MRI-guided breast biopsies. InseRT MRI is collaborating with another start-up, Marvel Medtech, which is developing an MR-compatible biopsy device. InseRT MRI would provide the user interface and real-time imaging control and visualization to guide and monitor needle insertion in the breast.
By not developing its software to "splice into" an OEM's MRI scanner, Block said his company will not have to change its platform every time an OEM alters its software. It is a technological pitfall that many small device companies often cannot avoid.
"The problem device companies have is they start with very meaningful intentions, but their initial market size, in effect, is not enough to get the attention of major manufacturers," Block added. "So they have to come up with workarounds and are forced to use the product offerings and the diagnostic interfaces that scanner companies provide."
InseRT MRI received a financial boost of confidence in September 2013 in the form of a phase I Small Business Innovation Research (SBIR) grant from the National Cancer Institute (NCI).
In August, Marvel Medtech was approved for phase II funding to continue development of its technology. InseRT MRI recently submitted its phase II funding application and is waiting for a decision.
More testing ahead
There are still more trials to come before InseRT MRI is ready to submit its software platform to the U.S. Food and Drug Administration (FDA) for regulatory approval.
"We are looking to create the right type of development environment that would allow us to go for an FDA investigational device exemption, so we could guide some procedures such as brain biopsy and delivery of chemotherapeutics to the brain," Block said.
The company is looking to begin studies in human subjects -- most likely starting with brain cancer patients -- within a year or two, with final FDA approval targeted for some time in 2017 or early 2018.