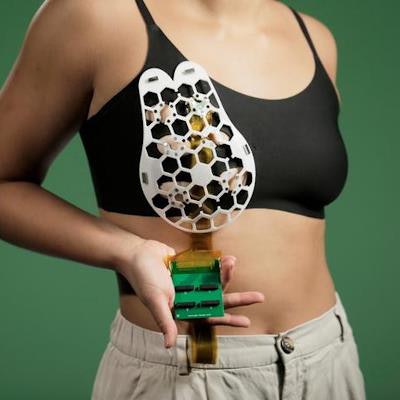 A wearable ultrasound patch showed success in a pilot study for detecting potential breast cancer early, according to a study published July 28 in Science Advances.
A team led by Canan DaĞdeviren, PhD, from the Massachusetts Institute of Technology (MIT) in Cambridge reported that the cell phone-sized patch successfully detected breast cysts in a 71-year-old woman with a history of breast cysts.
"For use in practical applications, additional advantages prevail, such as reusability, ease of operation, and increased feasibility for at-home continuous monitoring of breast abnormalities from an earlier stage when lesion dimensions do not yet exceed 2 cm," DaĞdeviren and co-authors wrote.
The earlier a breast tumor is diagnosed, the better the prognosis will be. That's the golden rule as new breast imaging technologies make their way into the clinic. However, interval cancers persist as a problem, occurring in between 20% and 30% of breast cancer cases, according to the researchers.
Ultrasound is typically used in a supplemental manner for breast cancer screening, such as confirming suspicious findings in women with dense breasts. Du and colleagues developed their flexible patch scanner with portability and ease of use in mind. They reported that the patch, which can be worn on a bra, provides real-time monitoring of breast tissue from different angles. The given name of the device is conformable ultrasound breast patch (cUSBr-Patch).
The scanner is based on conventional ultrasound technology, but it also uses a novel piezoelectric material that allows it to be in a smaller size. The team also developed a flexible, 3D-printed patch with honeycomb-like openings to make the scanner wearable. By fitting into a small tracker and making contact with the skin, the cUSBr-Patch can be moved to six different positions and rotated to image the breast. The researchers said that no special expertise is needed to operate the scanner patch and that it can be used repeatedly.
For the pilot study, DaĞdeviren and colleagues tested the patch on a 71-year-old woman with a personal history of breast cysts and a body mass index (BMI) of 37. The team found that the scanner could detect cysts in the woman, which were as small as 0.3 cm in diameter. The team also reported that images taken from the device had comparable quality to those of conventional ultrasound and that breast tissue images could be acquired at a depth of up to 8 cm.
To view the images, the group had to connect the cUSBr-Patch to a conventional ultrasound machine. The authors used a data acquisition interface to connect the patch's array to a Vantage 256 system (Verasonics). They also performed imaging using this system with the patch first and then verified the images using a Logiq E10 scanner (GE HealthCare) with an ML6-15 linear probe. The researchers said they are working on a compatible imaging system that's also the size of a cell phone.
While the mini scanner would not replace screening mammography as the primary imaging modality, the team suggested that the device could be useful for imaging in between yearly mammograms. The authors also suggested that the device could help women who do not have regular access to breast cancer screening.
The MIT team is also working on developing a workflow for AI to analyze data on how images change over time, as well as adapting the ultrasound technology to scan other parts of the body.
"Such systems may be developed to co-integrate with wireless communication for continuous clinical monitoring of a wide range of soft tissue conditions in which image variations, measured by the cUSBr-Patch, can be anticipated via either time-dependent alterations in progression in soft tissue anomaly or a response throughout medical therapy," the authors wrote.