Minnies winners, page 3
Scientific Paper of the Year
Minnies 2019 winner: NELSON study shows CT screening for nodule volume management reduces lung cancer mortality by 26% in men. De Koning HJ et al, World Conference on Lung Cancer, September 2018. To learn more about this paper, click here.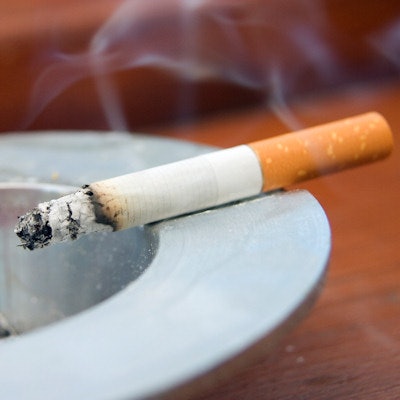 Could the dam that's been holding back CT lung cancer screening finally be starting to break? That possibility is illustrated by the research study that was named Scientific Paper of the Year in the 20th anniversary edition of the Minnies.
In the U.S., the National Lung Screening Trial (NLST) demonstrated that CT lung cancer screening produced a mortality benefit of 20% in high-risk smokers. But despite that landmark finding, rates of CT lung cancer screening have lagged in the U.S., in the low single digits.
In Europe, public health authorities have been reluctant to implement population-based screening programs in the absence of data of their own -- and the NELSON study meets that criteria. NELSON was commissioned as a randomized, prospective study of CT lung cancer screening in 16,000 individuals in the Netherlands and Belgium over 10 years. The study's goal was to answer the question of whether CT lung screening should be rolled out on a population basis to high-risk people such as smokers.
Results from NELSON, therefore, have been long awaited, and at the World Conference on Lung Cancer in September 2018, the lead researchers did not disappoint in presenting 10-year follow-up data from the study. High-risk smokers who received CT lung screening according to NELSON criteria had a 26% lower mortality rate compared with individuals who received no screening at all. What's more, men had an even higher mortality reduction, at 61%.
While the radiology world is still awaiting publication of final data from NELSON, European public health authorities are beginning to lay plans for large-scale lung cancer screening programs for high-risk individuals. Hopefully, they will avoid some of the missteps that have plagued CT lung cancer screening in the U.S.
Runner-up: 68Ga-FAPI PET/CT: Tracer uptake in 28 different kinds of cancer. Kratochwil C et al, Journal of Nuclear Medicine, June 2019. To learn more about this paper, click here.
Best New Radiology Device
Minnies 2019 winner: Adaptive imaging receive (AIR) flexible MRI radiofrequency coils, GE Healthcare
Most of the time, the winners in the Best New Radiology Device category of the Minnies are complete systems, like a new MRI scanner or a radiation therapy system. But grabbing top honors this year is a component -- adaptive imaging receive (AIR) flexible MRI radiofrequency (RF) coils from GE Healthcare.
Perhaps that's a testament to the novel design of the AIR coils and their potential impact on patient care. The coils are 60% lighter than conventional RF coils and are flexible enough to be wrapped around patients, enabling them to be scanned in more comfortable positions.
The genesis of the AIR coils came as GE tried to address a dilemma posed by conventional "body armor"-style coils, which are inflexible and require patients to be placed in uncomfortable positions, according to Eric Stahre, president and CEO of GE's magnetic resonance imaging business. GE targeted two specific issues: the inflexibility of the copper flex circuits used with existing RF coils, and the tendency for coil signals to degrade if they are positioned too close to other coil elements.
GE is jealously guarding the technology behind the AIR coils but did disclose that, rather than copper, the coils are based on interaction controlling adaptive wire (INCA) technology, a type of noise reduction design used in cables. The end result is an RF coil that is extremely flexible and can be overlapped with other coils without reducing performance.
"When you put this in the hands of technologists, they can position the patient in the most comfortable orientation," Stahre said. "You have complete flexibility, and the signal doesn't degrade. You get great image quality, and the patient is more comfortable."
Further simplifying patient positioning is AIR Touch software that is available with the coils. After a reference scan is performed, the software is then able to determine automatically which coil elements should be used with the study and passes that information on to technologists.
GE began shipping AIR coils to evaluation partners in the fall of 2018, then debuted them publicly at RSNA 2018. Full-production shipments began shortly after that.
The initial AIR coils are available as a 30-channel anterior array coil, a 21-channel multipurpose large coil, and a 20-channel multipurpose medium coil. The company recently demonstrated a pelvic coil, a brachial-plexus coil, and one for specialty operations as prototypes. An AIR coil optimized for radiation oncology also is in development.
"We are only limited by our imagination and our customers' imagination to come up with new and different designs," Stahre said. "The sky is the limit ... we're just getting started."
Runner-up: Elekta Unity MR radiation therapy system, Elekta
Best New Radiology Software
Minnies 2019 winner: Aidoc's pulmonary embolism triage software, Aidoc
The ability to identify imaging studies with likely emergent findings and triage them for radiologists has emerged as a key early application for artificial intelligence (AI) technology in radiology. So it's no surprise that Aidoc's pulmonary embolism (PE) triage software won the favor of the Minnies expert panel, which named the product Best New Radiology Software for 2019.
The algorithm analyzes CT pulmonary angiograms immediately after they're acquired and then flags and prioritizes suspected PE cases for priority review by radiologists, according to Aidoc CEO Elad Walach.
"The solution has a proven track record of integrating in over 150 different IT architectures and is agnostic to PACS, workflow solutions, and modalities used -- providing notifications directly in the radiologist's working environment with no need for the radiologists to change the way they work or perform extra clicks," Walach told AuntMinnie.com.
The algorithm garnered U.S. Food and Drug Administration (FDA) clearance in May and is the third in Aidoc's line of AI triage software applications to receive regulatory clearance. It was trained using a diverse dataset that was annotated by radiologists and included different scanner models, scanning parameters, and patient populations, according to the firm.
It's a "highly sensitive and highly specific solution that performs well on suboptimal contrast timings, common artifacts, and subtle findings," Walach said.
At ECR 2019 in Vienna, researchers from University Hospital Basel presented cases demonstrating the AI software's capacity to help manage PE without disrupting conventional workflows. The algorithm is currently being used by 1,400 users, Aidoc said.
In future plans, the company will conduct clinical studies on the algorithm's value for facilitating peer review. In addition, Aidoc would like to -- pending FDA clearance -- extend the algorithm to nondedicated scans to detect incidental findings, Walach said.
Runner-up: PowerScribe One radiology reporting software, Nuance Communications
Best New Radiology Vendor
Minnies 2019 winner: CureMetrix
Computer-aided detection (CAD) doesn't have the best track record in radiology. To many, it conjures up images of mammography screening exams dotted with "suspicious" findings that require follow-up by radiologists -- at reimbursement levels that are woefully inadequate.
But given that the first CAD software application was approved more than 20 years ago, is it possible that CAD might work better with today's technology, including AI? That's the premise behind CureMetrix, winner of the Best New Radiology Vendor award in this year's 20th anniversary Minnies competition.
CureMetrix has developed a suite of applications under the tag line "CAD that works." The company's algorithms represent true AI-based CAD and have the potential to improve patient care and radiologist workflow in a number of ways, according to Kevin Harris, CEO of the La Jolla, CA, company.
CureMetrix's technology is based on research performed at the University of California, San Diego for space weather prediction -- specifically, to differentiate signal from noise. CureMetrix was founded to see if the technology would work in healthcare, and after an initial foray into population health modeling, the company transitioned into image analysis.
CureMetrix's algorithms differ from CAD in several ways. For one, rather than analyzing raw image data for changes in technical parameters such as Hounsfield units, they work on the same mammography presentation views that radiologists see, Harris said. Also, rather than having an algorithm hard-coded with rules for determining what defines a calcification, for example, they use neural networks so they are always learning and improving their performance.
The company's first product is cmTriage, an algorithm for analyzing all the mammograms that might go through a breast center and prioritizing the radiologist worklist with the ones that seem most likely to have cancer. cmTriage's analysis parameters can also be adjusted to meet different goals at a center. For example, the algorithm's sensitivity could be set to 99%, catching all cancers but eliminating 20% to 60% of normal cases. Or, sensitivity could be tuned down to mimic a hospital's own recall rate and catch only the most egregious cases of cancer. cmTriage received U.S. Food and Drug Administration clearance in March.
Next up is cmAssist, which can work in conjunction with cmTriage to analyze individual images, marking suspicious regions of interest and placing scores on them that indicate likelihood of malignancy. Early tests of the algorithm indicate that it can help improve the performance of less experienced radiologists to the level of more experienced ones. CureMetrix is waiting for 510(k) clearance of cmAssist.
Finally, CureMetrix is working on cmAngio, which would analyze breast artery calcification from mammograms to give women a score indicating their likelihood of heart disease. This could improve the effectiveness of mammography screening by enabling it to detect multiple diseases with a single exam, Harris said. The company hopes to begin selling cmAngio sometime in 2020.
Harris sees CureMetrix as trying to put AI tools into radiologists' hands that work and improve patient care.
"This is not about getting rid of the radiologist or replacing them with AI," he said. "It's about trying to increase the level of care without increasing the level of cost."
Runner up: United Imaging Healthcare
Best Educational Mobile App
Minnies 2019 winner: CTisus iPearls, Dr. Elliot Fishman (iOS)
Dr. Elliot Fishman's CTisus iPearls app wins its second Minnie award for Best Educational Mobile App after defeating the defending champion (Radiology Assistant 2.0) in the finals. Now a 10-time Minnie winner (see Best Radiology Image below), Fishman also previously won this award in 2016 for the CTisus Critical Diagnostic Measurements in CT app.
CTisus iPearls can be used on the iPad or iPhone and features "pearls" -- facts or knowledge that can help radiologists make the correct diagnosis. The app is updated by the CTisus crew at least every six months, and with a recent upgrade, now features about 900 pearls that are organized by organ system and also areas of interest, said Fishman of Johns Hopkins University.
"It covers many things from the pancreatic tumors to things on 3D to things on deep learning," he told AuntMinnie.com. "I have a lot of quotes from articles and key facts, and people do like to know bits of information. It kind of fits to this modern generation of being able to get snippets of information and not reading large articles."
Fishman creates the pearls himself, and the app's regular updates ensure that the information is up to date, he said. In future plans, his team is working on making the content more searchable within the app. He also welcomes feedback from users.
In other CTisus mobile app news, Fishman said that that Dr. Hannah Recht, a radiology resident at Johns Hopkins University, has developed a new teaching and quiz app on anatomy using only cinematic rendering images. The iOS app will be exhibited at the upcoming RSNA meeting in Chicago.
Runner-up: Radiology Assistant 2.0, BestApps (iOS)
Best Radiology Image
Minnies 2019 winner: Cinematic rendering of an abdominal scan, Dr. Elliot Fishman et al.
A prolific Minnies winner since the awards began in 2000, Dr. Elliot Fishman of Johns Hopkins University will need to make room on the shelf for two more trophies this year. In addition to the 2019 Minnie for Best Radiology Image, Fishman was also voted in as this year's winner of Best Educational Mobile App (see above) and has now received a record 10 Minnies.
He was named Most Influential Radiology Researcher in 2004 and is a four-time winner of the Minnie for Most Effective Radiology Educator (2001, 2007, 2014, and 2017). He also won two previous Minnies for Best Educational Mobile App (2016 and 2017). What's more, this is the second Minnie Fishman has received for Best Radiology Image; he won the 2017 award for another cinematic rendering image of a gated CT scan.
This year's winning image shows many different organs and the relationship of the normal and abnormal structures together -- packing a lot of information into one image, said Fishman, who has worked with cinematic rendering technology since 2016.
"We've been volume rendering for 35 years, but I think cinematic [rendering] takes volume rendering to a different level," he said. "You really do feel like you're seeing the pathology from inside of the patient, so I think that's why people like it."
Efforts are underway to improve cinematic rendering, including applying artificial intelligence to automatically select the best cinematic rendering parameter for a specific application, such as visualizing pancreatic cancers, he said.
But most important, however, advocates of cinematic rendering need to demonstrate how the technology can improve patient care, according to Fishman.
"A lot of things are being developed and are being done in research environments," he said. "Our big thing is, how do we bring it from research bench to the bedside? That's really where my next couple of years, I think, are going to be focused particularly."
Runner-up: Radiographs showing large enthesophytes emanating from the occipital squama of two adult males