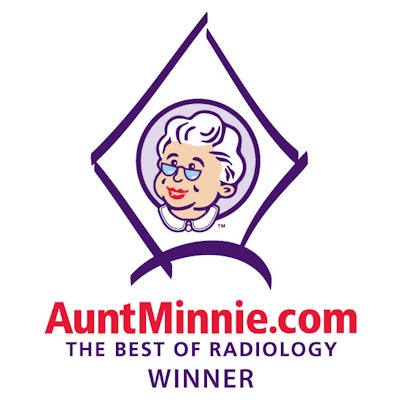 For two decades, the annual Minnies awards have served as a barometer of excellence in radiology. This year's winners are no exception, demonstrating the amazing achievements being made by researchers, educators, vendors, and software developers across medical imaging.
The Minnies awards have their origins in 2000, when AuntMinnie.com Founder Dr. Phillip Berman was looking for a way to differentiate his year-old website from a host of competitors in the radiology publishing field. As 2000 was a presidential election year, the competition was called Radiology Election 2000. But the election theme only lasted a year, with "the Minnies" being coined in 2001.
A quick look back at some of the winners 20 years ago offers some fascinating insights. Dr. Henry Wagner was named Most Influential Radiology Researcher that year, while Dr. Donald Resnick got top honors as Most Effective Radiology Educator. The impact of the internet on radiology was picked as Most Significant News Event in Radiology, while the Biggest Threat to Radiology was the decline in Medicare and third-party reimbursement rates (some things never change, right?).
Dr. Berman passed away in 2009, but the event he founded lives on and has now become one of the most respected awards events in medical imaging. We believe he would be proud of all the winners of this year's competition, as they represent truly the best in our fascinating and ever-changing medical specialty.
Below is a list of this year's Minnies winners, who triumphed over a field of more than 200 semifinal candidates in 15 categories, based on nominations submitted by members of AuntMinnie.com. A full list of semifinalists also is available. And if you'd like, view our comprehensive list of all the Minnies winners over the past 20 years.
Most Influential Radiology Researcher
Minnies 2019 winner: Dr. Barry Siegel, Washington University School of Medicine
If not for a twist of fate, Dr. Barry Siegel might have spent the last five decades as a cardiac radiologist. Instead, the professor of radiology and medicine at Washington University School of Medicine in St. Louis has served as a tireless advocate and influential contributor to nuclear medicine on a multitude of fronts.
Fate intervened at the end of his sophomore year of medical school, when Siegel was required to select a six-week elective. His first choice -- cardiac radiology -- was fully booked, so the instructor suggested he see the school's new chief of nuclear medicine, Dr. E. James Potchen, who was very eager to work with medical students. After signing up for the class, Siegel successfully completed his first laboratory research project and spent the time under the "very enthusiastic teaching" of Potchen.
"From that point on, I was hooked," Siegel recalled. "I started hanging out in nuclear medicine when I wasn't in my other classes, and I realized I was going to study nuclear medicine and radiology together. I was fascinated by the mixture of the anatomy and physiology together and thought this was a very cool thing to do."
Siegel, the former director of the division of nuclear medicine at Washington University's Mallinckrodt Institute of Radiology, certainly has seen nuclear medicine advance in leaps and bounds since the late 1960s, back when radionuclide imaging was used primarily to perform brain and liver scans. By the early 1970s, technetium became more widely available, allowing nuclear medicine physicians to expand their repertoire.
"As I think back to my residency in radiology and nuclear medicine, the most frequent test at the time was a conventional blood-brain barrier scan," he said. "Probably the second most common test was a liver-spleen scan; both of those tests are basically gone, because they were replaced by CT and MRI."
Progress and innovation over the years have been among nuclear medicine's alluring traits. Take, for example, the integration of PET and CT some 20 years ago and, more recently, the merger of PET with MRI.
"Hybrid imaging has been a major milestone in the evolution of nuclear medicine," Siegel said. "With the arrival of PET/CT, there was this amazing, rapid transformation, so that the combined information made it clear that we were learning and seeing things we had not seen before."
Whether PET/MRI follows the same trajectory as PET/CT in the clinical setting is still to be determined. Siegel believes that greater difficulty in MR image interpretation, slower throughput, and the fact that many nuclear medicine physicians, like himself, are "less comfortable with MRI than we are with CT" could stifle its utilization.
"We will probably need much faster MR imaging sequences in order to make the throughput of those scanners sufficiently more efficient so we can get the same kind of throughput we get with PET/CT. I have not seen that yet," he added.
Among Siegel's career achievements are clinical translations of a number of novel radiopharmaceuticals and his efforts to incorporate PET into U.S. National Cancer Institute multicenter clinical trials. Perhaps his greatest impact came from his time as co-chair of the National Oncologic PET Registry (NOPR) from 2005-2018. Those efforts led to greatly expanded coverage for oncological FDG-PET scans by the U.S. Centers for Medicare and Medicaid Services (CMS).
"Getting FDG more or less widely approved for use in oncology, rather than the prior case-by-case approach based on each cancer -- which was going to wear out both us and CMS -- I think was certainly an accomplishment of the NOPR team that had a real impact on how nuclear medicine is currently practiced," Siegel said.
Currently, Siegel serves as co-chair of the national Imaging Dementia -- Evidence for Amyloid Scanning (IDEAS) Study designed to demonstrate the clinical value of brain amyloid-PET in patients with mild cognitive impairment or dementia. He and his colleagues published the first installment of their research in April and are "furiously working" to complete the second phase with a target of early 2020 for completion.
"The single thing that I am most proud of is the more than 170 nuclear medicine residents and hundreds of radiology residents whose training I have influenced over the last 45 years," he said. "I want to imbue them with an approach to nuclear medicine practice which goes beyond simply interpreting what they see in a radionuclide image but incorporates correlation with all of a patient's relevant imaging and clinical findings. Teaching residents to be compulsive is another thing I hope will have a most lasting impact on the field."
Given all those projects, Siegel has no plans to retire, but he has conceded to working part time, which means "giving 120% instead of a 140% effort," he added. "Work is my hobby, and it is one of the things that I find most satisfying. As long as I am healthy and can keep doing this, I will keep going. Marilyn and I are actually starting to travel for vacations, rather than meetings, and I am trying to spend more time with my grandkids. On the other hand, I still work pretty darn hard and have no intention of stopping anytime soon."
Runner-up: Dr. Michael Recht, NYU Langone Health
Most Effective Radiology Educator
Minnies 2019 winner: Dr. Emanuel Kanal, University of Pittsburgh
When the topic turns to MRI safety, the name Dr. Emanuel Kanal is sure to come up in conversation. The director of MRI services at the University of Pittsburgh has had a fascination with the modality ever since this newfangled technology called magnetic resonance imaging piqued the curiosity of radiologists.
"In 1983, I turned to my wife and said, 'Honey, I know what I want to go into. I'm going to do MRI,' " Kanal reminisced. "It was a field that was about to take off, but there were no scanners yet in the city. Judi said, 'Is it safe?' I said, 'I don't know, but I'm going to find out.' "
And the rest, as they say, is history. Over the past four decades, Kanal has spent countless hours researching and lecturing about MRI safety and encountering many of the same questions today as he did 36 years ago.
"From my point of view, my career literally started when I made a promise to my wife that I was going to find out more about MRI and safety," he said. "The more I learned about MRI, the more I realized there's a lot there, and we are still trying to find answers to many of those questions in 2019."
Kanal shared his passion for MRI safety with lectures on the topic for decades, but he became frustrated with the massive amount of information he needed to convey in a finite amount of time. So in 2014, he created his own course on MRI safety. It started as a 16-hour course, then very quickly went to 20 hours, and then even more quickly expanded to 24 hours of training. Much to his surprise, attendance at these courses was overwhelming and enthusiastic.
"There were no courses on MRI safety at that time until we put that first course together in 2014. Now there are MRI safety courses available throughout the country, as well as several courses internationally," Kanal said. "We found in 2014 that there was so much interest in this topic and yet so little known about it by most MRI practitioners. I felt it was the right thing to do. In five years, we have now had more than 6,000 registrants worldwide attend my MRI safety courses, with no signs of it letting up."
Still, Kanal saw a need to legitimize the expertise of these MRI students who were spending huge amounts of time and effort, and often days, away from their work and their families.
"It dawned on me that they go home, now understand MRI safety more than they did before, and start to implement it [at their facility]," he said. "But then the guy across the street who is competing with them turns to the secretary and says, 'You be the safety officer for us.' There was no way for the public or anyone to recognize or differentiate someone who truly understands MR safety issues from someone who was simply appointed."
Kanal addressed the certification issue in 2014 by founding the American Board of Magnetic Resonance Safety (ABMRS). The volunteer-run, nonprofit entity is designed to validate the proficiency of physicians, technologists, physicists, and others who oversee MRI safety in both clinical and research environments by offering certification and credentialing through written exams. If they pass, applicants can qualify to become ABMRS-certified as an MR medical director, MR safety officer, or MR safety expert.
In November 2016, the ABMRS structure was accepted by a consensus document in the Journal of Magnetic Resonance Imaging. Today, those three certified roles comprise the accepted organizational structure for MRI safety oversight for all clinical and research MRI sites scanning humans.
As an extension of MRI safety, Kanal also became involved in the issue of gadolinium-based contrast agents (GBCAs). The debate and research over whether GBCAs are the reason why some patients have severe, lingering symptoms after an MRI scan continue today.
"Opinions are frequently presented as both strong and extreme -- 'This is harmful,' 'No, this is not harmful' -- and everything in between," Kanal said. "I think it is safe to say that the vast majority of experts in the field are not yet willing to accept that the situation warrants the name 'gadolinium deposition disease' or 'gadolinium deposition condition' at this point. There is no shortage of opinions, but we are relatively short on known incontrovertible facts. A significantly more formal and well-controlled prospective study is required to determine the clinical relevance, if any, of retained intracranial gadolinium."
In the meantime, Kanal continues to develop his MagnetVision mobile app designed to demonstrate MR-related forces and fields and formally assess risks relating to scanning patients with implants, devices, and foreign bodies.
"I am a pilot, and, as you know, there is a huge emphasis on safety in the aviation industry," he said. "Much of what I have done in MR safety is modeled after the aviation industry's approach to safety. Two of the most powerful tools we use in aviation are checklists and simulators. We have, therefore, written checklist and simulator apps that model patients, implants, and MRI scanners and their energies/fields and apply artificial intelligence to quantify the risks associated with MRI scanning of patients with implants, foreign bodies, or devices."
If a patient has an implanted device, for example, an MRI technologist or radiologist can use the app to simulate the energies the device would experience based on the clinical application, magnet strength, model of the MRI scanner, and even how the patient is positioned. By doing so, the app can help determine what energies and forces the implant would be exposed to and whether any known safety thresholds would be exceeded in so doing.
This endeavor is yet another milestone on Kanal's campaign to make MRI safety second nature in radiology departments worldwide.
Runner up: Dr. Tan-Lucien Mohammed, University of Florida
Most Effective Radiologic Technologist Educator
Minnies 2019 winner: Colleen Dempsey, Thomas Jefferson University
This year's winner of the Most Effective Radiologic Technologist Educator award, Colleen Dempsey, EdD, came to her career via an undergraduate degree in astronomy -- a course of study that set her on the path of combining science and practice.
"After college, I was interested in a career in healthcare, and radiology appealed to me," she said. "I could see that it was a great blend of science and a connection to people."
After earning her degree in radiologic technology from Drexel University in Philadelphia, Dempsey started her career as a technologist at Mercy Fitzgerald Hospital in Darby, PA. While there, she explored various specialties, working in interventional radiology, the operating room, and outpatient imaging.
"I said yes to whatever I was offered," she said. "It gave me great experience."
In 2008, her former program director at Drexel told her about a clinical instructor position open at Thomas Jefferson University and encouraged her to apply. Dempsey interviewed with Frances Gilman, DHSc, her predecessor in the department, who offered her a position supervising students at clinical sites and teaching positioning labs; within a year, Gilman asked Dempsey to begin teaching an image analysis course, which she did, while at the same time continuing to work at Mercy Fitzgerald.
This past January, Dempsey was tapped to serve as the interim chair of the department of medical imaging and radiation sciences at Jefferson. She also continues in her post as the director of the university's x-ray program as well as fulfilling her teaching duties.
Dempsey has always enjoyed learning, a quality that has helped her in her career at Jefferson and also has helped her expand her skills. In 2012, she earned a master's degree in radiologic sciences at Jefferson, and, in 2017, she earned her Doctor of Education in educational leadership at Gwynedd Mercy University. She finds teaching to be a key part of both the development of her career and her satisfaction in it.
"I became a better x-ray technologist by being an educator and a better educator by being a practicing technologist," Dempsey said. "It helped build trust with students, too -- the fact that I was working right alongside them."
As for her educational philosophy, she emphasizes the importance of respecting students and ensuring that the academic milieu is challenging but also safe and inclusive.
"I base what I do on caring for and respecting students and making our program a place where they can push beyond what they think they can do in an open and inclusive environment," she said.
Runner-up: Tobias Gilk, Gilk Radiology Consultants
Most Effective Radiology Administrator/Manager
Minnies 2019 winner: Chris Tollefson, Mayo Clinic Arizona
For Chris Tollefson, radiology is the perfect intersection of technology and patient care.
He became attracted to the field in college while attending St. Cloud State University in Minnesota. He'd never heard of nuclear medicine before but was immediately drawn to the university's Bachelor of Science program in nuclear medicine technology -- it was the perfect mix of technology and patient care with a heavy emphasis on hard science and physics.
St. Cloud's bachelor's program included a one-year postgraduate internship at one of the three health systems in the area, and Tollefson picked Mayo Clinic in Rochester. Given the choice between Mayo's facilities in Arizona or Florida, he picked Arizona, and when his internship was completed, he accepted a staff position as a nuclear medicine technologist at Mayo Clinic in Scottsdale, FL.
Tollefson soon became the lead nuclear medicine technologist, and as Mayo Clinic grew and expanded, he was promoted to supervisor of its nuclear medicine service. He got the opportunity to transition into imaging informatics in 2015 when Mayo adopted Epic's electronic health record software, and Tollefson earned his certificate as a certified imaging informatics professional (CIIP) as part of the expanded role. Along the way, he also earned a Master of Science in healthcare delivery from Arizona State University.
"It helped me expand my knowledge of patient care delivery outside of radiology," Tollefson said of the master's program. "I got a lot out of it."
In early 2018, an even bigger opportunity became available: radiology operations manager, a position overseeing Mayo's radiology and CT services. He supervises a staff of about 100 technologists across both modalities, a number that's likely to expand given Mayo's Arizona Forward project, which will double the size of the institution's Phoenix campus.
Among Tollefson's most recent accomplishments at Mayo was a recent Kaizen event, a short-term event of a few days or week designed to improve business productivity, that helped improve the radiology department's productivity. The goal was to standardize technologist workflow, and it helped shorten the time from an exam order to when a study begins from 21% to 41%, depending on the department ordering the test.
Tollefson enjoys the challenge of managing a large, diversified radiology service, especially one that's growing as fast as Mayo. He tries to keep in close contact with referring groups, such as sports medicine clinics or the operating room, but he notes that even the addition of a single portable x-ray machine or C-arm can cause workflow issues that can reduce technologist productivity.
Tollefson loves radiology because of the wide range of patients he gets to see across medical disciplines. He even maintains his nuclear medicine technologist certification and isn't afraid to "throw on the scrubs" on occasion.
His advice to technologists considering a move into administration and operations? Go for it.
"I would say, if you are successful in one area like a modality and you are looking into an operations career path, don't be hesitant because of what you don't know," Tollefson said. "Bloom where you are planted and really dive into the learning."
Runner-up: Greg Hill, Emory University