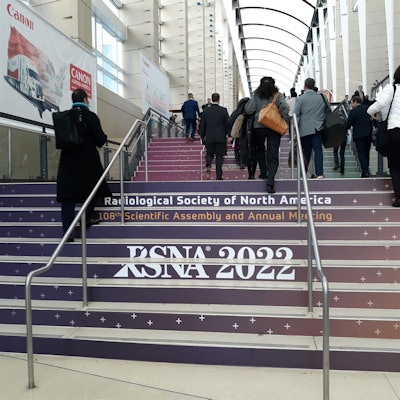 Every imaging department needs to take trainees if the U.K. is to come to terms with the huge shortfall of radiologists that is looming large in the years ahead, Dr. Priya Suresh said at a special session held on November 28 at RSNA 2022.
"The shortfall cannot be met without a significant rise in training numbers," noted Dr. Priya Suresh, medical director for education and training at the Royal College of Radiologists (RCR), conceding that training more radiologists requires increased time, more space, and more equipment.
To anybody who asks why you should bother to train someone, Suresh replies: "You are most likely training your future colleague." This is because the post-training attrition rate in the U.K. is less than 10%, and 61% of radiologists work in the region they trained, she told RSNA attendees at the "U.K. Presents: Building and Sustaining Imaging Services" session.
"It is challenging but it can be done with a collaborative and innovative approach," she continued. "Investment in clinical radiology training will save lives, save money, and could possibly save the National Health Service (NHS)."
Increasing staff shortages
There was a 29% shortfall of radiologists in 2021, amounting to 1,453 full-time posts, and by 2026 this will rise to 39% (2,707 full-time equivalent roles), according to the RCR Census for 2021. Around 19% of consultant radiologists will retire in the next five years, and the U.K. has a vacancy rate of about 10%, with over 200 posts having been vacant for a year or more, Suresh pointed out.
If trends in demand continue at the expected rate and workforce entries and exits continue as they currently stand, by 2030 the shortage of consultant clinical radiologists will be almost 6,000, noted a 2021 report from WPI Economics. Even if outsourcing is doubled, working practices are improved, and overseas recruitment is increased, just 56% of the shortfall would be met by 2030, it stated.
Guidance issued in April 2022 by NHS England referred to "chronic shortages across all professions: average vacancy rates for clinical support workers are 4.6%, diagnostic radiographers 11%, sonographers 6.7%, and medical physicists 9%."
Alongside this, waiting lists continue to grow. In August 2022, the CT and MRI waiting list in England was 425,314, compared with 424,216 in August 2021, 348,126 in August 2020, and 315,544 in August 2019.
Suresh explained that a recent RCR survey showed the three most common methods used to manage radiology shortfalls are insourcing (94%), outsourcing (87%), and radiographer reporting (83%), and she then detailed in her talk as to why these methods are not sustainable. The survey also found 60% of respondents use ad hoc locums, while 58% said they rely on goodwill, 41% on auto/underreporting, and 33% on delegation to clinicians.
Key role of imaging academies
Imaging academies are essential to train the future generation of radiologists, Suresh said. They now cover the whole of England, and they allow faster expansion of training capacity and multidisciplinary technology-enhanced learning to multiprofessional groups. They also tend to be cost-effective, promoting greater geographical equity in distribution of training and delivering the same training to multiple programs, removing duplication of effort, she said
In her own region of South-West England, the Peninsula Academy of Radiology has been a success story, Suresh said. When the first full complete cohort of trainees qualified in 2010, the Peninsula scheme had around 20 trainees in the scheme, but it currently has more than 80 trainees.
Backup resources for academies include the RCR learning hub and shared teaching at the regional and national level. For instance, anatomy teaching of the Peninsula Academy is attended by around 100 trainees from across the U.K. every Monday.
"Without the attraction of the Peninsula Academy of Radiology, it was considered unlikely that the South-West region (of England) could meet local demand for radiologists. 23 consultants were appointed between 2019 and 2022," she told RSNA delegates.
Overseas recruitment
The RCR has also established a scheme to enable Indian radiologists to develop their skills in the U.K., Suresh noted. The college supports radiologists in India to pass the Fellowship of the RCR (FRCR) examinations prior to coming to the U.K. An FRCR qualifies them for entry onto the General Medical Council's register.
Health Education England (HEE), an executive nondepartmental public body of the Department of Health and Social Care, supports the recruitment process and sponsors their visa. A visa is issued for up to three years, after which radiologists either return to India or choose to remain in the U.K.
A similar scheme is now being explored for Egypt, she added.
Breast imaging initiative
"The radiology workforce shortage is particularly acute in breast imaging," Suresh explained. "Breast clinicians will support that workforce -- once trained, they will be able to lead screening and symptomatic services."
As part of the formal accreditation of competencies in a defined area of practice, the RCR launched Credential in Breast Disease Management for Breast Clinicians in January 2019. A pilot program was developed in partnership with the Association of Breast Clinicians, National Breast Imaging Academy, and HEE.
The three-year training program for doctors provides a standardized training pathway for breast clinicians, she continued. The scheme was a finalist in the Women's Health Team Category in the 2020 British Medical Journal Awards. Four trainees from the first pilot cohort have completed the credential, and all have secured full-time breast clinician posts. A second pilot cohort comprising 10 more trainees has been announced.
Looking to the future
Overall, the diagnostic backlog is rising and the NHS is at a key juncture, and training more radiologists is the optimal solution, Suresh concluded.
"If every imaging department in the country takes trainees, we will have a significant and sustained increase in training places, an increase in newly appointed consultants, and better patient outcomes," she said. "This would save lives and do so at lower cost to the NHS than alternatives."
Global recruitment is also required to build the workforce, and credentialing and the further development of imaging academies will remain important.