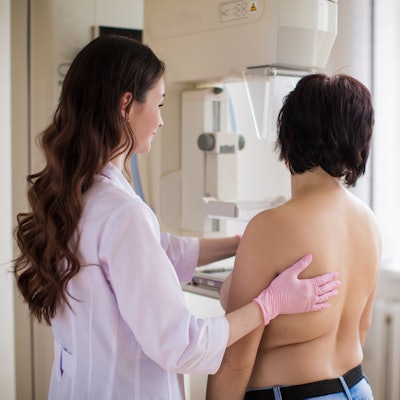 Women living in the U.S. but born elsewhere are less likely than women born in the U.S. to have ever had a mammogram, according to a report published online on October 9 by the U.S. Centers for Disease Control and Prevention's National Center for Health Statistics (NCHS).
The results suggest that more needs to be done to comprehend the breast cancer screening experience of immigrant women, wrote a team led by Tainya Clarke, PhD, of the NCHS.
"Understanding the screening experience of foreign-born women compared with U.S.-born women is important because immigrant women may not be exposed to the same level of public health messaging or screening opportunities in their home countries," the group wrote.
In the U.S., immigrant women have historically had higher breast cancer mortality rates than their U.S.-born counterparts, despite the fact that the U.S. Preventive Services Task Force (USPSTF) recommends that women between the ages of 50 and 74 receive biennial mammography screening. But there is scarce research on breast cancer screening that specifically addresses birthplace among foreign-born women residing in the U.S., the group noted.
To address this knowledge gap, the team sought to estimate mammography screening rates among women by birthplace, country of origin, and amount of time spent living in the U.S. The researchers used data from 29,951 women between ages 50 and 74 who participated in the National Health Interview Survey in 2005, 2008, 2010, 2013, and 2015; the group adjusted results for demographic, socioeconomic, and healthcare access factors.
The study found that, overall, women born outside of the U.S. were less likely than U.S.-born women to have ever had a mammogram, at 91.4% compared with 93.9%. The researchers also found that foreign-born women living in the U.S. for less than 25% of their lifetime were less likely to have ever had a mammogram or meet the USPSTF recommendations compared with U.S.-born women. This was also true for women born outside of the U.S. but who had lived in the U.S. for 25% or more of their lifetime.
The lowest mammography screening compliance was seen in women born in South Asia, while the highest was seen in women born in Central America.
Estimates of mammography screening among women 50 to 74, by birthplace*
Birthplace
Ever had a mammogram
U.S.
93.9%
South Asia (Indian subcontinent)
81.5%
Central Asia
84.1%
Africa and Middle East
88.4%
Southeast Asia
88.8%
Caribbean
91.8%
Europe (includes Russia)
92.3%
South America
93.3%
Mexico
93.7%
Central America
96.6%
*Adjusted for age, marital status, income, region of residence, education, health status, and insurance coverage.
The study findings underscore the need for more research to determine how to engage immigrant women in breast cancer screening, according to Clarke and colleagues.
"These findings may inform other research on the potential relationship with, and impact of, nativity, percentage of lifetime in the United States, and birthplace, and the likelihood of engaging in recommended preventive cancer screening," the group concluded.