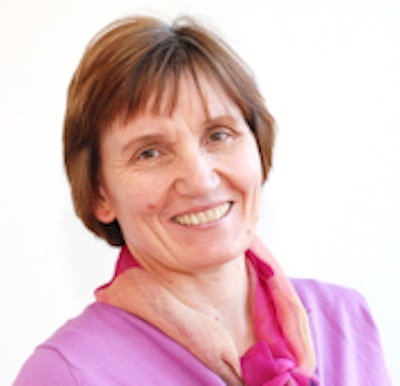 Screening for breast cancer with digital rather than film-screen mammography lowers recall and biopsy rates, suggesting that the technology causes less "harm" to women and the healthcare system in the form of overdiagnosis or unnecessary biopsies, according to a new study published online April 1 in Radiology.
Previous population-based studies comparing the accuracy of film-screen mammography (FSM) and full-field digital mammography (FFDM) have reported conflicting results, including widely varying recall rates, Norwegian researchers wrote. This study examined the effect of transitioning from film-screen to digital mammography by analyzing the rate of cases, the recall rate, the rate of screen-detected cancer, and the rate of interval cancers before, during, and after the transition.
"We hypothesized that FFDM would be associated with a lower recall rate, a higher rate of screening-detected cancer, and a lower interval cancer rate," wrote lead author Solveig Hofvind, PhD, from the Cancer Registry of Norway, and colleagues (Radiology, April 1, 2014).
Hofvind's team used data from the Norwegian Breast Cancer Screening Program (NBCSP), which included a total of 1,837,360 screening exams performed between 1996 and 2010. The median age of the women at the time of screening was 58.
The overall recall rate was 3.4% for film-screen mammography and 2.9% for FFDM. For subsequent exams, the recall rate was as follows:
2.6% for film-screen mammography after prior film-screen exam
2.3% for FFDM after prior film-screen exam
2.1% for FFDM after prior FFDM
The overall biopsy rate was 1.4% for film-screen mammography and 1.1% for digital mammography, the researchers wrote.
A total of 10,103 screening-detected cancers were diagnosed over the time period: 1,778 were ductal carcinoma in situ (DCIS) and 8,325 were invasive breast cancers. The detection rate of DCIS was higher with FFDM than with film-screen mammography (11 versus 9 per 1,000 exams), but the detection rate of invasive breast cancer was lower with FFDM than with FSM (42 versus 47 per 1,000 exams).
"Radiologists should be aware of the increased contrast in FFDM compared with [film-screen mammography], which might result in increased attention on microcalcifications and DCIS -- and perhaps less attention on distortions and asymmetric density," Hofvind told AuntMinnie.com by email.
The rate of invasive screening-detected and interval breast cancer remained stable during the transition from film-screen mammography to FFDM and after FFDM was firmly established, Hofvind and colleagues also found. But the positive predictive value (PPV) of recalled examinations and of biopsy procedures increased after FFDM was adopted, from 19.3% and 48.3% to 22.7% and 57.5%, respectively.
"These improvements in PPV suggest that the implementation and continued use of FFDM has resulted in a decrease in breast biopsies with benign outcomes, which are another known disadvantage of mammographic screening," the authors wrote.
Unlike previous studies that compared the performance of film-screen mammography and FFDM in a population-based screening program, Hofvind's team focused its attention on the transitional phase from film-screen to digital mammography, in addition to the periods before and after FFDM implementation, including results for interval cancers. This approach is key when evaluating a new screening technique, according to the researchers.
"Our analysis highlights the importance of studying the transitional phase of the adoption of new breast screening technology and shows that the modality of prior comparison examinations should be considered in the interpretation of performance measures for FFDM," they concluded.