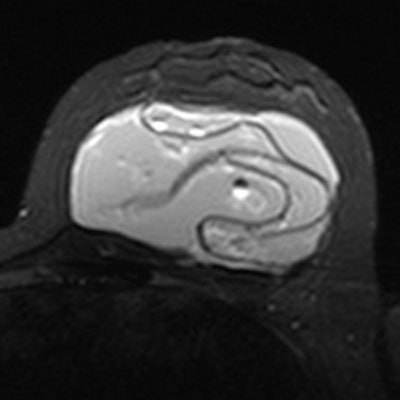 VIENNA - MRI has high accuracy in diagnosing rupture in silicone breast implants, ECR 2014 delegates learned on Saturday morning. This is particularly useful as many women are being imaged regardless of symptoms due to the recent recall of Poly Implant Prothese (PIP) silicone breast implants.
All Dutch institutions were asked to recall their patients and to operate on them if they found the PIP implants were ruptured. It is still up for discussion whether the implants should be removed if they haven't ruptured. Because of this mandate, the accuracy and interobserver variability of MRI is even more relevant as MRI will determine the need for surgery.
A prospective cohort study out of the Netherlands included 107 women with 214 PIP silicone implants who underwent explantation preceded by short-tau inversion recovery (STIR) MRI. Most of the patients were asymptomatic (70%), and all patients had not previously visited a doctor -- the women wouldn't have been seen if it weren't for the recall, according to Marike Maijers, a doctoral student and resident in plastic surgery at VU University Medical Center in Amsterdam. Maijers wrote her thesis on safety in the imaging of silicone breast implants, with a particular focus on PIP implants.
The study involved two reporting rounds. In the first round in 2011, three radiologists went about their normal, day-to-day work and imaged women as they came in; last year, two of the three radiologists were asked to re-evaluate all images again in dedicated time slots, blinded to earlier results and explantation.
A structured protocol was developed to describe the MRI findings, and the ex vivo findings served as the reference standard.
"We were inspired by BI-RADS, because what we saw in the first round was sometimes the text of some MRI reports were inconclusive," Maijers said. "It was up to the plastic surgeon to decide whether the radiologist thought [the implants] were ruptured, yes or no. Sometimes only signs were mentioned or there wasn't really a conclusion. So we forced radiologists into a conclusion by using a level of confidence [called the Silicone Implant Reporting and Data System, or SI-RADS]."
In 208 of the 214 explanted prostheses, radiologists agreed independently about the condition of the implants. In five of the six cases in which they disagreed, they subsequently reached a nonimposed consensus, she said.
Nearly 75% (158) of the implants were correctly diagnosed as intact and 40 as ruptured. Sensitivity was 93%, specificity was 93%, positive predictive value was 77%, and negative predictive value was 98%. Interobserver agreement was excellent, with a kappa value of 0.92.
"To conclude, this study was one of the first to be free from any biases, because we were sort of lucky because of the recall, and we captured women with no symptoms," she said.
"MRI has a high accuracy in diagnosing rupture, and it's a consistent test if we look at the kappa values of interobserver agreement," Maijers said. "And we do advise to use this simple, uniform reporting protocol, as we feel it definitely improved the communication between the radiologists and plastic surgeons."