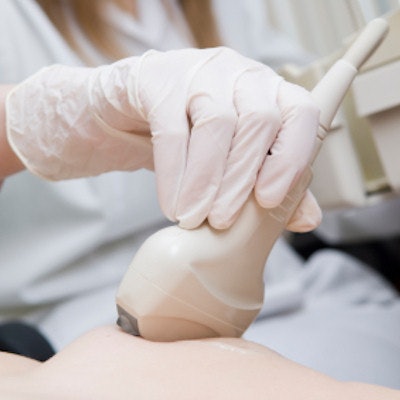 A training program for point-of-care ultrasound (POCUS) yielded improved performance for physicians in Haiti, according to research from a nonprofit group published February 1 in the Journal of Radiology Nursing.
A team consisting of staff and volunteers from Inteleos found that after a three-day training cardiac POCUS workshop where more than 100 patients were scanned, physicians' post-test scores improved by 8% over pretest scores.
"Our experience in Haiti showed that a short POCUS training course can help improve the knowledge of physicians," the group wrote.
POCUS can enable ultrasound to be performed in rural or remote geographic areas, allowing for better patient health management in these places. The use of POCUS also increased worldwide during the COVID-19 pandemic.
Inteleos is the managing organization for the POCUS Certification Academy, which aims to improve global health and promote proficiency in POCUS use. In keeping with this mission, the organization wanted to train Haitian physicians in cardiac POCUS and document the effectiveness of these short training sessions, called "Mission POCUS in Haiti."
A team of three clinicians traveled to Haiti in 2018 to train physicians at a recently opened ultrasound school, Polyclinique Universitaire St Jean Baptiste. Textbooks, ultrasound loaner equipment, and other supplies were donated to help with the training.
The clinicians trained a total of 15 physicians while there, going over subjects such as cardiac anatomy, heart diseases, transducer positions, and heart appearances on imaging among others. Workshops were held between 8 a.m. and 5 p.m., with an hour-long lunch break.
While the pretest scores from trained physicians showed "good baseline knowledge" of ultrasound, post-test scores improved overall by 8%, with all participants receiving a certification of completion. Out of the 15 physicians, 11 showed an improvement in their test score after the training. However, three showed a reduction in their test scores while one had a "significant drop" of 20% on the post-test.
"It is possible that they either got confused or probably had guessed the right answer during the pretest," the team wrote regarding the score reductions seen.
Still, the team highlighted that the training improved overall learning and that the participants enjoyed the experience, calling it a success.
"The experience also taught us that there should be more hands-on experience provided to learners," the authors wrote. "Perhaps, a flipped classroom model could also be more effective."
They also called for more studies to find optimal ways to teach POCUS and added that it "remains to be seen" what the experience would be with clinicians who have little to no experience with ultrasound.