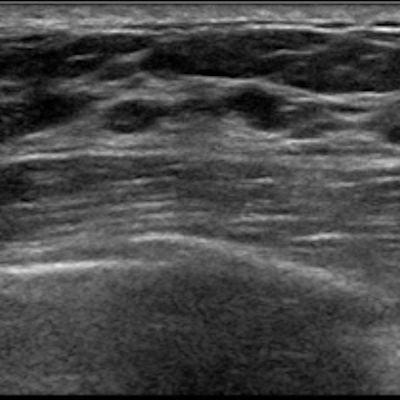 Supplemental ultrasound should be considered as part of the screening protocol for young women with average risk of breast cancer, according to research published August 18 in JAMA Network Open.
A research team led by Dr. Narumi Harada-Shoji, PhD, from Tohoku University in Sendai, Japan, found that adjunctive ultrasound could detect early-stage and invasive malignant lesions for asymptomatic women. Ultrasound offered a good screening balance with mammography, regardless of the breast density of women.
"These findings suggest that adjunctive ultrasonography has the potential to improve detection of early-stage and invasive cancers across both dense and nondense breasts," the study authors wrote.
Breast cancer is the leading cancer in Japanese women with incidence rates peaking among women ages 45 to 49. Mammography is the only screening method that has been shown to reduce breast cancer deaths, but its sensitivity is low when it comes to dense breast tissue.
Previous studies have looked at supplemental screening tools such as ultrasonography, digital breast tomosynthesis, and MRI.
"Quality control and quality assessment are needed when ultrasonography screening becomes more widely used," said corresponding author Dr. Noriaki Ohuchi, PhD.
The researchers wanted to evaluate ultrasound's value using data from the Japan Strategic Anti-cancer Randomized Trial (J-START), a multicenter randomized clinical trial that compares adjunctive ultrasound with standard mammography for screening asymptomatic women ages 40 to 49.
The current study was a secondary analysis of J-START and used data from cases from Japan's Miyagi prefecture collected from 2007 to 2020.
Data for 19,213 women with an average age of 44.5 years were analyzed and randomly split into an intervention group (9,705), which used mammography with ultrasonography, and a control group (9,508), which used mammography alone. A total of 11,390 women (59.3%) had heterogeneously or extremely dense breasts, and 130 cancers were found in the overall group.
Impact of adjunctive ultrasound on mammography screening
Mammography
Mammography + ultrasound
Sensitivity, overall
66.7%
93.2%
Sensitivity, women with dense breasts
70.6%
93.2%
Sensitivity, women with nondense breasts
60.9%
93.1%
Rate of interval cancers per 1,000 screenings
2
0.5
All differences were statistically significant.
The rate of invasive cancers detected by ultrasonography alone was significantly higher in the intervention group than mammography alone in both dense (82.4% vs. 41.7%) and nondense breasts (85.7% vs. 25%).
Ohuchi said that while the team expected ultrasound might improve sensitivity in dense breasts, the researchers were surprised by how it did so in nondense breasts as well.
"The next step is to confirm whether adjunctive ultrasonography screening reduces advanced breast cancer incidence and mortality in long-term follow-up," Ohuchi told AuntMinnie.com.
The value of screening breast ultrasound has been a point of debate recently, in particular for women at average risk of breast cancer. A study by Dr. Ann Yi of Seoul National University Hospital Healthcare and colleagues published January 12 in Radiology suggested that ultrasound only made a "modest" contribution to screening for average-risk women. However, an opinion piece published August 17 maintained that ultrasound still has value for supplemental screening.
In an invited commentary piece for the August 18 study, Dr. Christiane Kul, PhD, from the University of Aachen in Germany said the results of this study require decades of follow-up when today's technology will "most likely be outdated anyway."
"The efficacy of new screening methods is best evaluated by assessing the rate with which screening fails -- that is, the interval cancer rate and/or the fraction of cancers that are detected when they are already at a locally advanced or metastatic stage as proxies for the actual end point, breast cancer-related mortality," Kuhl wrote.
Kuhl called for improved breast screening strategies, saying the focus on more screening for women with dense breasts is only a starting point.
"The results of the J-START study should remind us of the fact that there is a need for research on improved screening strategies also for women with nondense breasts," she wrote.