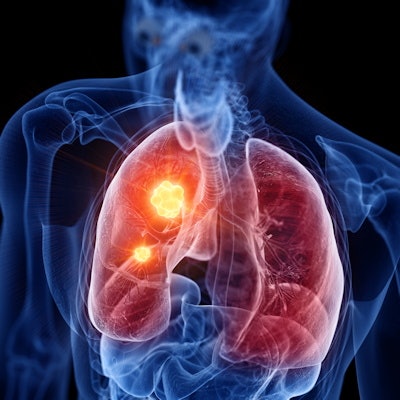 Individualized stereotactic ablative radiotherapy (SABR) for lung tumor treatment reduces radiation dose without compromising efficacy, according to a study published September 14 in JAMA Oncology.
The findings could translate to better patient care, wrote a team led by Michael Gensheimer, MD, of Stanford University.
"The results [of this study] suggest that individualized SABR used to treat lung cancers may allow for minimization of treatment dose and may be associated with excellent local control and a low rate of toxic effects," the team noted.
Lung tumors are often treated with SABR, but the treatment can cause toxic effects, the group noted. Previous studies have suggested that small tumors (up to 10 cm, 3 inches volume) can be well controlled with a SABR dose of less than 100 Gy; Gensheimer and colleagues investigated the efficacy of tailored lung SABR dose and fractionation by tumor size, location, and histological characteristics.
The study included 217 patients with 285 treated tumors. Patients were enrolled between November 2011 and December 2018 and divided into three groups by cancer type: initial diagnosis of non-small cell lung cancer (NSCLC), a new primary NSCLC with a history of prior NSCLC or multiple NSCLCs; and lung metastases from NSCLC or another solid tumor. The study was conducted at academic medical centers in the U.S. and Japan.
Patients were treated with once-daily SABR. Radiation doses ranged from 25 Gy in one fraction for peripheral tumors with a volume of 0 cm3 to 10 cm3 to 60 Gy in eight fractions for central tumors with a volume greater than 30 cm3. The study's primary outcome was freedom from local recurrence at one year.
The team found the following at a median follow-up of 33 months:
Median overall survival was 59 months.
The most common radiation dose was 25 Gy in one fraction -- much lower than the typical dose of 100 Gy.
The rate of freedom from local disease recurrence was 97% for first non-small cell lung cancers, 94% for a new or multiple non-small cell lung cancers, and 96% for lung metastases from non-small cell lung cancers or another tumor.
The proportion of patients with grade 3 to 5 toxic effects from SABR was 5%.
The study makes a valuable contribution to clinical practice, wrote Vivek Verma, MD, of the University of Texas M.D. Anderson Cancer Center in Houston in an accompanying commentary.
"Taken together, the work of Gensheimer and coworkers should set the stage for individualized lung SABR approaches going forward," Verma wrote. "Additional factors that would further individualize lung SABR include the incorporation of any diagnosis-to-treatment delays, tumor growth kinetics, immune profiles, circulating tumor cells, and radiomic signatures [and] the concept of the 'genomically adjusted radiation dose' is another fascinating futuristic method."
The complete study can be found here.