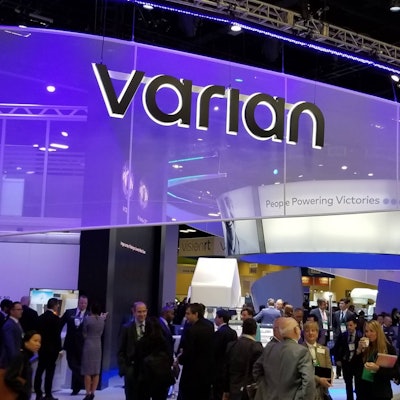 In what's being called the biggest healthcare acquisition of the year, Siemens Healthineers has agreed to buy Varian Medical Systems in a deal valued at $16.4 billion. The purchase marks a major expansion of Siemens' operations, from its core in diagnostic medicine into cancer treatment.
The companies announced the deal on August 2, in which Siemens agreed to buy all outstanding shares of Varian stock at a price of $177.50 per share. The price represents a premium of 42% to Varian shareholders relative to the stock's average price over the past 30 days. The acquisition has been approved by Varian's board of directors and is expected to close in the first half of calendar 2021.
The deal will create a multidisciplinary company with the most comprehensive cancer care portfolio in the industry, according to an August 2 press statement. Siemens is one of the top three medical imaging vendors globally, but as with its competitors its activities in the treatment space have been limited.
For its part, Varian dominates the radiation therapy segment, with annual revenues for its 2019 fiscal year of $3.23 billion and net income of $310.5 million. Concurrent with the Siemens deal, Varian reported third-quarter financial results that saw revenues decline 16% due to the impact of the COVID-19 pandemic on the firm's operations.
For Siemens, the deal marks a return to the market for radiation therapy delivery systems. The company at one time manufactured its own linear accelerators, but decided to exit that business in 2011 due to the challenges involved in competing with dedicated radiation therapy vendors -- like Varian.
Still, Siemens kept a foot in the radiation oncology space. In 2012 Siemens and Varian announced a partnership in which they agreed to work together to provide advanced diagnostic and therapeutic devices and services for treating cancer. That deal called for the partners to conduct joint R&D and to build a strong interface between Siemens' diagnostic imaging modalities and Varian's Aria oncology information system.
This week's acquisition could have a ripple effect across the medical imaging space if some of Siemens' arch-rivals feel they need to pursue similar deals to stay competitive with the German company. The small size of the radiation oncology segment -- with a relatively small number of vendors that manufacture radiation therapy systems -- could put added pressure on the multimodality OEMs to find a partner or risk being shut out in a game of corporate musical chairs.
The companies said that Varian will continue to operate as an independent company within Siemens Healthineers once the acquisition is complete, due to the vendor's strong brand recognition.