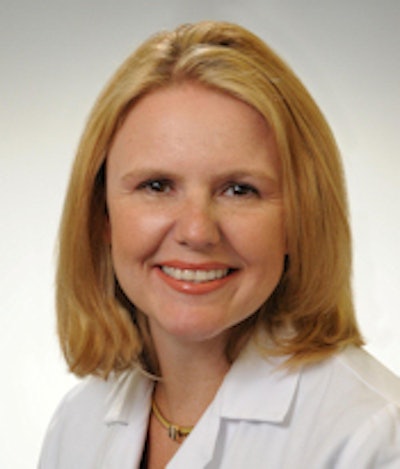 The use of short-course radiation therapy protocols for breast cancer more than doubled after the American Society for Radiation Oncology (ASTRO) recommended that shorter regimens be considered as part of the Choosing Wisely campaign. Still, shorter protocols are not common in the U.S., even though they may be preferred by patients.
Researchers found that prescription of hypofractionated whole-breast irradiation regimens increased from 10% to 21% in the quarter immediately after ASTRO made the recommendation in September 2013, according to a presentation at ASTRO's recent annual meeting in San Francisco.
The results indicate that campaigns designed to influence physician behavior such as Choosing Wisely could be having the desired effect.
U.S. lags in hypofractionation
The use of shorter radiation therapy protocols in the U.S. has been low, even though plenty of clinical data show that hypofractionated regimens work well for women with early-stage breast cancer, said presenter Dr. Heather Curry. Curry is the medical director of radiation oncology at Eviti, a firm that offers clients Web-based decision and preauthorization support.
"Our colleagues in Canada and Europe have found that hypofractionated regimens produce equivalent tumor control outcomes compared to conventional courses," she told AuntMinnie.com. "Not only are shorter protocols effective, but they also appeal to patients."
While data may not have influenced practice patterns, Choosing Wisely seems to be more successful. Under the initiative, each participating medical specialty organization contributes five medical tests that it believes are overutilized. Last September, ASTRO introduced its first five measures, one of which specifically recommended that clinicians not initiate whole-breast radiotherapy as a part of breast conservation treatment for women age 50 or older who have early-stage cancer without considering shorter treatment schedules. Curry's group sought to investigate whether ASTRO's recommendation has changed the way doctors prescribe radiation therapy.
For the study, Curry and colleagues examined treatment requests submitted for preauthorization via Eviti's Web-based decision-support and preauthorization application between June 2011 and June 2014. They evaluated use rates of hypofractionation for treating patients with stage I to stage IIA breast cancer. The data searched encompassed nine U.S. insurers covering a total of 1 million members.
Conventional radiation therapy entails doses of 1.8 Gy to 2 Gy over 25 sessions, Curry told AuntMinnie.com. A hypofractionated course gives patients doses of 2.5 Gy to 2.6 Gy over 15 to 16 sessions.
"With hypofractionation, patients receive larger daily doses, but these larger doses are tempered by fewer sessions," she said.
Eligible patients were 50 years or older and had received adjuvant breast radiation for breast-conserving therapy for stage I through stage IIA breast cancer. The researchers defined hypofractionation as a daily radiation dose of at least 2.5 Gy. They calculated rates of hypofractionation use for eligible patients for the entire study period, the period prior to 2013, quarterly during 2013, and for the entirety of 2013.
During the study time frame, there were 7,465 radiation therapy authorization requests, 1,636 of which were for managing breast cancer. Of these, 869 were for breast conservation therapy, and 37% (322) of the 869 were eligible for hypofractionation. Overall, 11.3% of eligible patients were prescribed a hypofractionated regimen.
The use rate of short-course radiation therapy more than doubled after ASTRO's Choosing Wisely recommendation in September 2013, the researchers found.
Use rate of breast hypofractionation protocols
Q1 2013
Q2 2013
Q3 2013 (after Choosing Wisely)
Q4 2013
Hypofractionation use rate
4%
9.6%
21.3%
16%
The study suggests that radiotherapy protocols are changing, Curry told AuntMinnie.com.
"Although our study had a small sample size, it gives some 'real-time' insight as to how current practice patterns have evolved since dissemination of the 2013 Choosing Wisely recommendations," she said. "Our study also highlights the importance of campaigns developed by professional societies like ASTRO to promote patient-centered care through provision of a framework of thoughtful patient-physician communication regarding treatment options."