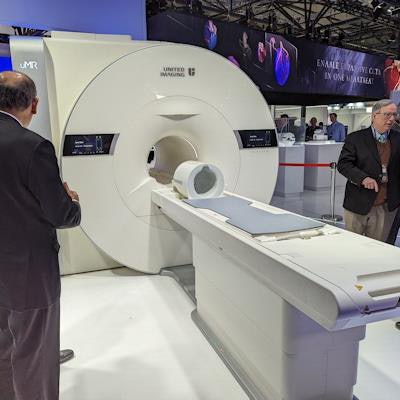 United Imaging will be showcasing its wares for the first time at the International Society for Magnetic Resonance in Medicine (ISMRM) annual meeting this week in Toronto.
The vendor will be highlighting its work-in-progress uMR Jupiter 5-tesla scanner, which was first introduced at ECR 2023 in Vienna in March.
In a symposium on June 4, the company will also highlight the benefits of 5-tesla MRI as well as its work-in-progress Application Developing Environment and Programming Tools (ADEPT) open MR development platform. ADEPT features pulse sequence design and AI-powered image reconstruction, according to United.
Also on display: United's uMR Omega 75-cm ultrawide-bore 3-tesla scanner, which recently received U.S. Food and Drug Administration 510(k) clearance. What's more, the company will be discussing its SuperFlex coils, device-less respiratory gating technology, and a new software release that brings the latest software baseline to all United MR scanners, according to United.