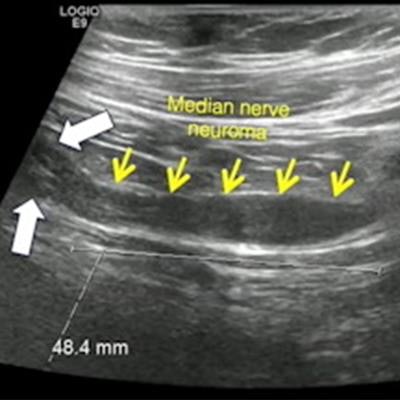 Although MRI and ultrasound are both useful in diagnostic workup of brachial plexus trauma, ultrasound may have some advantages, according to research presented April 18 at the American Roentgen Ray Society (ARRS) annual meeting in Honolulu.
Presenter Dr. Jenifer Pitman from the Hospital for Special Surgery in New York shared findings from a study she and colleagues conducted that showed both modalities had high specificity at the level of the roots and the branches of the brachial plexus but that ultrasound had an edge over MRI when it came to sensitivity of the root levels. MRI had superior sensitivity over ultrasound at the branch levels.
"Overall, ultrasound is equivalent or slightly superior to MRI, particularly in the supraclavicular plexus," Pitman said. "This suggests that it [ultrasound] can be used as a complementary modality in the perioperative setting."
MRI is the typical go-to modality for imaging the brachial plexus, a network of nerves that sends signals from the spinal cord to the shoulders, arms, and hands. Its advantages are that it can easily assess muscle denervation and detect subtle nerve signal abnormalities. But MRI does have limitations for this indication, including cost, artifacts seen in the setting of the regional hardware, and patient contraindications, Pitman noted.
Ultrasound shows promise for assessing brachial plexus in patients who are not eligible for MRI, and it has benefits over MRI such as cost efficiency and not being susceptible to metallic hardware artifacts. It also has high soft tissue resolution and real-time evaluation capacity. Its downsides, however, include the fact that it is user-dependent and has a more limited field of view.
Pitman's group sought to explore ultrasound's use in evaluating traumatic brachial plexus injuries, comparing sonographic findings to MRI, electrodiagnostic studies, surgical outcomes, and clinical outcomes. The study included 30 patients who underwent ultrasound exams performed with a high-frequency transducer (15 to 18 MHz) and MRI studies performed using high-resolution fluid sensitivity and anatomic fast-spin echo sequences.
Of the total study cohort, 13 underwent electrodiagnosis and subsequent surgery, and seven underwent electrodiagnosis alone. Out of these 20 patients, seven had high-grade lesions and 12 had low-grade lesions.
The researchers found that MRI and ultrasound were on par with each other when it came to specificity, but each had their own distinct advantages when it came to sensitivity, depending on whether they imaged the root or branch levels.
Comparison of ultrasound, MRI for brachial plexus imaging
Diagnostic measures (ranges)
MRI (root level)
Ultrasound (root level)
MRI (branch level)
Ultrasound (branch level)
Sensitivity
40%-66.67%
75%-100%
58%-100%
25%-88.89%
Specificity
83%-100%
93%-100%
75%-92.31%
82%-100%
The team also reported that ultrasound's performance for sensitivity did not include imaging of the T1 nerve root, which was only visualized in 20% of patients. It found that the false negatives that lowered ultrasound's sensitivity were related to nonvisualization of nerves secondary to obscuring anatomy, limited patient range of motion, and limited range of the field.
Pitman said that the researchers feel that their findings highlight the blind spots in each modality. She added that at their institution, surgeons will often send patients for skin localization via ultrasound in the immediate preoperative setting.
"With ultrasound, we're able to mark out the site and extent of the lesion, which helps with preoperative planning," she said.