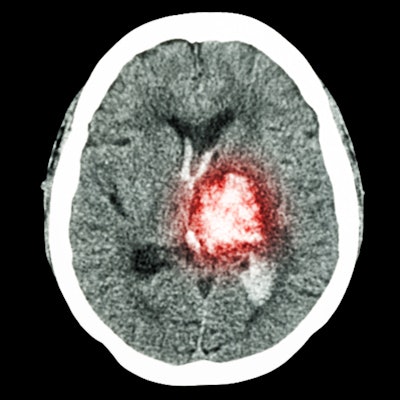 Brain cancer patients who undergo repeated brain MRI exams for follow-up appear to tolerate them well, although a majority would prefer to avoid gadolinium-based contrast agents (GBCAs) if the results were diagnostically equivalent.
The results are good news for care of patients with primary brain tumors -- especially gliomas -- who often must undergo many MRI exams over the course of treatment, wrote a team led by doctoral candidate Ivar Wamelink of Vrije Universiteit Amsterdam in the Netherlands. The study results were published March 29 in the Journal of Neuro-Oncology.
"Patients with primary brain tumors [experience] current neuro-oncological MRI practice as positive," the group reported.
Brain cancer sufferers undergo multiple MRI exams each year as part of standard care -- in fact, individuals with slow-growing, low-grade gliomas may have dozens, as the condition is chronic, Wamelink's team noted. Glioma MRI protocols can be time-consuming and include the use of gadolinium-based contrast agents (GBCAs).
As how patients tolerate repeated MRI exams for brain cancer hasn't been explored, the researchers conducted a survey study to explore the question.
"The patient opinion on radiological care in brain tumor management is mainly unknown despite a general acknowledgment of the value of patient-centered research and shared decision-making," the team wrote. "There is a knowledge gap regarding the opinion of the patient on neuro-oncological MRI and research developments in particular, which also has a negative impact on the planning of future MRI research lines."
One hundred brain tumor patients completed the survey after they underwent an MRI exam; of these, 93 had a histopathologically confirmed brain cancer diagnosis, and 59 had low-grade tumors.
The survey covered topics such as patient experience of the scan itself, follow-up frequency, and the use of GBCAs. Wamelink's team also analyzed survey results according to respondent sex, lesion grade, age, and number of scans.
Overall, the survey showed that patient concerns regarding brain MRI exams were few, both for the exam itself and the process of undergoing it:
95% of survey respondents did not know of any possible adverse effects on patients from GBCAs.
78% of respondents said that the frequency of going to the hospital for MRI exam check-ups "is perfect as it is."
86% stated that they did not have any symptoms (i.e., nausea) during or immediately after the MRI exam.
69% stated that the duration of the scan was "not long, not short."
67% of survey respondents stated that the MRI scan itself was "not at all unpleasant."
63% of patients stated that they would prefer an MRI scan without a contrast agent if it was diagnostically equivalent.
47% of survey respondents said there was no associated stress with the MRI exam itself, although 40% had fears about outcome/bad news.
Patients tended to underestimate the number of MRI exams they had undergone, and in fact, an increase in the number of follow-up exams correlated with increased "underestimation of MRI burden," the team noted. Age, diagnosis, and number of previous scans did not appear to impact patients' experience of brain MRI exams.
The survey also revealed that women were more likely to experience discomfort during injection of contrast and the MRI exam itself (p = 0.003).
"Overall, women found the MRI procedure more uncomfortable than men, which was characterized by experiencing the MRI procedure as more unpleasant, more often being afraid of bad news, and having a tendency to be more stressed about the travel times," the group reported. "[Sex], and most likely gender, is not sufficiently reflected in the current MRI workflow of brain tumor patients."
Understanding the patient perspective on advanced brain imaging is crucial, Wamelink told AuntMinnie.com.
"We should gain a more profound understanding on the patient's view so that we can move our research towards these goals and thus can improve patient care in a way the patient would like to see it," he noted.
The fact that almost all survey participants did not know about possible adverse effects of GBCAs is of concern, according to Wamelink.
"There should be a discussion between physicians and technicians to make sure that patients are well informed," he said.