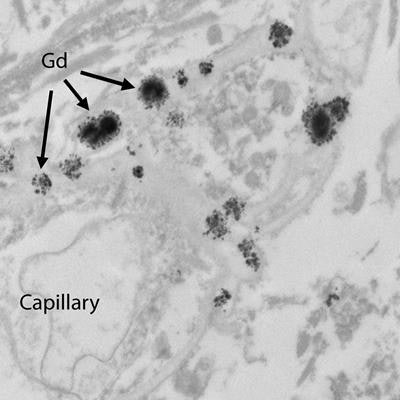 CHICAGO - Gadolinium accumulation in the brain after an MRI scan does not degrade a person's overall neurologic or neurocognitive performance, nor does it significantly affect the natural progression of cognitive decline, according to a new study presented on Wednesday at RSNA 2017.
The researchers reviewed more than 1,000 patients who received at least one dose of the linear gadolinium-based contrast agent (GBCA) gadodiamide (Omniscan, GE Healthcare) and compared their cognitive capabilities with those of a group of matched control subjects. They found no significant decrease in neuropsychological performance, no diminished motor function, and no rise in dementia related to GBCA exposure.
"Right now there is concern over the safety of gadolinium-based contrast agents, particularly relating to gadolinium retention in the brain and other tissues," said Dr. Robert McDonald, PhD, a neuroradiologist at the Mayo Clinic in Rochester, MN. "This study provides useful data that at the reasonable doses 95% of the population is likely to receive in their lifetime, there is no evidence at this point that gadolinium retention in the brain is associated with adverse clinical outcomes."
McDonald's contributions
Some 400 million doses of gadolinium have been administered for MRI scans since 1988, McDonald said. Today, GBCAs are used in 40% to 50% of MRI exams.
McDonald has been a leading researcher on the issue of gadolinium retention and how it may or may not affect patients years after they undergo an MRI scan.
In a June 2017 study, he and his colleagues found that gadolinium retention in the brain may be more widespread than previous studies have shown and may not be limited to patients with brain abnormalities such as a tumor or infection. The findings challenged previous theories regarding the permeability and role of the blood-brain barrier in the accumulation of gadolinium within the neural tissues.
In a March 2015 study, McDonald et al provided evidence of traces of gadolinium in the dentate nuclei, pons, globus pallidus, and thalamus from autopsies of 13 deceased patients who received GBCAs between 2000 and 2014. The deposits appeared to occur in all patients exposed to gadolinium and were detectable with as few as four doses. What's more, the patients had relatively normal renal function at the time of their MRI exams.
For the current study, McDonald and colleagues set out to identify the potential influence of neurotoxicity from intracranial gadolinium deposition following the intravenous administration of GBCAs for MR imaging.
The researchers used the Mayo Clinic Study of Aging (MCSA), the world's largest prospective population-based cohort on aging, to study the effects of gadolinium exposure on neurologic and neurocognitive function. All MCSA participants underwent extensive neurologic evaluation and neuropsychological testing at baseline and at 15-month follow-up intervals.
With and without GBCAs
The researchers looked at 4,261 cognitively normal MCSA study participants who had a mean age of 71.9 years (range, 50-90 years). Among those subjects, 1,092 (25%) received one or more doses of a GBCA, with a median of two doses (range, 1-28 doses). Their GBCA-enhanced MRI scans were unrelated to their participation in the MCSA. The median time since their first gadolinium exposure was 5.6 years.
McDonald and colleagues also compared the neurologic and neurocognitive scores of subjects who had undergone GBCA-enhanced MRI scans with scores from MCSA participants with no history of gadolinium exposure. Progression from normal cognitive status to mild cognitive impairment and dementia was assessed using multistate Markov model analysis.
After adjusting for age, sex, education level, baseline neurocognitive performance, and other factors, the researchers found that GBCA exposure was not a significant predictor of cognitive decline, based on comparisons between the healthy control subjects and those who were exposed to gadolinium.
Changes in clinical dementia rating (p = 0.48), dementia scale (p = 0.68), and mental status exam score (p = 0.55) showed no statistical significance, along with diminished neuropsychological performance (p = 0.13) or diminished motor performance (p = 0.43). Finally, gadolinium exposure was not an independent risk factor in the rate of cognitive decline from normal cognitive status to dementia (p = 0.91).
"I think right now there is a lot of smoke [and] no fire in terms of whether or not there is any evidence of harm," McDonald told RSNA attendees during his talk, adding that he hopes more studies from other centers provide data on the safety of GBCAs.
"Importantly, these studies do a good job of assessing the risk primarily on the 95% of patients who get very low doses of gadolinium in their lifetime -- not those [patients] who get 20 or 30 doses," he said. "The risk-benefit equation for these patients is entirely different than for those who only get one or two doses. We need to focus on real-world questions and real-world scenarios with our patients."
The researchers plan to reanalyze the current data and follow additional patients as the Mayo Clinic transitions to the macrocyclic GBCA gadobutrol (Gadovist, Bayer HealthCare).
This study by McDonald and colleagues received the RSNA's Kuo York Chynn Neuroradiology Research Award for the annual meeting's best neuroradiology paper. With the award comes a check for $3,000.