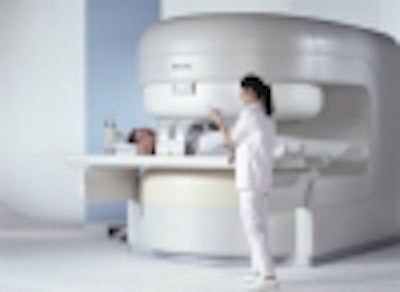 Upgrades and enhancements will be the order of the day in magnetic resonance imaging on the RSNA technical exhibit floor this year. Most major vendors will be showing systems that represent the evolutionary development of the modality, rather than breakthrough new product introductions.
While the activity on the exhibit floor should be more subdued than in past years, MRI's clinical development continues apace. Cardiac MRI is coming into its own, and MRI breast imaging is percolating into the clinical mainstream. Ultra-high-field 3-tesla magnets are also beginning to stake their claim to the high end of clinical imaging.
Concerns over MRI safety persist, however, following the tragic death of a six-year-old boy in an MRI suite in 2001. This year saw the publication of the American College of Radiology's white paper on MRI safety, which gives detailed direction on how to implement the Reston, VA, society's recommended MRI safety program.
GE Medical Systems
Booth #4129
GE's new Excite upgrade for the Signa Infinity 1.5-tesla scanner will be the highlight in the MRI section of the company's booth. Introduced in May 2002, Excite represents a complete redesign of the Signa imaging chain, according to Waukesha, WI-based GE.

Excite includes enhanced transmission capabilities, new radiofrequency coil designs, and increased processing speed. On the image transmission side, Excite uses new microprocessor technology to control gradient switching and RF electronics. GE also boosted the system's memory to store and play out multiple pulse sequences.
Excite's RF system include eight-channel phased-array coils, which are coupled with a set of 16 quadrature receiver channels, each operating at about 1 MHz per channel. The system has space to be upgraded to 64 quadrature channels in the future, according to the company.
The system's processing chain has been upgraded by expanding computer memory to 2 GB, with image reconstruction rates doubling over the company's previous imaging chain, to 400 Fourier transforms per second.
How do these enhancements affect performance? GE claims that Excite's new coils generate 40% higher overall signal-to-noise ratio, with TRs of 1.1 ms, TEs of 0.4 ms, and echo-planar frame rates of 35 images/second.
Excite has 510(k) clearance and has begun shipping. In October, GE said it had received more than 250 orders for the upgrade.
Hitachi Medical
Booth #7714
Japanese manufacturer Hitachi will feature new enhancements for its two flagship MRI scanners, the 0.7-tesla open Altaire and 0.3-tesla Airis II. Altaire is receiving a new "high-field performance" enhancement upgrade, which includes an enhanced DualQuad RF system with a transmit/receive body coil and quadrature/multiple-array coil conversion.
Also part of the upgrade are advanced pulse sequences, including driven equilibrium fast-spin echo and fast inversion recovery, plus balanced SARGE (spoiled steady-state acquisition with rewinded gradient echo), which produces ultrafast high signal-to-noise gradient-echo imaging, according to the company. In addition, Hitachi has added workstation software enhancements, including preprogrammed radial multiplanar reformatting (MPR).
Works-in-progress to be shown on Altaire will include support for parallel imaging for general and advanced applications, and cardiac acquisition and postprocessing features. Hitachi will also demonstrate support for Integrating the Healthcare Enterprise (IHE) profiles.
Other Altaire additions will include added support for peripheral vascular imaging with automatic table movement in up to four stations with a dedicated coil, as well as neurovascular and breast multiple-array coils.
For Airis, Hitachi will roll out its version 4.4 and 4.5 software, which includes advanced pulse sequences like driven equilibrium fast-spin echo and fast inversion recovery, plus balanced SARGE. As on Altaire, Airis software enhancements include preprogrammed MPRs. Other new additions include fat-suppressed diffusion-weighted echo-planar imaging (EPI), intermittent presaturation, and support for DICOM modality work list.
Works-in-progress for Airis will include technologies first developed for Altaire, such as support for peripheral vascular imaging with automatic table movement, and fluid-attenuated inversion-recovery (FLAIR) and short tau inversion recovery (STIR) sequences that include DW-FLAIR and STIR EPI.
Philips Medical Systems
Booth #7150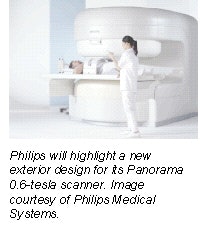 This Andover, MA, multimodality vendor will highlight new enhancements across its product line. The Panorama 0.23-tesla system will be shown with a new, more compact design, as well as new image reconstruction hardware, gradients, and a new user interface. Philips will also highlight Panorama models targeted at radiation therapy, intervention and therapy, and brachytherapy applications. Also look for AcQSIM MR, a therapy simulation and planning system that uses MR rather than CT.
On the Intera line of scanners, Philips will demonstrate new applications in whole-body imaging and microscopy, as well as a new version of the company's SENSE sensitivity encoding technique that is capable of twice the speed of the previous iteration. Philips has also doubled the speed of its RapidView reconstructor, and will showcase new Intera coils.
The company's Panorama 0.6-tesla and Infinion scanners will receive new exterior design enhancements, user interfaces, and reconstruction enhancements. Meanwhile, the 3-tesla Intera 3.0T system will be receiving new gradients, software, and hardware, which will result in a system with faster scanning, faster reconstruction, and more scanning protocols, according to Philips.
Siemens Medical Solutions
Booth #1029
Siemens of Malvern, PA, plans to highlight the latest software release for its Magnetom Maestro class of MRI scanners.
Key features of Maestro include Phoenix, an image-transfer protocol that allows clinicians start a scan directly from an image, and PACE, which enables motion control from 1-D to 3-D to cover complete organs. Meanwhile, iPAT (integrated parallel acquisition techniques) reduces artifacts from patient movement, shortening acquisition times by up to 75% while increasing resolution.
The new version, called Maestro 2002B, automates processes and improves workflow, according to Siemens. It is available as an upgrade on all Maestro-class scanners, such as Symphony and Harmony, as well as Siemens' Sonata cardiac system and Trio 3-tesla scanner. Maestro 2002B has FDA clearance and began shipping in September. It's included in all new Maestro models.
Toshiba America Medical Systems
Booth #7729
A new high-performance gradient system called Ultra will be highlighted in this Tustin, CA, company's booth. Ultra brings ultra-fast high-resolution imaging to the mid-field open segment, with gradients featuring a 25 mT/m amplitude and 100 mT/m/sec slew rate.
Ultra's clinical applications include single-shot echo-planar imaging, steady-state free-precession imaging, and SuperFASE (fast advanced spin echo) to visualize slow fluid without contrast, such as for magnetic resonance cholangiopancreatography (MRCP) and urography studies. Toshiba has FDA clearance for Ultra and is shipping the product.
In the high-field segment, Toshiba will again highlight its Spin Technology package for the 1.5-tesla Excelart scanner. First unveiled at last year's RSNA show, Spin includes three key features: SPEEDER, a parallel-imaging technique that uses multiple dedicated RF coils; Toshiba's Pianissimo noise-reduction technology; and Interactive, an interactive scan-plane navigation technique.
Toshiba believes that Spin Technology will produce benefits across a series of applications. In cardiac imaging, it will result in faster acquisition times with short breath-holds; MR angiography studies will see shorter scan times and better image quality; and abdominal imaging studies will be conducted more quickly, with greater region-of-interest coverage in shorter breath-holds.
By Brian Casey
AuntMinnie.com staff writer
November 18, 2002
Copyright © 2002 AuntMinnie.com