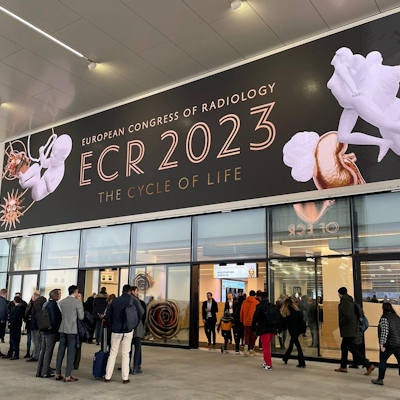 GE HealthCare has announced the completion of phase I subject recruitment for the development of a first-of-its-kind manganese-based macrocyclic MRI contrast agent.
Typically, MRI agents are gadolinium-based, and so this manganese-based agent could broaden GE HealthCare's portfolio of MRI contrast agents available to radiologists, providing a potential alternative in light of concerns relating to gadolinium retention, the company stated at ECR 2023.
The macrocyclic, extracellular -- or general-purpose -- manganese-based contrast agent has comparable relaxivity and is expected to be diagnostically similar to current gadolinium-based contrast agents (GBCAs).
Unlike gadolinium, manganese is a trace element that is naturally occurring in and efficiently eliminated from the body. Along with its magnetic properties, this makes a manganese-based agent a viable alternative to gadolinium. In addition, a nongadolinium agent could help limit the potential impact of post-patient excreted gadolinium in the environment, GE HealthCare stated.
The clinical trial, based at the clinical research unit at the Oslo University Hospital, Rikshospitalet, Norway, and overseen by lead investigator Dr. Hasse K. Zaré, aims to investigate the safety profile and how this injectable manganese contrast agent is eliminated from the body in healthy volunteers. The investigational agent is tightly bound to the chelate in a macrocyclic cage-like structure, so it is rapidly eliminated from the body rather than actively released into it.
"For many years we've been committed to investing in, and bringing to market, products to help solve some of radiology's biggest challenges and unmet needs. This manganese-based MRI agent is one of a number of novel agents we have at various stages of development in our innovation pipeline, all of which aim to give practitioners more choice in delivering precision care for their patients," noted Dr. Paul Evans, head of global R&D at GE HealthCare's Pharmaceutical Diagnostics unit.