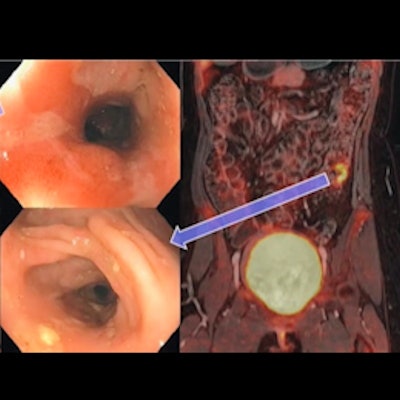 Simultaneous PET/MR enterography (MRE) can improve the detection of active inflammatory Crohn's disease, according to an April 19 presentation at the American Roentgen Ray Society (ARRS) annual meeting in Honolulu.
Dr. Anthony Jiang of the University of Wisconsin presented a study that compared PET/MRE versus MRE alone in patients in a clinical trial, with findings suggesting that the hybrid approach can help improve patient management.
"Simultaneous PET/MRE is more sensitive and improves diagnostic confidence for detection of active inflammatory ileocolonic Crohn's disease," Jiang said.
An estimated 3.1 million adults in the U.S. currently have been diagnosed with inflammatory bowel disease, which includes Crohn's disease and ulcerative colitis. Contrast-enhanced MRE is an effective noninvasive technique for the diagnosis of small bowel disorders, yet it is partially limited by its ability to differentiate scar tissue from inflammation in these patients.
Previous studies have suggested that combining FDG-PET and MRE may overcome this limitation. However, information on its clinical use in this regard is limited, Jiang noted. Thus, in this study, the researchers explored the potential clinical value of FDG-PET/MRE by comparing it with MRE alone in a prospective trial.
The researchers enrolled 23 patients with suspected Crohn's disease who subsequently underwent hybrid FDG-PET/MRE scans. PET/MRE and MRE images were reviewed separately by experts, who characterized finding using a 5-point scale in which a score of 1 was normal and a score of 5 was "definitely acute inflammation." Out of the 23 patients, the readers analyzed 68 bowel segments and identified 29 segments with inflammation in 18 participants.
According to a comparative analysis, in six of the 29 segments with inflammation, MRE alone received scores of 1 or 2, while PET/MRE received scores of 3 or higher, Jiang said. In addition, the diagnostic accuracy was higher for PET/MRE (89%) compared with MRE alone (80%) and no significant differences were noted between readers' scores in inactive segments.
Moreover, the researchers analyzed FDG radiotracer values on the PET imaging and found maximum standard uptake value (SUVmax) was significantly higher (9.2) in bowel segments with active disease compared to segments without active disease (5.1).
Ultimately, this "added value" of PET imaging to standard MRE for small-bowel imaging could translate to benefits for patients, as imaging is commonly used to assess how well maintenance treatments are working, Jiang said.
"This improved sensitivity can guide patient management and help assess treatment response," he concluded.