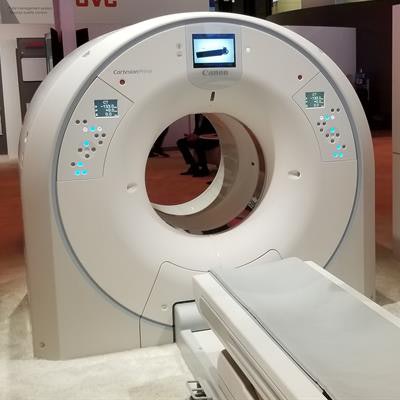 CHICAGO - A new wide-area spectral CT scanner with data reconstruction based on artificial intelligence (AI), a new fully digital PET/CT scanner, and enhancements in ultrasound, MRI, and interventional imaging are among the highlights in the RSNA 2019 booth of Canon Medical Systems USA.
CT
At this week's meeting, Canon is launching a new CT scanner, Aquilion One / Prism edition, that combines AI-based image reconstruction with spectral CT using the company's wide-area CT detectors.
Spectral CT has existed for some time as a tool for determining how different types of tissue respond to x-rays at different energy levels. But the technology has been slow to catch on as a routinely used clinical tool.
Canon hopes Aquilion One / Prism will change that by making spectral CT easier to perform. In particular, the company believes that its version of spectral CT will enable customers to employ spectral scanning without any trade-offs in terms of image quality, radiation dose, or workflow.
Canon placed a major emphasis on smoothing out spectral CT workflow. The company has applied deep learning to improve how spectral results are integrated into the imaging chain, from acquisition through visualization. Within the PACS reading environment, relevant spectral results are displayed next to conventional images. And the entire process benefits from Canon's 16-cm wide-area coverage.
In other features of Aquilion One / Prism, Canon has developed a new CT fluoroscopy (CTF) interface that enables faster interventional procedures with one-person operation thanks to ergonomically designed controls and a touchscreen tablet. The company plans to introduce the technique on other scanners at a later date.
Finally, Aquilion One / Prism uses Canon's Advanced Intelligent Clear IQ Engine (AiCE), a deep learning-based protocol for reconstructing CT images that distinguishes signal from noise to produce sharper images at lower radiation dose. AiCE works on a variety of images, including brain, lung, cardiac, and musculoskeletal. AiCE for Aquilion One / Prism is awaiting U.S. Food and Drug Administration (FDA) 510(k) clearance; the new edition itself has received 510(k) clearance.
Canon debuted AiCE at RSNA 2018 as a data reconstruction tool for the Aquilion Precision high-end CT scanner. At this year's meeting, the company is demonstrating AiCE for a broader range of products and clinical applications, all the way down to the company's workhorse Prime SP scanner.
Canon currently has 510(k) clearance for AiCE for chest, abdomen, and pelvis applications on Aquilion Precision; it is applying for regulatory approval for neuro, cardiac, and musculoskeletal use.
Molecular imaging
Canon has been making inroads into the molecular imaging segment over the past couple of years, and the company is showing its progress at RSNA 2019 with the launch of Cartesion Prime, a fully digital PET/CT scanner.
Canon designed Cartesion Prime from the ground up using the company's silicon photomultiplier (SiPM) PET detector technology, with the idea of providing a higher-performance system that will support the use of new PET tracers that become available in the future.
Cartesion Prime pairs the PET system with an Aquilion Prime CT scanner. The use of Aquilion Prime for the CT component means that Cartesion Prime users can employ the system as a backup CT scanner to perform clinically diagnostic CT scans, according to the company.
The scanner includes fast time-of-flight (TOF) resolution for better image quality, a large 27-cm axial field-of-view, and air-cooling technology designed to reduce maintenance costs compared with water cooling. What's more, Cartesion Prime sports a 78-cm scanner bore, compared with the 70-cm bores found on many other PET/CT systems on the market.
Canon has also included other features in the system, such as a scanner bed that adjusts to a very low position to make it easier for sick patients to get on and off, and lateral bed movement that enables patients to be adjusted without requiring technologists to expose themselves to radiation. Finally, Cartesion Prime can be sited in a minimum room size of 10.5 x 23.4 ft.
The system has received FDA clearance; one has been installed in Japan and one in the U.S., at Steinberg Diagnostic Medical Imaging in Las Vegas. Canon will continue to sell Celesteion, its analog PET/CT scanner.
MRI
At RSNA 2018, Canon launched its AiCE deep learning-based reconstruction technology for CT, and at RSNA 2019, the company is migrating AiCE to its MRI line -- specifically, the Vantage Orian 1.5-tesla and Vantage Galan 3-tesla scanners.
AiCE for MRI was developed by first training the algorithm on high-quality data with a high signal-to-noise ratio. The company then fed different levels of Gaussian noise into the images and trained AiCE to sense the difference between signal and noise to develop images that match the original high-quality data.
AiCE can help users by accelerating MR scanning, improving image quality, or increasing the image matrix -- or a combination of all three. Canon submitted its application for 510(k) clearance of AiCE for MRI several months ago.
In other MRI news, Canon is introducing a Compressed Speeder application that applies the company's compressed sensing technology to 2D fast spin-echo (FSE) exams, which are used in 80% of all MRI scans. Customers can use Compressed Speeder to scan patients up to four times faster while maintaining high signal-to-noise ratio. The technology will be available on Orian and Galan after it receives 510(k) clearance.
Finally, a dockable table first shown at RSNA 2018 on the Orian scanner is being shown this year on the Galan scanner as well.
Interventional
The news this year in the interventional section of Canon's booth is about enhancements to Alphenix 4D CT, the company's combination CT and angiography suite, first launched at RSNA 2018. The concept pairs a CT scanner on rails that can be moved to the bedside of a patient in an interventional suite.
Canon will discuss customer experiences with Alphenix 4D CT, with a particular emphasis on workflow and efficiency. The first Alphenix 4D CT site went live in February 2019, and users are beginning to expand beyond the original focus on interventional oncology and into other areas such as stroke interventions.
In November, the first dedicated cardiac installation of Alphenix 4D CT went live at WellSpan York Hospital in York, PA. The site has installed a system with 16-cm CT coverage with an Alphenix unit with a 12 x 16-inch field-of-view, compared with the 12 x 12-inch field-of-view of the interventional oncology version.
In other areas of interventional imaging, Canon is discussing high-definition imaging with its Hi-Def detector, available on the Alphenix Biplane and Alphenix Core+ systems. The higher resolution makes the systems more suitable for applications such as complex brain interventions, although uses outside the brain are also possible.
Ultrasound
New tools for detecting and diagnosing several challenging clinical conditions are a major focus in the ultrasound area of Canon's booth.
One such condition is fatty liver, which can be a precursor to more serious liver disease. Typically, fatty liver is assessed visually on ultrasound scans by a radiologist who interprets the brightness of the liver compared to the kidney. But what if a more automated and reproducible method could be developed?
Canon has developed Attenuation Imaging, an algorithm that examines how much attenuation has developed in the liver as a result of disease. The algorithm produces a quantitative measurement that can then be used to track patients.
The algorithm was first available in the version 3.1 upgrade on the high-end Aplio i800 scanner, but Canon is now migrating it down its product line to other scanners in the i-series line, such as i700 and i600, as well as the Aplio a550.
Another major emphasis for Canon is on ultrahigh-frequency transducers, in particular for musculoskeletal applications. The company offers 33-MHz and 24-MHz probes for specialty applications on the i900, i800, and i700 scanners, while its entire product line has access to 18-MHz imaging. The company is also showing a new i-series transducer for pediatric use.
Sonographer ergonomics is an increasingly important issue in ultrasound, and Canon is demonstrating its activities in the area through work with Sound Ergonomics, an ultrasound consulting firm. Canon has a special demonstration area in its RSNA booth where attendees can see for themselves the ergonomic improvements made with a-series and i-series scanners.
Other new ultrasound features include BI-RADS and TI-RADS reporting on the i-series and a-series scanners.
X-ray
Canon is displaying its full range of products in the x-ray section of its booth, with a spotlight on the Ultimax-i system configured with an overhead tube crane and wall stand. Ultimax-i is a general radiography system that also performs radiography/fluoroscopy (R/F) and basic angiography procedures. The unit's C-arm design makes it possible to perform procedures with patients in unique positions, enhancing the value of the system, according to the company.
Canon is also showing mobile x-ray systems developed by sister company Virtual Imaging, as well as a general radiography room with automated positioning and a floor-mounted system. The company is highlighting the operational and financial versatility of the systems.
Imaging informatics
Finally, Canon is launching Gateway Platinum, a multilevel cybersecurity product that includes cybersecurity protection and remote diagnostic support over a secure virtual private network (VPN) to a Canon Medical control center. The product is available to new and existing Canon customers with a service plan.