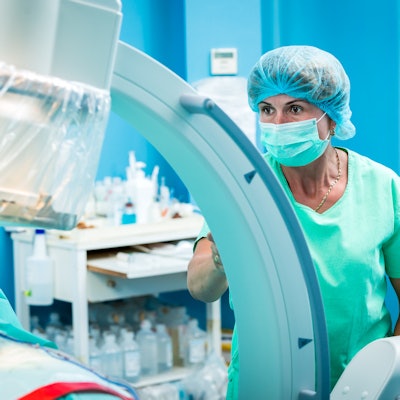 The interventional x-ray and mobile C-arm equipment market grew notably in 2022, with revenue compound annual growth rate (CAGR) of 9.5% and 13.8%, respectively, according to a new report from Signify Research.
The two markets collectively exceeded $4 billion in revenue. This expansion was supported by several factors, such as healthcare providers prioritizing investment in surgical equipment, the prevalent growth of office-based labs and ambulatory surgery centers in the U.S., and the significant progress of structural heart surgery including procedures such as complex coronary interventions, percutaneous valve repair and replacement, and mitral valve replacements.
Product trends
In the mobile C-arm market, flat-panel detector (FPD) 3D mobile C-arms are set to outpace growth for 2D C-arm technology, with a revenue CAGR of 8.3% through to 2027. The application of 3D C-arms is proliferating beyond spinal procedures for use in probe guidance in biopsies, and pulmonary procedures and facilitating visualization of screw placements.
The rise of Asian mobile C-arm vendors such as Wandong, Perlong, Allengers, and Kiran X-ray has intensified competition and made 2D mobile C-arm systems more accessible, posing a threat to the demand for image-intensifier (II) technology from established vendors. Moreover, reimbursement cuts for pain management clinics in the United States, which are the primary buyers of II, further jeopardize the market.
Within the interventional x-ray market, interventional radiology is experiencing a slowdown due to steady growth in procedural volumes. Interventional neurology is forecast to have the fastest growth due to the emergence of stroke centers in North America and Western Europe facilitating the demand for biplane technology. The market outlook for interventional cardiology remains favorable with clinical demand maintained by the continued expansion in procedures such as transcatheter aortic valve implantation (TAVI), transcatheter aortic valve replacement (TAVR), and mitral and tricuspid valve replacement.
Regional Highlights:
Americas
Expansion of ambulatory surgery centers and office-based labs continues to fuel growth in the North American market. As clinical cases become more complex, the adoption of premium technology is expected to increase. However, the recent rise in system prices has temporarily impeded this progress. Healthcare providers in North America have been facing challenges due to inflation, which has had a negative impact on their investment.
Latin America was negatively impacted by currency fluctuations and inflation hikes. Single-plane interventional x-ray systems are primarily being purchased due to budget restrictions.
EMEA
Within the Western European market, Spain and Portugal contributed to the most growth driven by government investment in the replacement of aged fleets. Other Western European countries continued to face headwinds from market maturity as well as the relative impact of inflation on capital expenditure.
As a result of healthcare investment being diverted to the military, as well as a weakened economy, the Russian market is predicted to experience a significant slowdown mid-term. Minimally invasive treatments are gaining widespread acceptance in the Middle East, driving growth for the interventional and surgical x-ray market.
Asia Pacific
The Chinese market offers a strong opportunity for 3D mobile C-arms due to the widespread acceptance of the enhanced navigational capabilities and clinical precision of 3D technology. Increased penetration of hybrid operating rooms in this country is also anticipated, boosting interventional x-ray demand.
The Product Linked Incentive Scheme introduced by the Indian government is encouraging investment into locally manufactured fixed and mobile C-arms, strengthening the presence of local vendors.
The Japanese market has started to experience a slowdown because of the government's supplementary budget coming to an end. This places pressure on domestic vendors such as Canon Medical and Shimadzu to expand their international business to offset the impact of weaker domestic demand.
Future outlook
As of now, the market forecast for interventional and surgical x-ray equipment looks encouraging in the short to mid-term. However, there is some ease of demand in mature markets, particularly Western Europe. Revenue growth has been sustained in 2022 due to increased average selling prices caused by rising costs of components, manufacturing, and transportation.
Local vendors in emerging markets are spearheading making entry-level systems more accessible and affordable. Innvolution Imaging, an Indian interventional x-ray vendor, has played a significant role in this effort. As a result, it is now the second-largest cath lab supplier in India and has helped bring cath lab access to two-thirds of Indian districts, a significant increase from less than one-third a decade ago.
Developed markets continue to prioritize high-end systems with advanced features to enable more complex interventions to be performed. Large multinational vendors have transformed their business strategies from focusing solely on transactional sales and technology-based marketing to becoming imaging service line providers to secure long-term managed service deals. They are increasingly offering integrated and comprehensive imaging solutions that include AI, navigation, reporting, workflow, and strategic partnerships. Long-term partnerships between vendors and providers, along with multimodality deals, will significantly improve both operational and clinical efficiency as well as create more centralized procurement.
In the mid to long term, the interventional x-ray market in developed markets is expected to see gradual adoption of cutting-edge technology and more advanced features. An era of augmented reality, surgical robotics, and increased penetration of AI for features beyond dose optimization and image quality enhancement is on the horizon.
In the upcoming years, it is expected that academic institutions and top-tier hospitals in North America will be the early adopters of such technologies. As the cost-benefit analysis of such advanced features becomes more apparent, it is expected that non-academic facilities will also deploy these technologies in the mid to long term. The use of augmented reality to provide peer support during interventional procedures is projected to gain the most traction in outpatient facilities that lack access to a network of experienced physicians.
Signify Research's recent report, Interventional and Surgical X-ray – World – 2023, presents market dynamics, estimates, forecasts, competitive analysis, and major drivers for the interventional and surgical x-ray market. Products included in this report are image intensifier mobile C-arm, 2D mobile C-arm, 3D mobile C-arm and O-arm, hybrid operating rooms, general vascular angiography, oncology/body, neurology, interventional gastro, general coronary, structural heart lab, and electrophysiology.
Bhvita Jani is a research manager at Signify Research, an independent supplier of market intelligence and consultancy to the global healthcare technology industry. Signify's major coverage areas are healthcare IT, medical imaging, and digital health.
The comments and observations expressed do not necessarily reflect the opinions of AuntMinnie.com or AuntMinnieEurope.com, nor should they be construed as an endorsement or admonishment of any particular vendor, analyst, industry consultant, or consulting group.