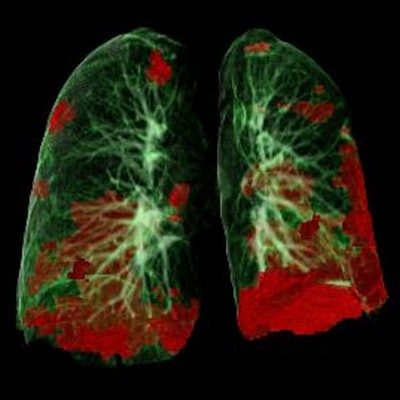 Chest CT shows that lung abnormalities persist even two years after a patient has recovered from COVID-19, a study published February 14 in Radiology has found.
The study is the first conducted with two-year follow-up data from the frontlines of the pandemic in Wuhan on how COVID-19 affects the lungs, according to the RSNA, offering a sobering picture of the long-term impact of the illness.
"In particular the proportion of fibrotic interstitial lung abnormalities, an important precursor to idiopathic pulmonary fibrosis, remained stable throughout follow-up," a team led by Dr. Xiaoyu Han, PhD, of Tongji Medical College of Huazhong University of Science and Technology in Wuhan, China, said in the RSNA statement. "Therefore, the fibrotic abnormalities observed in our study might represent a stable, irreversible pulmonary condition, such as lung fibrosis, after COVID-19."
Around the world, more than 600 million people have contracted and recovered from COVID-19, but clinicians remain concerned about the long-term effects of the virus, particularly in the lungs, Ye's group noted. The researchers sought to assess incidence of abnormal lung abnormalities in patients two years post-COVID-19 and to evaluate any correlations between abnormalities and lung function changes.
The study included 144 patients who were discharged from hospital after recovering from COVID-19 pneumonia between January and March 2020. Each patient underwent chest CT and pulmonary function testing at six months, 12 months, and 24 months post-symptom onset.
Abnormalities included the following:
Lung tissue scarring (fibrosis)
Lung tissue thickening
Honeycombing
Cystic changes
Bronchial dilation
Incidence of these types of abnormalities did decrease over time, but the researchers continued to find that almost 40% of patients continued to show lung abnormalities, even after two years post hospital discharge. Of these abnormalities, more were fibrotic (23%) than not (16%), the authors noted.
Persistence of lung abnormalities post-COVID-19 recovery
Measure
Six months
24 months
Overall incidence of lung abnormalities
54%
39%
Those patients presenting with lung abnormalities after COVID-19 recovery were more likely to have respiratory complications and abnormal lung function, Han and colleagues reported; incidence of these did decrease over time but remained high, at 30% six months postrecovery and 22% at two years.
The most common respiratory symptom at 24-month follow-up was shortness of breath (14%). Almost a third of patients (29%) showed mild to moderate pulmonary diffusion (that is, how effectively the air sacs of the lungs deliver oxygen to blood vessels and remove carbon dioxide from them), a result the authors noted could be related to long-term lung damage from COVID-19.
Patients who have recovered from COVID-19 should be tracked to detect and manage any pulmonary changes and functional impairment, the group urged.
"Clinically, interstitial lung abnormalities, especially the subpleural fibrotic subtype, are associated with radiographic progression, higher mortality, and the need for medical intervention," the authors wrote. "As these sequelae may last for a long time, vigilant observation and a long follow-up period are [indicated]."