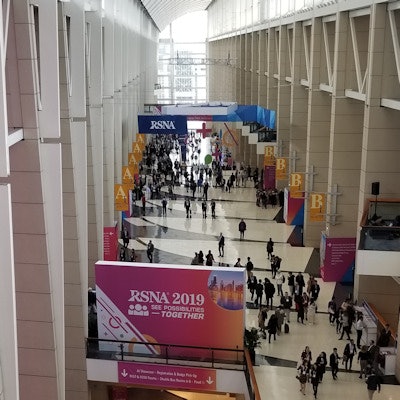 CHICAGO - A multidisciplinary "timeout" discussion between radiologists and emergency department clinicians can prevent unneeded repeat CT exams for transferred trauma patients, according to research presented November 29 at the RSNA meeting.
The findings show that a relatively simple intervention could significantly reduce unnecessary imaging -- and improve patient care, presenter Dr. Ferco Berger of Sunnybrook Health Sciences Centre in Toronto told session attendees.
"Having an in-house emergency radiologist evaluate CTs from sending hospitals ... significantly reduces the number of repeat CTs and radiation exposure," he said.
Transferred trauma patients with CT exam results from the sending hospital often get another exam at the receiving hospital, Berger said. But these additional CT exams may not be needed, and they can have real consequences, such as patient care delays, unnecessary radiation and contrast exposure, and healthcare cost burden, he noted.
Berger and his team explored reasons receiving hospitals order additional CT exams for transfer patients and the effect of an "imaging timeout" intervention that consisted of a meeting between the emergency department trauma team and a radiologist via a study that included 416 patients and was conducted in two phases.
In the first (observation) phase, a radiologist discussed with the trauma team why a second CT exam had been ordered, while in the second (intervention) phase, the radiologist and trauma team met for a "timeout" during which they evaluated the adequacy of the initial outside CT exam and discussed whether a second exam was needed. Berger's group tracked the reasons for a second CT exam if it was performed, the number of prevented exams, and radiation and contrast dose. Of the total study cohort, 318 patients were enrolled in the first phase and 98 in the second.
The investigators found that the phase two intervention reduced repeat CT exams by 29% and reduced estimated radiation exposure by 24%.
Effect of 'timeout' intervention on repeat CT exam incidence
Measure
Phase I (observation)
Phase II (intervention)
Percent reduction/prevention
Number of repeat CT exams
1.7 per patient
1.2 per patient
-29%
Number of CT exams prevented
--
2.2 per patient
-45%
Estimated radiation exposure due to repeat CT exams
14.1 mSv per patient
10.9 mSv per patient
-24%
No CT exams performed at receiving hospital
6% of patients
19% of patients
--
The most common reasons receiving hospital emergency physicians reported for ordering repeat CT exams for transfer trauma patients were inadequate or incomplete images; inadequate outside reports or reports with discordant findings; and the need to evaluate progression of the injury.
Berger did concede that the study's limitations included a lack of data on the reason for a second CT exam at the receiving hospital -- for example, whether it was to complete protocol or evaluation injury progression.
But the fact remains that when radiologists and trauma physicians take the time to check in with each other, unnecessary imaging is reduced, according to Berger.
"A multidisciplinary timeout discussion can prevent a substantial number of CTs from being repeated," he said.