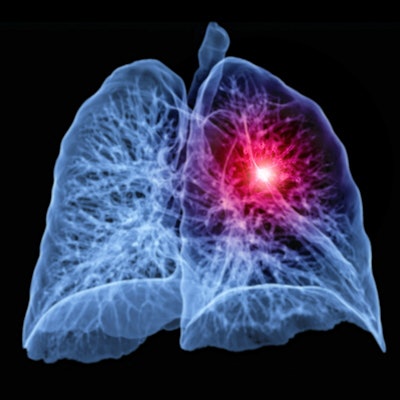 Overall adherence to lung cancer screening follow-up after a positive low-dose CT exam is less than 50% -- and the odds are even lower among Black people, men, and current smokers, a study published November 3 in JAMA Network Open has found.
The findings confirm previous research that has shown disparities in lung cancer screening follow-up, and suggest that the full benefits of screening aren't being realized, wrote a team led by Dr. M. Patricia Rivera of the University of Rochester Medical Center in Rochester, NY.
"Maximizing the benefits of lung cancer screening requires timely follow-up after a positive screening test," Rivera and colleagues noted.
The American College of Radiology (ACR) recommends follow-up screening for individuals with Lung-RADS categories of 3 (probably benign, within 6 months), 4A (suspicious, within 3 months), or 4B or 4X (very suspicious, within 4 weeks). With these categories and follow-up protocols in mind, Rivera and colleagues evaluated rates of compliance and explored whether there are particular factors associated with these rates.
The study included 685 patients who underwent low-dose CT lung cancer screening between January 2015 and July 2020 and had Lung-RADS categorizations of 3, 4A, or 4B or 4X. Of these patients, 18% were Black, 82% were white, and 51.4% were male.
Overall adherence to recommended lung cancer screening follow-up was 42.6%. Rates varied by Lung-RADS category and were higher for more suspicious findings. When the follow-up time was extended, compliance rates increased.
Follow-up compliance rates in patients with positive lung cancer screening results
Factor
Lung-RADS 3
Lung-RADS 4A
Lung-RADS 4B or 4X
Overall adherence
30%
49.5%
68%
Extended follow-up time
68.6% (from six months to within nine months)
77.3% (from three months to within five months)
80.5% (from 30 days to within 62 days)
Factors contributing to lower odds of follow-up
Current smokers (odds ratio*, 0.48)
Blacks (odds ratio, 0.35)
Current smokers (odds ratio, 0.31)
*With 1 as reference
The researchers also found that men with Lung-RADS scores of 4B or 4X were less likely than women with these scores to undergo follow-up (odds ratio, 1.09 vs. 2.82).
Compliance with lung cancer screening follow-up must be improved, according to the authors.
"Efforts should be made to better define the recommended timeline for follow-up of high-risk screen-detected nodules, Lung-RADs 4B and 4X, and to understand why recommended follow-up after a positive result are lower in Black individuals, male individuals, and those who currently smoke," they concluded.