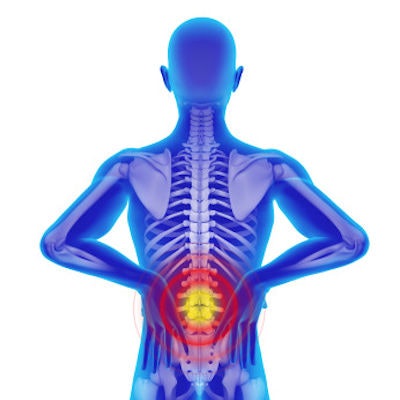 CT-guided pulsed radiofrequency, which applies pulses of energy directly to nerve roots, may be an effective method for alleviating lower back pain for cases when more conservative treatment options fail to do so, according to a Tuesday presentation at RSNA 2018 in Chicago.
The researchers, led by Dr. Alessandro Napoli, PhD, from Sapienza University of Rome, investigated the potential utility of CT-guided pulsed radiofrequency (pRF) in previous research, which they presented at RSNA 2017. This minimally invasive interventional radiology procedure involves inserting a needle and probe at the site of injury using CT guidance and then delivering pulsed energy to the affected nerves for 10 minutes.
"Pulsed radiofrequency creates a nerve modulation, significantly reducing inflammation and its associated symptoms," Napoli said.
In the prior study, the investigators offered CT-guided pRF to several patients who were experiencing acute lower back pain due to lumbar disk herniation -- a condition in which the jelly-like disk between an individual's spinal vertebrae is displaced and pinches the spinal nerves. They found that nearly all of the patients were pain-free a year following treatment.
Expanding their work in this area, Napoli and colleagues performed CT-guided pRF on 128 patients with lumbar disk herniation who did not respond to traditional treatment with steroid injection.
One year after CT-guided pRF treatment, the patients had greater overall improvement in pain and disability scores and reported a higher rate of self-perceived recovery for lower back and leg pain, compared with steroid injection.
Steroid injection vs. CT-guided pRF for lower back pain from disk herniation
Steroid injection
CT-guided pulsed radiofrequency
Patients who felt recovered 1 year after treatment
61%
95%
The outcome of this study underscores the superiority of CT-guided pRF over standard care strategies, and it could be used prior to corticosteroid injection for an even longer-lasting effect, according to Napoli. What's more, using the technique may allow many patients with lower back pain to avoid unnecessary surgery, he added.
"We learned that when pulsed radiofrequency is followed by steroid injection, the result is longer-lasting and more efficacious than injection only," he said. "The effect of pulsed radiofrequency is fast and without adverse events."