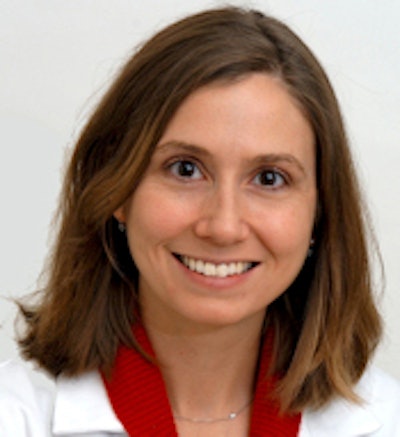 A just-published proposal in the Annals of Internal Medicine seeks to balance the benefits and harms of CT lung cancer screening by limiting the screening of Medicare beneficiaries to lung cancer screening centers that would be accredited based on still-evolving society-based guidelines.
The proposal would address some of the concerns raised during an April 30 meeting of the Medicare Evidence Development and Coverage Advisory Committee (MEDCAC), which issued a vote of low confidence in low-dose CT (LDCT) lung screening. Among the panel's concerns was whether screening would be performed at sites qualified to do it.
The author of the new study, Dr. Renda Soylemez Wiener, believes that while the MEDCAC panel erred by overemphasizing harms and underemphasizing the benefits of lung screening, screening can be made more effective to address the panel's concerns. Lung cancer screening experts we spoke to expressed some support for the idea of limiting scans to accredited centers, but remained wary of how the details might shake out.
MEDCAC shock
Wiener noted that clinicians were "shocked" by the MEDCAC panel's decision, which came after the National Lung Screening Trial (NLST) showed a mortality benefit for screening and the U.S. Preventive Services Task Force (USPSTF) gave screening a positive review.
In addition, multiple guidelines recommend LDCT screening for high-risk persons, wrote Wiener, who is an assistant professor of medicine at Boston University School of Medicine. Private payors will have to start covering the scans for high-risk smokers ages 55 to 80 starting in 2015 due to the provisions of the Patient Protection and Affordable Care Act (Annals of Internal Medicine, June 24, 2014).
But in her editorial, Wiener acknowledged that there are important reasons for caution before the U.S. Centers for Medicare and Medicaid Services (CMS) implements screening on a widespread basis, concluding that it would be safer for Medicare patients to be screened only at accredited centers.
"There are important benefits of CT screening for lung cancer, but there are also potential harms, and it's very important to have a program with the infrastructure to ensure the necessary elements to protect patients," she told AuntMinnie.com in an interview.
For example, only one-quarter of the NLST participants were older than 65 years, and none were older than 74, she wrote in her paper. The harms of screening are real and likely to be more serious in older individuals because they have higher rates of complications from biopsy of nodules, and mortality rates from nodule resection.
"These harms may be magnified in the community, where interpretations of screening CT results, use of invasive procedures, and complications of such procedures can vary widely with resulting harms from overtesting and overtreatment," Wiener wrote.
In addition, the competing risks for death from other causes rise with age and the development of comorbidities, diminishing the potential benefits of extending life through LDCT screening, she wrote. Finally, CMS will incur substantial costs both for screening and downstream evaluation of nodules, extrapulmonary incidentalomas, and cancer.
But despite these risks, there is good reason to believe that low-dose CT screening for lung cancer can be performed well outside of the few high-powered academic centers designated by the U.S. National Cancer Institute, Wiener said. Several early-adopting programs in smaller settings have proved their worth, she added.
"For example, the Department of Veterans Affairs has their eight-site demonstration program project that's really kind of an ideal model for how these programs can work," she said. The Lahey Clinic in Burlington, MA, also has very well-designed programs "that demonstrate that screening can be done in other settings and done well," Wiener said.
But the experience with annual prostate-specific antigen (PSA) testing, which turned out to be of limited prognostic value, shows that screening programs can be botched, she wrote.
"To avoid the hard lessons learned from overzealous implementation of prostate cancer screening, we must get implementation of LDCT screening right from the outset," she added. "A CMS determination that LDCT screening will only be covered in qualified facilities may provide the perfect opportunity to do so."
Requiring all screening centers to be accredited by these still-evolving standards will ensure that the benefits outweigh the harms, "addressing the concerns that MEDCAC had," according to Wiener.
"It's sort of an intermediate ground between not offering it at all to Medicare beneficiaries, which I think would be a terrible thing, and rolling it out to everybody, which also may not be the best idea," she said. "There has to be an infrastructure in place to make sure that the quarter of patients who have a pulmonary nodule detected through screening have the infrastructure in place to have that appropriately evaluated."
From the ground up at Lahey
Massachusetts' Lahey Clinic, which Wiener cited as an example of a well-managed smaller lung screening program, used its successful mammography program as a model, according to Dr. Andrea McKee, who chairs Lahey's department of radiation oncology.
The highly regulated mammography screening framework offers a good example for a lung cancer screening program, McKee told AuntMinnie.com. "There are actually a lot of good parts of mammography that allow us to do population-based radiographic screening in a very quality-focused manner ... and we built our program around that," she said.
Two years and 2,300 patients ago, the Lahey Clinic actually developed the Lung-RADS criteria that the American College of Radiology (ACR) has since adopted. "We've also trained eight radiologists in Lung-RADS, and we feel we've been able to mimic the results seen in the National Lung Screening Trial," she said.
More to the point, Lahey developed its program without any prior experience in lung cancer screening, according to McKee.
"So we feel this is very doable at centers who decide to take it seriously," she said. "And that's what's happening right now. Centers are reaching out across the country to talk to others [about] the experience, to learn from the ACR, to figure out how to do lung screening appropriately."
Lahey also has plenty of experience in screening Medicare-aged patients, including a multidisciplinary team that evaluates the images and the patients carefully before deciding whether to intervene. In contrast to the practice in breast screening, "you don't rush in and biopsy everything" when evaluating lung cancer patients, McKee said.
Who makes the rules?
Wiener cautioned that she was neither advocating that screening be limited to a few centers of excellence, nor prescribing a set of standards on her own.
"What exactly those standards turn out to be has yet to be defined," she said, stating that several organizations, including ACR, the American Thoracic Society, and the American College of Chest Physicians, are working to define the necessary elements that should be in place to ensure a high-quality program.
Dr. Ella Kazerooni, professor of radiology at the University of Michigan, and chair of the ACR committee on lung cancer screening, said those stakeholder organizations have settled on most of the elements required for effective screening, beginning with adoption of the Lung-RADS criteria to rate the malignant potential of a CT finding.
"We all agree on the core principles necessary to bring screening to bear across the U.S. safely, appropriately, and to minimize the harms, and have over 40 organizations that have signed on with us now," Kazerooni told AuntMinnie.com in an email.
She believes that the viability of Wiener's proposal might rest on its interpretation of what qualifies as a screening center.
"The key is what is a 'certified, comprehensive, patient-centered program' and who would do that," Kazerooni said. "If that means only at sites with multidisciplinary programs, that is no way to roll out a population health management tool. Like screening mammography, it must be accessible to people in towns and cities small and large, urban and rural."
Multidisciplinary teams everywhere?
To Wiener, multidisciplinary teams at every screening center aren't necessarily critical, but they are valuable.
"I think it would be ideal to have the disciplines all in one place that could really manage patients from the time of screening through evaluation of the screen-detected abnormalities until diagnosis is made, and that would necessitate having everyone in the same place," she said.
But while Kazerooni agrees with the need to provide access to specialists and multidisciplinary teams, she believes it would be impractical to staff every screening center with a full multidisciplinary team.
"When abnormalities are in the highest risk category, like 4 Lung-RADS, then they should be referred to a specialist and a multidisciplinary team," she said. "Most abnormalities do not require that level of care. Practices should have access to specialists and multidisciplinary teams, but they don't need to be in every place where screening is done; referral arrangements are fine."
MEDCAC's fundamental error
The driving force behind the desire to regulate lung cancer screening practice comes from MEDCAC's fundamental misinterpretation of what NLST found and what it shows, said Dr. David Yankelevitz from Mount Sinai Medical Center.
"When you think the benefits are marginal and the risks are pretty high, then people start getting very concerned about populations and costs, etc.," Yankelevitz told AuntMinnie.com. MEDCAC "failed to understand" that the 20% mortality reduction is a floor, not a ceiling, and was set up as a criterion for stopping the trial; in reality, NLST results aren't incompatible with an 80% reduction in mortality.
"MEDCAC didn't understand that, or they would never have asked questions like, 'Is there evidence that screening is beneficial after three years?' " he said.
As for screening Medicare-aged patients, sites in the International Early Lung Cancer Action Program (I-ELCAP) and community centers have performed as well as the larger academic centers, Yankelevitz noted, and ACR has shown good leadership. Screening must be taken seriously, and it can't be a free-for-all, but the idea that screening is only marginally beneficial comes from MEDCAC and others' "exaggeration of the harms and minimization of the benefits" of screening, he said.
"I think [MEDCAC panelists] were correct in acknowledging that there are potential harms for screening and that we need to be cognizant of those," Wiener said. "I don't necessarily agree that the harms outweigh the benefits, which is essentially what they said. If it's done carefully, I think it can be done so that the benefits outweigh the harms."