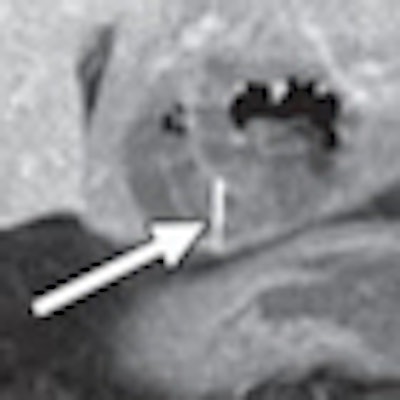 Why were people who had recently eaten grilled meat showing up at Rhode Island Hospital in Providence with abdominal pain and painful swallowing? Radiologists and emergency room physicians used x-ray and CT to find the answer -- they had ingested wire bristles from metal brushes used to clean the grills.
Those are the findings explained in a new article in the April issue of the American Journal of Roentgenology, where Rhode Island Hospital physicians describe how their ongoing efforts to share cases collaboratively with other physicians at the hospital helped them identify the puzzling trend (AJR, Vol. 198:4, pp. 836-839).
The study includes some useful lessons, both for radiologists and for grilling aficionados.
Easy to miss
Ingestion of foreign bodies is a common cause for visits to the emergency room, but there have been only two case reports in the literature related to upper gastrointestinal injury due to ingestion of bristles from grill brushes. That could be because the bristles are so small, according to lead study author Dr. David Grand, a radiologist and assistant professor of diagnostic imaging at Warren Alpert School of Medicine at Brown University in Providence.
"It is analogous to a small fishbone," Grand said. "You don't notice it when you're chewing and then you swallow it. Maybe people are not chewing as well as they should, and next thing you know they are in the ER."
Grand said the hospital's radiologists traditionally have enjoyed sharing worthwhile cases with their colleagues. "Because you share the interesting cases with your colleagues, people start to notice a pattern," Grant told AuntMinnie.com. "Once we started noticing a pattern and everyone began to look for these abnormalities, then we found more of them."
The study covers patients who reported to the ER over a period of 18 months. They were evenly split between those who had pain in the upper tract, where the middle bristles either perforated the larynx or the pharynx, and those with pain in the lower tract, where the bristles perforated patients' stomachs or small intestines.
Two patients received x-rays of the neck, which revealed the metal objects, while one patient had a CT scan that identified and localized the bristles within the neck. All three patients had the wires removed without complication.
The remaining three patients presented with abdominal pain and underwent CT scans. In two patients, the wire perforated the small intestine. The metal piece perforated through the stomach and into the liver of the third patient and was surrounded by a large hepatic abscess. Laparoscopy was performed on the basis of the CT and clinical findings, and the bristle was removed through surgery.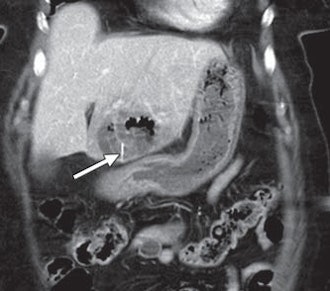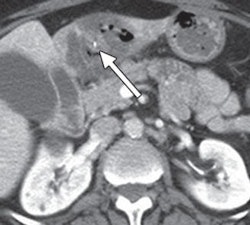 Grant said that CT is the hospital's "first-line imaging modality" in the ER for abdominal pain. Patients in whom the metal bristles were found in the abdomen were all diagnosed on CT.
"One critical element that helped us a great deal is that we no longer give oral contrast to patients in the ER who are undergoing CT," Grant added. "Oral contrast is bright and the bristles are bright. The oral contrast theoretically could mask or obscure one of the bristles in the abdomen. So I think it is helpful that we stopped giving oral contrast a few years ago."
At that time, Rhode Island Hospital stopped using oral contrast because it was time-consuming, Grant said. It is common among most institutions to give patients a CT scan about 90 minutes between the administration of the oral contrast. Rather than wait an hour and a half, the hospital wanted to provide a more rapid diagnosis in the ER.
"Not only was it slow, but, despite our best efforts, we could not prove that it was actually helping us at all. So we stopped giving it," Grant said. "To be honest, it took a little getting used to and we were afraid we would be missing things, but overall we have been very pleased not using the oral contrast, and it has become more of a trend across the country."
Since Grant and colleagues wrote the paper, Rhode Island hospital has had six more cases of people presenting in the ER after accidentally ingesting metal grill brush bristles. He advised grilling enthusiasts to be aware that there is the potential risk of swallowing the metal wire if they don't thoroughly wipe the grill of any foreign objects after cleaning it. They should also tell their ER doctor that they were grilling if they have acute abdominal pain.
"In addition, if ER doctors are more aware of this acute abdominal pain after the patient ate, they could ask that question, which would help ensure an accurate diagnosis," Grand said. "Also, CT is the front-line modality, because even if you find [the bristle] in the neck on a plain x-ray, most of the time you'll need CT to get a more exact location of the object."
Grand also discusses the study in a video, and he comments that he now wipes his own grill with paper towels after using a metal brush to prevent accidental ingestion.