Scientific Paper of the Year
Minnies 2023 Winner: Standalone AI for breast cancer detection at screening digital mammography and digital breast tomosynthesis: A systematic review and meta-analysis. Yoon, JH et al, Radiology, May 23, 2023. To learn more about this paper, click here.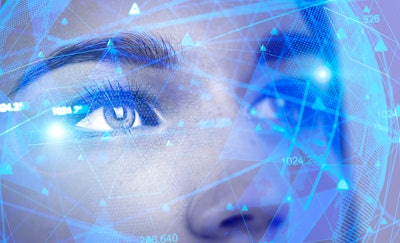 The winner selected for Scientific Paper of the Year by the Minnies expert panel found that standalone AI algorithms performed as well or even better than radiologists when detecting breast cancer on mammograms.
Lead author Jung Hyun Yoon, PhD, from Yonsei University in Seoul, said the study aimed to set the stage for if and how AI should be clinically implemented.
"We now have some evidence that standalone AI performance is good, but there are still some gaps to fill in for more efficient implementation," she told AuntMinnie.com.
Yoon and colleagues, including U.S., European, and Asian experts, performed a systematic review and meta-analysis that evaluated the standalone performances of AI software programs for interpreting digital mammography and DBT exams. Literature review and data extraction started in September 2022, she said.
The authors included 16 studies published between 2017 and 2022 that contained 1,108,328 examinations in 497,091 women. The studies included six reader studies, seven historic cohort studies (retrospective interpretations in clinical practice) on digital mammography, and four studies on DBT.
The team found that when AUCs were pooled, standalone AI had a significant advantage in the reader studies, but not in the historic cohort studies. It also reported that AI showed significantly higher AUCs in the DBT studies.
Pooled AUCs of AI, radiologists in breast imaging studies

Radiologists
AI
Reader studies
0.81
0.87 (p = 0.002)
Historic cohort
0.96
0.89 (p = 0.152)
DBT
0.79
0.9 (p = < 0.001)
"We wanted to see whether standalone AI performances were at, and our results show that based on current publications, when used for interpreting screening mammography AI performs as well as or even better than individual breast radiologists," Yoon said.
The AI software of most major vendors was included, she added.
In breast imaging, given that most of the more than 20 million mammographic screenings performed in the U.S. each year are normal, the authors suggested that standalone AI software could be useful for ruling out these cases and thus help reduce burnout, as well as play a role in remote places where there is a shortage of trained human readers.
Until recently, there have been few prospective studies implementing AI for mammography or DBT screening for breast cancer in real practice. Those studies will ultimately need to be performed to prove that AI for such interpretation is beneficial to both the radiologist and patients, Yoon said.
With those studies planned, she said the role of AI in practice will very likely expand in the next five years, possibly accelerated by new regulations for AI devices.
"The radiology field, especially breast imaging would still have a leading role in implementing AI, and in this aspect I hope we can be prepared for those changes, to use AI for the right intensions to benefit our patients," she said.
Runner up: Diagnostic imaging utilization in the emergency department: Recent trends in volume and radiology work relative value units. Poyiadji N et al, Journal of the American College of Radiology, August 3, 2023. To learn more about this paper, click here.
Best New Radiology Device
Minnies 2023 Winner: BodyTom 64 point-of-care mobile CT scanner, NeuroLogica
An upgraded version of NeuroLogica's BodyTom Elite CT scanner, BodyTom 64 is a 64-slice, full-body portable scanner that's suitable for use in multiple departments and for both pediatric and adult imaging, according to the Samsung Electronics subsidiary. For example, it can optimize interventional radiology workflows by remaining ready to rescan for each stage of needle guidance, the company said.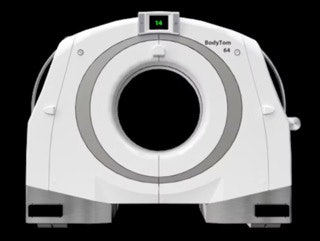 What's more, the scanner can utilize a radiolucent skull fixation device to enable intraoperative neuroimaging. Thanks to its internal lead shielding and battery operation, it can also be deployed in trauma bays, NeuroLogica said. The firm has also incorporated a number of changes to the software that had been utilized in BodyTom Elite, including switching to a Linux operating system.
NeuroLogica launched BodyTom 64 in November 2022 after receiving U.S. Food and Drug Administration (FDA) clearance.
Runner-up: Signa PET/MRI AIR scanner, GE Healthcare
Best New Radiology Software
Minnies 2023 Winner: Omni Reporting, Rad AI
Having previously been awarded the Best New Radiology Vendor Minnie in 2021, AI software developer Rad AI has now received its second Minnie. The firm's Omni Reporting platform has been voted in by our expert panel as this year's Best New Radiology Software.
Developed by radiologists and built using Rad AI's generative AI technology, Omni Reporting is designed to help radiologists automatically create much of their radiology report, customized to their exact language and style, according to the company. Rad AI is positioning Omni Reporting as a replacement for other radiology reporting applications.
The platform features Omni Box, which enables radiologists to dictate just a few sentences or phrases in the reporting process. The software then automatically builds an entire structured report based on the individual radiologist's preferred personal template and style. The firm's popular Impressions software, which integrates with Omni Reporting, also delivers a customized impression for the report, Rad AI said.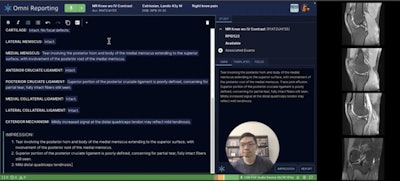 Thanks to its open architecture, Omni Reporting can easily integrate with software from imaging AI vendors and PACS companies, Rad AI said. What's more, radiology practices can utilize Omni Reporting to develop and manage their own real-time analytics applications, according to the vendor.
Omni Reporting is available commercially and is currently being used at five practices, according to the firm.
Rad AI said it plans to unveil additional generative AI functionality at RSNA 2023 in Chicago.
"Our goal is to save radiologists as much time, effort, and mental fatigue as possible, while ensuring each radiologist can continue to use their own preferred workflow," Rad AI co-founder and chief product officer Jeff Chang, MD, told AuntMinnie.com.
Runner Up: AWS HealthImaging platform, Amazon Web Services
Best New Radiology Vendor
Minnies 2023 Winner: LifeVoxel
Kovey Kovalan, CEO and founder of LifeVoxel, said the company's wheels were set in motion on the show floor at McCormick Place in Chicago during RSNA 2018.
Prior to the meeting, the computer sciences engineer had been "tinkering" with off-the-shelf graphics cards from gaming systems as a way to enhance visualization of large medical imaging data sets. He built an application that allowed him to access the images on a remote server with his phone, and he showed off the new technology during the meeting.
"People said, 'How are you doing this? We can't even do this between the floors, and you are walking around and showcasing these diagnostic quality images,'" Kovalan told AuntMinnie.com.
Today, the company has 14 patents and nine pending across a variety of different aspects of AI-powered visualization, with its AImagine software-as-a-service (SaaS) cloud platform leading the show. Essentially, AImagine utilizes predictive techniques and optimized graphical processing methods to provide medical professionals with fast access to diagnostic-quality images.
LifeVoxel owns three dedicated graphics processing unit (GPU) server farms located in the U.S. that allow the company to provide hosting services at a radically reduced monthly cost and eliminate the need for customers to purchase and manage costly IT systems, Kovalan said.
In other features, AImagine uses AI algorithms to predict how users will move or manipulate images, with rendered images then transmitted to the user's device before they have even been requested. Also, the platform provides a space for medical AI developers to develop and launch new algorithms.
Jason Momenthy, LifeVoxel's vice president of growth and product marketing, added that one of the company's key value propositions is the ability to arm radiologists with the best technology needed to implement preventative care for patients.
"We're purpose-driven to bring technology to the market that isn't just cutting edge, but also meaningful in that it's impacting patients not just in the United States, but anywhere in the world," he said.
Milestones to date included the company's first complete replacement in 2017 of a medical imaging system for an imaging center in Brooklyn. The company's technology displaced one of the top enterprise RIS-PACS in the country, Kovalan noted.
"It was a market-winning milestone for us," Kovalan said.
Also, in 2020, the company landed a distributor agreement that accelerated its growth to an additional 40 imaging centers, and the platform now serves more than 22,000 referring physicians, 275 radiologists, and 1 million patients, LifeVoxel said.
After receiving $5 million in seed funding in 2022, LifeVoxel also launched its Proctor telepresence surgery package, and this year, the company rolled out its Providence diagnostic app marketplace and its Telemergency holographic AI technology.
What does the future hold?
"We'll need a new platform, very much like how Nokia and flip phones were the phone leaders, and then we needed something like iOS and Android to be able to change the market," he said.
Working on that gets to the heart of Kovalan's passion, he added, where gaming technology has paved the way for more efficiency, accessibility, and profitability for radiology and healthcare providers, he said.
Runner up: Coreline Soft
Best Educational Mobile App
Minnies 2023 Winner: CTisus Chest Atlas 3D CRT (iOS)
Elliot Fishman, MD, is no stranger to the Minnies. Prior to 2023, the founder of CTisus notched four Minnies in the category of Best Educational Mobile App for the group's iQuiz, iPearls, and the Critical Diagnostic Measurements in CT apps.
This year, CTisus Chest Atlas 3D CRT joins the list of apps with accolades with a Minnies award of its own. For Fishman, the Minnies drive the CTisus team to work harder to win more.
"For the people working on projects like this, it's hard to be recognized. So, it's really terrific," he said.
Chest Atlas 3D CRT showcases the unique advantages of cinematic rendering technique (CRT), an imaging method that creates photorealistic 3D images. The app focuses on chest anatomy and includes a tutorial that establishes a pattern-based approach. It also includes 360-degree visualization followed by a self-assessment section. Overall, the goal is to make learning easier, Fishman said.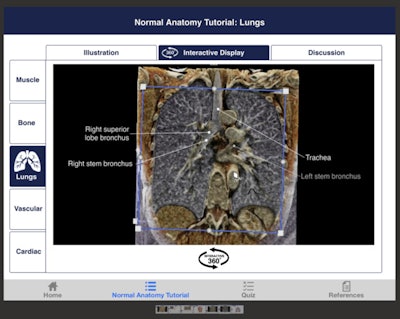 "We're able to really show the anatomy in a more intuitive way and have people interact," he said. "For us, we try to take the position of the user and make sure the user is going to be happy. Otherwise, they're going to look at a textbook."
The app was launched in 2020, but recently received an upgrade to Version 3.0. This version added more content and updated the app's user interface. Fishman said the team receives feedback and takes this into consideration when further improving the app.
"We've put a lot of effort into making sure that people enjoy the experience," Fishman said.
Fishman founded CTisus in 1999 and has been the major contributor of content since then. He and his team balance their workload at Johns Hopkins University with creating and updating educational content to make CTisus a success.
So, with that in mind, don't call CTisus a company.
"One of the things we're committed to [at Johns Hopkins University] is education. We don't sell anything. Our dedication is to provide things that are helpful to people," Fishman said. "We've never sold anything and we don't plan on selling anything."
So, what's next for CTisus? Fishman said it's winning yet another Minnie.
"We're already worried about, 'Well, what are we going to do next year'"? he said. "Winning only means you've got to do better next time."
However, Fishman added that it's good to see others develop their own educational medical apps with the overarching goal of helping students and professionals alike learn more.
Runner Up: Radiology Assistant 2.0, BestApps (iOS)
Best Radiology Image
Minnies 2023 Winner: Ultrahigh-resolution (UHR) coronary CT angiography (CCTA) with 0.2-mm axial sections in an 85-year-old man before transcatheter aortic valve replacement on a photon-counting CT scanner. Image from Taha Hagar, MD, from the University of Freiburg in Germany, et al.
Photon-counting CT (PCCT) has been one of the most important technology advances in radiology in the last few years. Fittingly, the winning image was published in June in Radiology from a study evaluating the performance of ultrahigh-resolution PCCT for detecting coronary artery disease (CAD) in a high-risk population.
The image demonstrates the capabilities of ultrahigh-resolution photon-counting detector coronary CT angiography (CCTA) for accurate assessment of the coronary arteries, even in complex patient scenarios, according to first author Taha Hagar, MD, from the University of Freiburg in Germany.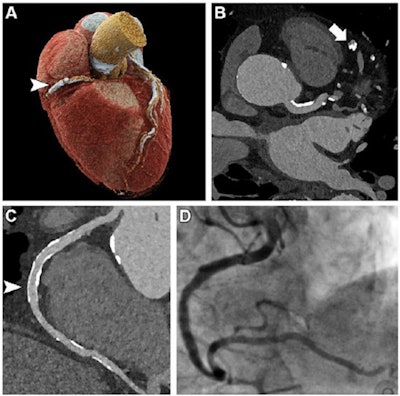 "In this specific case of an 85-year-old man with referral for CTA prior to transcatheter aortic valve replacement (TAVR), we were able to exclude obstructive CAD non-invasively, despite extensive coronary sclerosis (Agatston-Score 4162) and a stent in the right coronary artery," Hagar told AuntMinnie.com. "Additionally, TAVR candidates are particularly challenging for non-invasive CAD exclusion due to contraindications for beta blockers and glyceryl-trinitrate."
Notably, the researchers found that the imaging method successfully addressed longstanding challenges associated with CCTA.
"For high-risk TAVR candidates, the norm has been to perform invasive angiography to exclude coexisting CAD," he said. "However, our study presents [ultrahigh-resolution photon-counting detector CCTA] as a highly reliable and effective non-invasive alternative. We could overcome previous limitations (i.e., severe calcifications, prior stenting). This potentially widens the scope of cardiac CTA, making it accessible and applicable to a broader spectrum of patients."
Their findings also suggest a bright future for photon-counting CT – in cardiac imaging and beyond, Hagar said.
"The technology is still in its early stages, but with ongoing research and development, we anticipate advancements in reducing radiation exposure and further enhancing image quality and including spectral capabilities into ultrahigh-resolution imaging," Hagar said. "Given its promising results and versatile applications in other fields, a more widespread adoption of photon-counting CT is very likely."
Runner-Up: Fast SPECT. Image from Andrei Iagaru, MD, of Stanford University.