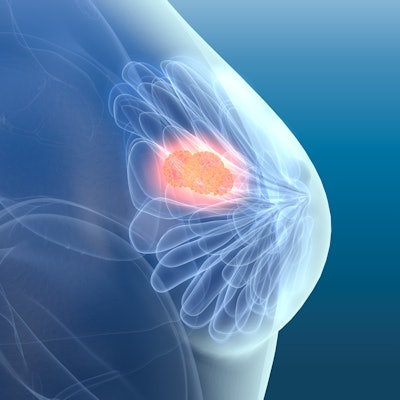 Less than half of women receiving breast cancer treatment with aromatase inhibitors undergo recommended imaging to assess their bone health, according to a study published August 25 in the Journal of Bone Oncology.
This is despite a known increased risk for fractures, the authors noted.
"Clinical practice guidelines recommend a careful evaluation of skeletal health in all women with breast cancer before [aromatase inhibitor] therapy initiation," wrote lead author Vanessa Rouach, MD, of the Sourasky Medical Center in Tel Aviv, Israel, and colleagues.
Aromatase inhibitors are a first-line therapy for hormonal-positive early breast cancer patients, with the recommended duration of treatment ranging from about five to 10 years. Women initiating the therapy should have their bone health evaluated using dual-energy x-ray absorptiometry (DEXA) scans, given that the treatment reduces estradiol levels and increases bone loss, the authors explained.
Also, attempts to minimize this bone loss using antiresorptive agents, such as bisphosphonates and denosumab, are also recommended to reduce the risk of fractures, they added.
In this study, the group aimed to assess the use of these recommendations in women receiving aromatase inhibitors using real-world data from their health system in Israel. The primary outcomes of the study were the incidence rates of DEXA bone mineral density scans and antiresorptive treatment initiation (bisphosphonates or denosumab).
The researchers identified 8,617 women over the age of 50 who had initiated aromatase inhibitor treatment between 2009 and 2020. Patients were treated for at least six months, and the researchers accounted for variables such as age, body mass index (BMI), smoking history, alcohol use, and previous fractures in the analysis.
They found a total of 37% patients underwent DEXA scans at one year and 53% underwent a scan at two years after aromatase inhibitor treatment was initiated, according to the results. Also, 12% and 17% were prescribed an antiresorptive agent after one and two years, they found.
In addition, the group also looked at the rate of major osteoporotic fractures in the patients and found the cumulative incidence of a major osteoporotic fracture was 8.8% at five years and 15.8% at 10 years.
"Despite the excess risk of fractures, bone health assessment and preventive treatment are still partial and postponed in breast cancer [aromatase inhibitor]-treated patients," the group wrote.
Ultimately, strategies to ensure appropriate care are needed, the group suggested. Specifically, they noted that although the FRAX tool (which provides an individual's 10-year fracture risk) is not designed for use in this population, it could be useful, as it has shown value estimating risk in rheumatoid arthritis patients receiving aromatase inhibitors.
"Patient education about the importance of preventing osteoporosis and reassurance about side effects are needed as well," the group concluded.
The full article is available here.