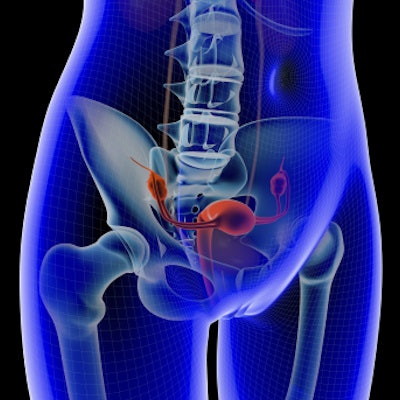 Patients with symptomatic uterine fibroids are offered minimally invasive embolization as a first-choice option less than 2% of the time, according to a study published April 29 in the Journal of Vascular and Interventional Radiology.
In a survey of U.S. obstetrics and gynecology (ob/gyn) physicians, researchers at the University of Central Florida in Orlando also reported uterine fibroid embolization (UFE) was recommended only 1% of time in women seeking to maintain fertility.
The findings can inform strategies to increase use of the procedure, wrote first author and medical student Kacper Kubiszewski and colleagues.
"Similar survey studies with wider outreach to OB/GYNs are indicated to further explore ... practice preferences and ascertain how [uterine fibroid embolization] can be increased," the group wrote.
Uterine fibroids are noncancerous tumors that occur in the muscle cells of the uterus. Some women with fibroids do not experience symptoms, but others have heavy bleeding, pelvic pain, and abdominal swelling. Treatments vary, ranging from medication to relieve symptoms to surgical approaches such as myomectomy or hysterectomy.
UFE is a less-invasive treatment option than surgery, the authors explained. It is performed by interventional radiologists, who insert a catheter into the uterine arteries and release particles that block blood flow to the fibroid.
The Society of Interventional Radiology (SIR) is investigating why UFE is underutilized. A recent report suggests that one in five women believed hysterectomy was the only treatment option for symptomatic uterine fibroids and that 44% of women have never heard of UFE.
In this study, the researchers focused on the practice preferences of OB/GYNs to determine how and when UFE is brought up as a treatment option. They sent a 22-question survey to 5,000 ob/gyns and included 112 responses from physicians in 33 states. Most physicians were in private practice (58.9%), with most reporting practicing for more than five years.
The investigators found that 82% of survey respondents reported encountering patients with symptomatic uterine fibroids either very frequently or frequently, but they seldom recommended UFE. The most common recommendation for first-line treatment of both chronic and acute symptomatic uterine fibroids was drug therapy (80%).
Interventions like hysterectomy, myomectomy, and UFE were offered less than 6% of the time for management of both chronic and acute uterine fibroids, which is consistent with current American College of Obstetricians and Gynecologists (ACOG) practice guidelines that recommend initial treatment with medical therapy, the authors noted.
However, they found that there was a clear preference for myomectomy (42.3%) over UFE (1%) in patients with symptomatic uterine fibroids seeking to maintain fertility.
It could be that patients' fertility concerns and ob/gyns lack of knowledge relative to other interventions could explain physician hesitancy to recommend UFE, the researchers suggested.
"Since UFE was seldom recommended by respondents, further, more robust polling of OB/GYNs is warranted," they concluded.