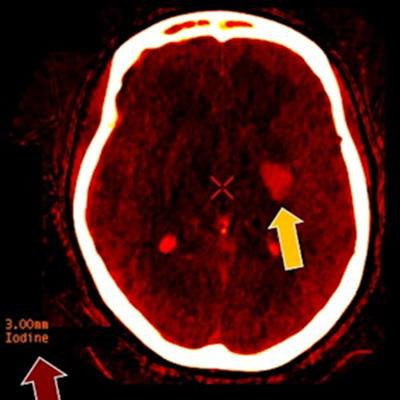 Though somewhat of a hidden gem, spectral CT, also known as dual-energy CT, has the potential to play a role in the imaging of many organ systems and across medical specialties. In the future, new applications could help spectral CT come into wider clinical use and reach its full potential, experts and enthusiasts of the technology tell AuntMinnie.com.
Dual-energy CT takes advantage of the fact that x-rays represent a spectrum of different energies; this is akin to a light bulb, as white light is a mixture of frequencies and color. Spectral CT allows the measurement of differences between particular energy levels of x-rays, with the benefit of providing information about the elemental composition in objects of interest.
The concept of scanning at two energy levels was conceived in the 1970s, and the first commercial dual-energy CT scanners were rolled out in 2006, with refinements in design over the years. The major imaging equipment vendors offer dual-energy CT systems, though the designs and terminology for various functions differ a great deal.
Meanwhile, prototype scanners that scan at multiple energy levels (two or more) using novel photon-counting detector technology have been installed at global research centers. Whereas single-energy CT scanners only provide one grayscale image type, there are many more possibilities with dual-energy CT, including visualization in color.
Single-energy CT images represent average energy. In contrast, with dual-energy CT, images can be reconstructed at particular energy levels, that is, they are monoenergetic, also sometimes called monochromatic.
It's possible to look at images at low or high energy, or a mixture of the two to get the "best of both worlds," with good image contrast and also low noise, commented Timothy Szczykutowicz, PhD, associate professor of radiology, medical physics, and biomedical engineering at the University of Wisconsin-Madison.
Dual-energy CT also enables users to digitally subtract iodine contrast to virtually create images that are noncontrast. That means you can get noncontrast and contrast images in one dual-energy scan, instead of with multiphase conventional CT, Szczykutowicz noted.
Going from single-energy to dual-energy CT is like upgrading from a black-and-white to a color TV, explained Dr. Raman Danrad, associate professor of clinical radiology at Louisiana State University (LSU) Health Sciences Center in New Orleans. The black-and-white TV reproduces multiple shades of gray, whereas the color TV offers much more information, differentiating objects using color.
Differentiation between two types of materials, typically iodine versus soft tissue, is one of the most important applications of dual-energy CT.
"That's incredibly valuable because we can distinguish radiodense objects made of completely different materials, even though they look exactly the same on a regular CT scanner," commented Dr. Benjamin Yeh, professor of radiology at the University of California, San Francisco (UCSF).
Characterization of stones in the kidney, gallbladder, and liver represent an important application for spectral CT. Up to 40% of gallstones cannot be seen on conventional CT because they are not calcified, commented Dr. Gopal Punjabi, chief of radiology at Hennepin County Medical Center in Minneapolis.
"Dual-energy makes things visible that were invisible," Punjabi said.
The composition of urinary stones is one of the factors used for guiding treatment strategies. If the stones are made of uric acid, urologists may manage the patient with medical therapy, such as urinary alkalinization, as first-line treatment; surgical management is often reserved for those not responding to medical therapy, said Dr. Avinash Kambadakone, chief of abdominal radiology at Massachusetts General Hospital.
The ability to create noncontrast images with only one phase of scanning has broad clinical utility, Szczykutowicz said. For example, on angiography studies, if a blood vessel appears blocked, it is possible to see whether a finding is calcified plaque or just contrast enhancement by comparing virtual nonenhanced to enhanced images, he explained.
For patients who have undergone thrombectomy, iodine staining may be differentiated from a postprocedure hemorrhage formation, Szczykutowicz said. This is a unique ability for the technology, and it will become increasingly common to check these patients with dual-energy CT, he predicted.
Spotting pulmonary emboli
Dual-energy CT is very useful for the evaluation of patients with suspected pulmonary embolism. Using iodine maps generated with dual-energy CT, it is very easy and fast to determine if there is a lung embolism, said Dr. Peter Noël, assistant professor of radiology at the Hospital of the University of Pennsylvania.
"With conventional CT, this is possible, but it is a much more time-consuming process," Noël said.
Dual-energy is also equipped to play a major role in oncology, Kambadakone said. For example, dual-energy CT monoenergetic images improve the identification of abnormalities in various organs, especially those that are hard to identify on a single-energy CT scan, such as isoattenuating pancreatic cancers or pancreatic neuroendocrine tumors, Kambadakone said.
Applications in other anatomical areas include the following:
Brain -- Dual-energy CT is particularly valuable for differentiating between hemorrhage and contrast extravasation in patients who have had strokes. It also reduces metallic and beam-hardening artifacts.
Heart -- In coronary CT angiography, advantages of dual-energy CT include optimizing image quality and luminal assessment of coronary arteries, decreasing the amount of iodinated contrast, eliminating the need for a nonenhanced phase, characterizing atherosclerotic plaque, and evaluating myocardial ischemia (Cardiovascular Diagnosis and Therapy, August 2020, Vol. 10:4, pp. 1090-1107).
Musculoskeletal -- Bone mineral density may be measured on almost every dual-energy scan, which is not possible with conventional CT imaging, Noël pointed out.
Several interviewees for this article commented that dual-energy CT increases the radiologist's confidence in interpreting images, which has the potential to reduce the need for follow-up studies of incidental findings to rule out malignancies, such as suspected polyps on abdominal CT.
Everyone's child, no one's child
Wide applicability may ironically be a factor behind what experts contacted by AuntMinnie.com describe as underuse of dual-energy CT. Punjabi said that there are at least 15 dual-energy scanners in his Twin Cities area, but that the equipment is more commonly used for conventional CT imaging. The modality is not being championed by one particular specialty or in one organ system, he said.
"It's kind of everyone's child and no one's child," Punjabi said. "It's a wasted opportunity."
When Massachusetts General radiologists began offering a day-long course on dual-energy CT in 2017, they realized that a lot of attendees had access to dual-energy CT scanners, but they were not using them for this purpose. This could be due to lack of awareness of all of the dual-energy CT applications, and more educational efforts could definitely help, Kambadakone said.
In addition to lack of awareness, there are practical barriers for adoption. For example, it may take anywhere from 30 seconds to 10 minutes longer to review the larger image set available with spectral CT compared with conventional CT, and extra reading time is not currently reimbursed. Differences in the vendors' equipment also reportedly present complications. (For more on workflow challenges and solutions, see this related story).
Although spectral CT reduces artifacts problematic with conventional CT, there are some artifacts specific to dual-energy CT, though these vary depending on the vendor. Kambadakone and colleagues published a review of dual-energy CT artifacts and advice on management in a recent RadioGraphics report. Sometimes, simple mitigation strategies can resolve artifacts on dual-energy CT, such as adopting protocols or adjusting dose.
Applications of spectral CT have evolved over time. Today at Massachusetts General, roughly 60% of abdominal CT scans are performed on spectral CT scanners. Furthermore, most pulmonary embolism CT scans (nearly 95%) are performed in dual-energy mode, Kambadakone noted.
"Now that [Massachusetts General] radiologists are more familiar with the different types of images, they actually look out to see if there's a dual-energy CT scan to answer certain clinical questions," Kambadakone said.
Spectral CT does take more time for postprocessing and reading, but on the other hand, it saves a lot of time if a patient can get a final diagnosis with one spectral CT instead of having to come back for a multiphase CT scan or follow-up imaging with a different modality, commented Danrad of LSU Health Sciences Center.
In search of wider adoption
To achieve wider adoption, it is going to be very important to collect and present data documenting better clinical outcomes, Danrad said. A retrospective study of abdominopelvic imaging published by Dr. Aran Toshav and colleagues at LSU Health Sciences Center found that dual-energy CT, compared with conventional CT, was associated with a significantly lower rate of recommendations for follow-up tests after an incomplete diagnosis (Journal of the American College of Radiology, February 4, 2020, Vol. 17:7, pp. 940-950).
Expert interviewees also said they are playing an active role in educating referring physicians about the value of spectral CT through presentations at multidisciplinary meetings.
UCSF's Yeh believes that it might take something bigger for the field to move forward to the "better world" of dual-energy CT -- a "killer app," perhaps a new must-have use made possible by multienergy imaging with photon-counting detector spectral CT scanners.
Moving from dual-energy CT to multienergy CT with photon-counting detectors will be like going from a simple color TV to a set with 4K or 8K resolution, Danrad said. Differentiation of materials will be much improved, he added.
"The technology offers more opportunities because we'll have higher spatial resolution and better dose efficiency, and our quantitative capabilities will be superior." Noël said.
It will also be possible to further remove artifacts such as metallic beam-hardening effects, beyond what is possible with dual-energy CT, he added.
Prototype clinical scanners are now in place at a range of research centers around the world, including at the Mayo Clinic, the National Institutes of Health, and the Lyon University Hospital in France.
Noël expects cardiac imaging will be a big focus in the beginning with photon-counting CT, aiding in the visualization of plaque in patients with stents. In the longer term, experts expect to see applications driven by the development of new types of contrast agents represented by an array of colors on CT images.
In addition to advantages for image quality, photon-counting systems can specifically distinguish multiple contrast-generating materials in a single scan, the University of Pennsylvania's Johoon Kim, PhD, and colleagues explained in a 2018 review in Scientific Reports of in vitro research with novel nanoparticles.
"We found that gadolinium, ytterbium, and tantalum generate high contrast in spectral photon-counting CT imaging and may be suitable elements for contrast agent development for this modality," Kim et al reported (Sci Rep, August 14, 2018, Vol. 8).
Multienergy photon-counting spectral CT could be a gateway to precision medicine, suggested Cristian Badea, PhD, professor of radiology at Duke University. With better sensitivity, it will be possible in the future to perform molecular imaging with targeted nanoparticles, he explained.
The Quantitative Imaging and Analysis Lab at Duke University has been experimenting with nanoparticle contrast agents on dual and multienergy micro-CT systems it developed in-house for animal research. There may be applications in theranostics as the effect of a particular therapy, such as radiation therapy, could be shown in color using a new contrast agent.
"The field of theranostics, I think, could be very well served by spectral CT," Badea said.