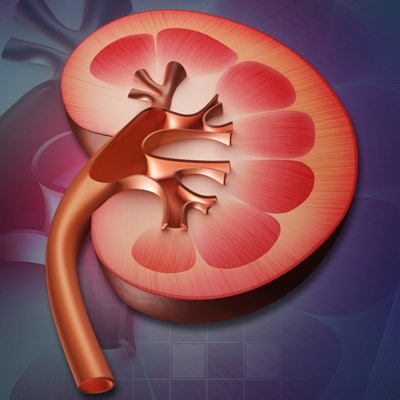 Percutaneous cryoablation is comparable to surgery for treating kidney cancer, offering similar 10-year survival rates and lower rates of complications, according to a study published June 9 in Radiology.
The study results suggest that there's a less invasive way to treat kidney cancer, wrote a team led by Dr. Christos Georgiades, PhD, of Johns Hopkins University in Baltimore.
"We have been doing cryoablation with increasing frequency at Johns Hopkins," Georgiades said in a statement released by the RSNA. "It's an outpatient procedure that takes about 30 to 40 minutes to perform. We observe the patient for three hours, and then they can go home."
For the procedure, an interventional radiologist inserts a hollow needle into the tumor using imaging guidance, then administers argon gas to freeze it. Georgiades' team compared 10-year outcomes from 134 patients who underwent cryoablation for early-stage kidney cancer with those of patients who had a radical or partial nephrectomy.
The group found that disease-specific survival of the patients who had cryoablation was 94% at both five and 10 years after treatment -- comparable to results from radical or partial nephrectomy. They also found that cryoablation had a low 10-year risk of hemodialysis and a complication risk of 6%, compared with 15% to 20% for surgery.
"For certain patients, cryoablation is equivalent to surgery with fewer side effects," Georgiades said.