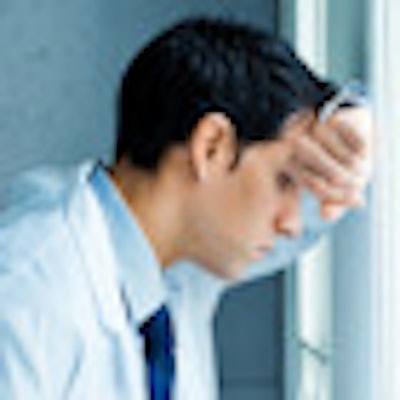 A New York City hospital on Monday moved to terminate its radiology residency program, leaving 11 residents without a program or funding to continue beyond the current program year ending June 30. Funding for the program is being shifted to pay for more spots for primary care residents.
In a February 11 letter to radiology residents, St. Barnabas Hospital Senior Vice President Keith Wolf said the institution had decided to end its osteopathic radiology residency program, and that it would not renew any resident contracts beyond June 30.
"The hospital will assist the affected residents in their endeavors to continue their education," Wolf wrote in the letter, a copy of which was obtained by AuntMinnie.com.
Hospital spokesperson Steven Clark told AuntMinnie.com that the hospital has decided to reallocate the money from radiology to fund new residencies in primary care, with an eye toward the anticipated need for more primary care physicians going forward, especially in the hospital's core area of the Bronx.
Under the Patient Protection and Affordable Care Act (PPACA), more people are expected to become insured and to seek primary medical care, driving the need for more primary care physicians. At St. Barnabas, the decision was based more on the perceived need to reallocate resources than to save money, Clark said.
"Although financial implications were considered when making the decision, we were very motivated by the desire to place more training slots into areas where the healthcare focus is these days, such as primary care," Clark wrote in an email. "This decision was not based on any real or perceived oversaturation of radiologists in the market. We will move the slots to other programs to support the shift in healthcare, especially in the Bronx, where primary care is a significant need."
The decision to shut the program will not affect any graduating residents, but it will affect 11 residents currently in the program: three postgraduate year 1 (PGY-1) residents (interns), three PGY-2 residents, three PGY-3 residents, and two PGY-4 residents.
The hospital in January discussed the possibility of closing the program with a representative of the Committee of Interns and Residents, a national union representing residents and interns, and also briefly discussed it at a meeting on January 29 before sending out the formal notice on February 11, Clark said.
High and dry
But residents have complained, both on the AuntMinnie.com Residents Forum and by telephone, that the hospital has left them high and dry -- and perhaps even unemployable, because it declined to transfer the funding to another residency program that could potentially pick them up, committing the money instead to other residency subspecialties within the hospital.
"If we're not receiving our funding, we're in a bind because what hospital is going to take us without our funding?" said third-year resident Dr. Nirav Shelat in an interview with AuntMinnie.com. "They would have to pay not only our salary, but our malpractice and all of that, so it just seems unreasonable."
Part of the money earmarked for residencies comes from the federal government, and residency programs that are ending typically transfer funds to other schools that are willing to accept the residents so they can complete their education. In this case, however, St. Barnabas chose to keep the money and repurpose the funds "one for one," to new residency slots in primary care.
"The money is being shifted to another specialty, so it's not like the hospital is taking the money and pocketing it," Clark said. "If a hospital closes and a resident is discontinued there, as I understand it, it becomes sort of an orphan spot that the new hospital can now assume. So if you had eight radiology residents and they went to a different hospital, they would bring with them a spot, and the money would be there for it, but that's only if the hospital closes. So it's really shifting the [funds] to what the hospital thinks is a more important need, which is primary care."
This won't help the residents whose program is being terminated, he acknowledged, but he said the hospital will do what it can to help place the residents in new programs. The New York Colleges of Osteopathic Medicine Educational Consortium (NYCOMEC), accredited by the American Osteopathic Association (AOA) to oversee osteopathic residencies in the state, also said it will do what it can to help find new programs for the residents. But for now the situation looks grim.
"We signed on to our residency program thinking that five years from now we would be radiologists, and now, to have the rug pulled out from under us -- we're all stunned, and we don't know what our next steps are," Shelat said. "They told us that we're not going to get our funding, and that's what shocked us all the most. Why would a hospital take on a radiology resident's salary at $60,000 a year plus malpractice and the cost to train him?"
"It's unfortunate, but the money doesn't come with them," Clark said.