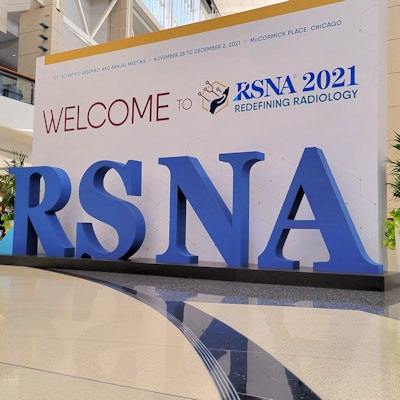 In some parts of the U.S., the number of Medicare beneficiaries is outpacing the number of available radiologists by more than 50%, according to research presented Wednesday morning at the RSNA meeting.
The mismatch varies by geographic region, presenter Dr. Aditya Khurana of the Mayo Clinic in Rochester, MN, told session attendees: In the West, numbers of diagnostic radiologists aren't keeping up with imaging service demand, but in the South, there is an overabundance of radiologists. And these results suggest that not only patient care but also radiologists' job opportunities may be affected in coming years.
In 2020, the U.S. Census showed that the country's population of people aged 65 and older grew by 35% -- more quickly than any other age group, Khurana said. But the number of annual diagnostic radiology residency matches only increased by 2.5% during the same period.
"The significant increase in Medicare beneficiaries and relative stagnation of residency matches into diagnostic radiology could strain the supply and demand balance in the delivery of imaging services," he told session attendees.
Khurana and colleagues investigated the extent of this mismatch, conducting a study that estimated supply by the number of radiologists providing care to Medicare patients by state and region using data from the U.S. Centers for Medicare and Medicaid Services database of Medicare Part B claims between 2012 and 2018. They estimated the number of Medicare beneficiaries by state using information from the Kaiser Family Foundation for the same time frame. Their findings are listed in the chart below.
Percent change in growth in radiologist supply and Medicare beneficiaries, 2012 to 2018
Metric
Percent change
Number of radiologists submitting claims to Medicare Part B
4.4%
Number of Medicare beneficiaries
7.4%
Growth of radiologists by region
South
6.5%
West
5.7%
Northeast
2.5%
Midwest
2%
Medicare beneficiary growth by region
West
15.8%
Northeast
3.4%
South
3.2%
Midwest
1.9%
The percentage increase in the number of radiologists by state over the time period ranged from -19.6% to 21.5%, and growth in the number of Medicare beneficiaries by state ranged from -10.8% to 14.8%, according to Khurana. The mismatch of supply and demand for imaging services among the states differed by more than 50%, he noted.
"[Our results show] high variance in the supply and demand mismatch," he warned. "This could raise potential concern for decreased access in areas with too few radiologists and inefficient resource allocation in regions with too many radiologists."