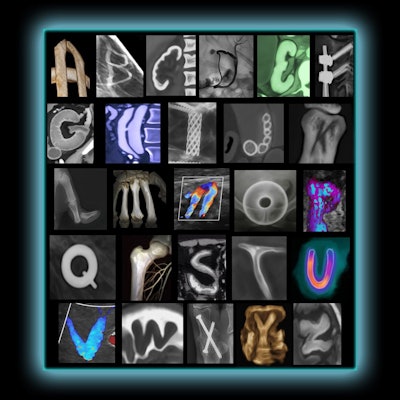 Medical imaging is a valuable tool for diagnosing disease, helping clinicians identify and treat everything from cancer to heart conditions. But it also offers plenty of creative opportunities, according to Dr. Susan Summerton, a Pennsylvania radiologist who is winning attention for her unique works of art based on medical images.
Summerton creates wall art from shapes, symbols, letters, and numbers she has found in medical scans over the course of her more than 20-year career at Einstein Medical Center in Philadelphia. For her, the art highlights our common humanity.
"Externally we may look different, but we're all human, we're all made of the same substance," she told AuntMinnie.com. "The human body is beautiful, and imaging reveals the things we have in common that have long been hidden."
From A to Z
Summerton earned her medical degree at Temple University and originally intended to become an orthopedic surgeon. Then she discovered diagnostic radiology.
"I was drawn to radiology because of the advanced visual skills it requires, as well as the ability to solve the puzzles presented as clues in the images," she said.
Along with her clinical skill, Summerton always had a creative side, and she began to apply it to her radiology work. Over the years at Einstein Medical Center Philadelphia, whenever she noticed shapes, symbols, letters, and numbers in the images she was reading, she'd save them to her teaching files.
"About the time I was starting my radiology career, I had a poster at home that featured the alphabet depicted with butterfly wing patterns and colors," she said. "As I read images during my workdays, a letter or shape might jump out at me, and I imagined making a similar poster of the alphabet out of medical images."
The vision coalesced in 2014, when the RSNA held a poster contest to celebrate its 100th anniversary. Summerton realized she had managed to collect all 26 letters from medical images, as well as the numbers 0 to 9, and she used this x-ray alphabet to design a poster that read "RSNA 100, a Century of Transforming Medicine." Her entry won an honorable mention and was displayed at the conference.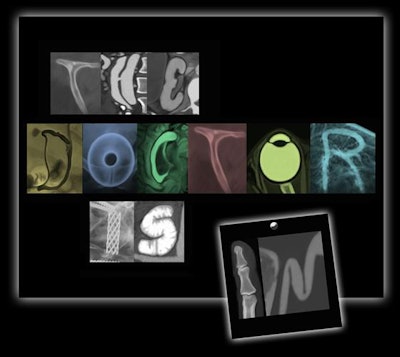 Her RSNA project sparked interest among friends and family, and soon she was receiving requests for custom art pieces. As demand for her work grew, she educated herself on how to run a business by taking a course at Wharton's Small Business Development Center.
But there was a sticky issue: The images were HIPAA-compliant, with no identifying patient information, but did she have permission to use the images for art pieces -- and to sell them? After consulting with a medical lawyer, Summerton realized that she did not. So she found a workaround.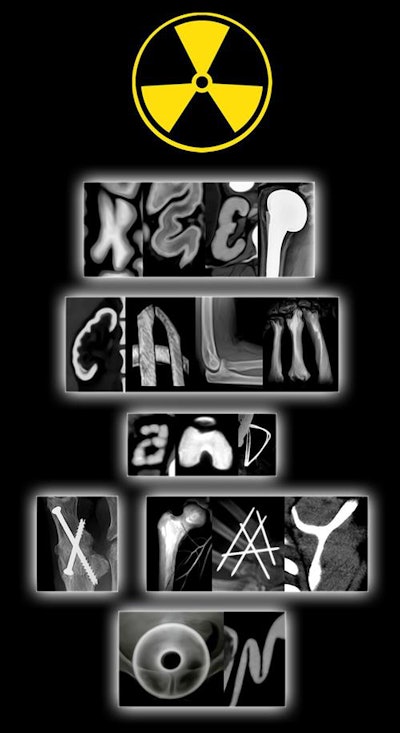 "I hired a radiology resident who was also a graphic artist to draw the letters from the images I had," she said. "He did that, and now I have a library of high-resolution images inspired by the original medical ones. It's actually even better than using the originals, since I can tweak them to increase sharpness or to enlarge them without losing resolution."
In part because of her artwork, Summerton left Einstein in 2016 and is now in private practice at Delta Medix Breast Care Center in Scranton, PA. Her work has been displayed at other medical conferences, including those of the American Roentgen Ray Society, the American Society of Radiologic Technologists, and the American Association of Orthopaedic Surgeons, as well as at Philadelphia area galleries. Summerton has sold pieces to clients around the world -- even to seatmates on international flights.
"I found that there's a broad appeal to my work," she said. "It creates a connection. I was on a plane going to Australia, and my seatmate was from Kuala Lumpur. He asked where I was going and when I told him an art show, he asked to see some of my pieces. I showed him a piece called 'Oh Snap!' and he bought it right there."
Medical connection
Summerton is currently exploring a new direction for her art: providing signage and interior decor for medical facilities. To this end, she has been talking to healthcare facility designers, and she plans to attend the Healthcare Design Expo and Conference in November in Phoenix as a vendor.
"Many medical facilities have discovered that having good art on the walls helps alleviate patients' anxiety and fear, and studies have shown that not only do patients heal more quickly in beautiful environments but also staff feels calmer," she said. "I think my art could help make the experience of being in the hospital more fun and less scary."