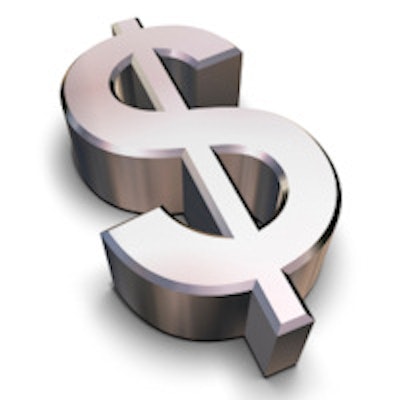 In a major boost for digital breast tomosynthesis (DBT), the U.S. Centers for Medicare and Medicaid Services (CMS) included payment codes for the exam in its final Medicare Physician Fee Schedule (MPFS) and Hospital Outpatient Prospective Payment System (HOPPS), issued last week.
The DBT codes are among a collection of changes that for the most part go easy on radiology and radiation oncology -- unlike in past years, where both disciplines were hit with major reimbursement reductions. In particular, CMS backtracked on a proposal to cut even more from radiation oncology, on top of big reductions made last year in radiation therapy payments.
But not everything went radiology's way. Proponents of the specialty are concerned about a proposal to change practice expense values associated with the transition from film-based radiology to PACS.
Spurring clinical adoption?
CMS established national average payment rates for DBT that will go into effect January 1, 2015, in the form of two new CPT codes to be used as add-ons to existing G-codes when DBT is used with either screening or diagnostic full-field digital mammography. Both of the new codes have a physician work relative value unit (RVU) of 0.6.
The new reimbursement codes include screening digital breast tomosynthesis CPT code 77063, which is an add-on to the existing full-field digital mammography screening code G0202. There is also diagnostic digital breast tomosynthesis HCPCS code G0279, which is an add-on to the full-field digital mammography unilateral diagnostic code G0206, as well as to the bilateral diagnostic code G0204.
The codes will make it possible for more clinicians to adopt the technology, Dr. Stamatia Destounis, of Elizabeth Wende Breast Care in Rochester, NY, told AuntMinnie.com.
"Now facilities may be able to move forward in conversion and implementation of DBT," Destounis said. "DBT has shown in multiple recent clinical studies to reduce recall rates and increase cancer detection -- good news for the women we serve. We have been educating our local insurers of the technology and its benefits, so perhaps with these new codes, they will follow CMS' example."
Although existing film-screen mammography codes will continue to be used in 2015 (77055, 77056, and 77057), they have been placed on the list of potentially "misvalued" codes; CMS also plans to continue to recognize the current digital mammography codes (G0202, G0204, and G0206) but will modify how they are described, so they are specific to digital mammography.
But don't get too comfortable, said Dr. Geraldine McGinty, chair of the American College of Radiology's (ACR) Commission on Economics. CMS has requested that the Relative Value Scale Update Committee (RUC) review mammography codes overall -- as well as codes for interventional procedures and radiation oncology -- in view of appropriate work RVUs, work-time assumptions, and direct practice expense inputs.
"We're happy that tomosynthesis is going to be reimbursed," McGinty told AuntMinnie.com. "However, with these new codes comes the expectation that the entire breast imaging code family will be reviewed by the RUC -- which has not been a particularly friendly entity toward radiology."
Good news for radiation oncology?
In its July proposed rule, CMS proposed to cut reimbursement for radiation oncology services by 4%, while payments to radiation therapy centers would have been cut by 8%. These cuts have been mitigated in this final rule, with reimbursement for radiation oncology services avoiding cuts and radiation therapy centers getting a 1% increase -- at least until April 1, 2015, when the conversion factor would change as mandated by the sustainable growth rate (SGR) formula.
CMS reimbursement changes in final 2015 MPFS
Allowed charges
Impact of work RVU changes
Impact of practice expense RVU changes
Impact of malpractice RVU changes
Combined impact
Interventional radiology
$273
0%
1%
0%
0%
Nuclear medicine
$49
0%
0%
0%
0%
Radiology
$4,523
0%
-1%
0%
-1%
Radiation oncology
$1,794
0%
0%
0%
0%
Radiation therapy centers
$57
0%
0%
0%
1%
What about the SGR?
This rule does not address the multiple procedure payment reduction (MPPR) or the SGR, other than to note that President Barack Obama signed a 12-month patch for the SGR on April 1. HR 4302 -- the Protecting Access to Medicare Act (PAMA) of 2014 -- replaced a 24% payment cut in physician fees that would have been mandated by the SGR with a 0.5% increase through December of this year, and it established a 0% update from January 1 through March 31, 2015.
According to this final rule, the conversion factor in the 2015 MPFS will remain at $35.80 from January 1 through March 31 as dictated by PAMA. On April 1, 2015, the conversion factor based on the SGR formula will be $28.22, which will mean a 21.2% cut, unless Congress acts once again to override it.
PACS disappointment
One big disappointment in this final rule is changes in practice expense values associated with the transition from film to PACS, McGinty said. CMS will continue to move toward removing a list of film supply and equipment items that have been used to assess practice expenses for film-based studies; it will instead use expense values for desktop computer workstations as a stand-in until it receives further information -- particularly on what direct expenses are related to PACS, including clinical time, supplies and equipment.
"We do not believe that digital storage constitutes a direct cost, as it is not individually allocable to an individual patient for a particular service," the agency wrote.
This isn't accurate, according to McGinty. Forty-eight codes will be affected by this change, including some that apply to myelography, CT angiography, and ultrasound studies, she noted.
"One of the biggest disappointments in this rule is that CMS continues to believe that appropriate practice expense for PACS can be based on that of a desktop computer," she said. "But anyone who has installed and used a PACS knows this is just not the case."
Managing misvalued codes
Since the MPFS was established, CMS has worked to revalue services regularly to ensure that payment rates reflect changing trends in the practice of medicine and current prices for data inputs used in the practice expense calculations, the agency wrote. This has been done through a five-year review process, under which revisions in RVUs were suggested in a proposed rule and finalized in a final rule.
In 2012, however, CMS proposed and finalized consolidation of the five-year review and the potentially misvalued code activities into an annual review of potentially misvalued codes; under this process, the agency issues interim final RVUs for all revaluations and new codes in the Physician Fee Schedule final rule with a comment period, and it makes payment based on those values during the calendar year covered by the final rule.
But as CMS' rule-making cycle doesn't necessarily agree with the American Medical Association's CPT Editorial Panel and the RUC review process, the agency has proposed to modify its process to make all changes in the work and malpractice RVUs and the direct practice expense inputs for new, revised, and potentially misvalued services under the MPFS by proposing the changes in the proposed rule, beginning in 2016.
This delay will offer additional time for the CPT Editorial Panel and the RUC to adjust their agendas and the timing of their recommendations to CMS to more appropriately align with the new process, the agency said.
Secondary interpretation, HOPPS
In its proposed rule released in July, CMS solicited comments about whether payment for secondary interpretation of images could reduce costs and avoid unnecessary imaging; however, the agency did not include any changes to its policy in this final rule.
In its final HOPPS rule, also released on October 31, CMS announced that the 2015 conversion factor for HOPPS will increase by 2.2% over the 2014 rate, although the agency said it will impose a 2% reduction in the conversion factor for any hospital that does not report required quality measures.
In addition, the agency will finalize its Comprehensive Ambulatory Payment Classification (C-APC) methodology for 2015. C-APCs will replace the former APC category, which CMS will discontinue so that it can begin to pay for new "episodes-of-care" under HOPPS. Two of these C-APCs cover about 85% of all imaging affected, according to ACR.
But this final HOPPS rule contains good news for breast biopsy, increasing reimbursement by 50% over the 2014 rate (from $702.08 to $1,052.22 for APC 0005).
Mixed bag
In any case, just as in past years, these final rules have both positive and negative aspects for radiology, according to McGinty.
"As always, the final rule is a mixed bag of positives and negatives," she said. "We look forward to working with CMS on areas where we feel they are not appropriately valuing radiology services -- such as the PACS inputs -- and appreciate the positive changes such as reimbursement for tomosynthesis."
The public comment period for both rules will close on December 30.