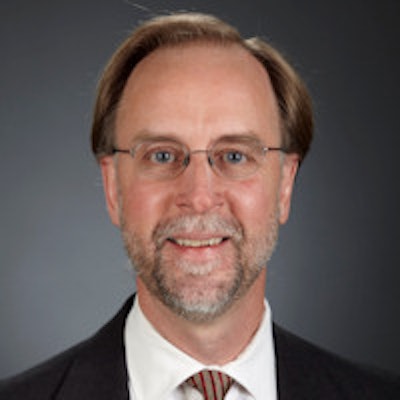 Radiology providers can expect at least 35 new radiology and radiation oncology codes in 2015, according to the American College of Radiology (ACR) in its ACR Radiology Coding Source online publication (March-April 2014). They can also expect, not surprisingly, that many codes will be bundled, as requested by the American Medical Association's (AMA) Relativity Assessment Workgroup (RAW).
It's the job of this group to "identify potentially misvalued services." The group considers the following when determining if a service is misvalued:
Codes for services frequently performed together (i.e., 75% or more of the time)
Services that are the fastest growing
Services previously flagged as new technology by the U.S. Centers for Medicare and Medicaid Services (CMS)
Procedure codes in the following modalities were identified by AMA RAW as being performed together at least 75% of the time and, therefore, should be considered by the CPT Editorial Panel for bundling:
Dual-energy x-ray absorptiometry (DEXA)
Myelography
Vertebroplasty
Isodose calculation and planning
After reviewing the following details, radiology providers may want to evaluate how they currently code the following procedures and how the changes described will affect them.
DEXA for bone density
Due to the 75% rule, RAW requested that code 77082 be deleted and two new codes be created to describe the following two procedures:
77080: DEXA bone density study, one or more sites; axial skeleton (e.g., hips, pelvis, spine)
77082: Vertebral fracture assessment
Myelography
Currently, when this procedure is performed, injection code 62284 (lumbar injection) or 61055 (cervical injection) and one of the following supervision and interpretation (S&I) codes are assigned: 72240 (cervical), 72255 (thoracic), 72265 (lumbar), or 72270 (two or more regions).
We believe that AMA will create a series of four new codes (6228x) that could be assigned when one physician does both the injection and imaging for a lumbar injection. The new codes will encompass both the injection and the S&I. It is not yet clear whether those new codes will also include the cervical injection.
If two doctors perform the procedure (with one giving the injection and the other providing the imaging S&I), then AMA may retain the existing codes for component coding.
Vertebroplasty
The 75% rule also applies to the six codes below, which are reported with guidance code 72291 (radiological supervision and interpretation, percutaneous vertebroplasty, vertebral augmentation, or sacral augmentation [sacroplasty], including cavity creation, per vertebral body or sacrum; under fluoroscopic guidance).
"A multispecialty society workgroup used this opportunity to meet the mandate to bundle these codes, and also to create an updated code family that aligns how CPT describes other spinal procedures," according to ACR. Therefore, six new codes were requested for vertebroplasty and vertebral augmentation (kyphoplasty) with imaging guidance, along with the deletion of codes 72291 and 72292:
22520: Percutaneous vertebroplasty (bone biopsy included when performed), one vertebral body, unilateral or bilateral injection; thoracic
22521: Lumbar
22522: Each additional thoracic or lumbar vertebral body (list separately in addition to code for primary procedure)
22523: Percutaneous vertebral augmentation, including cavity creation (fracture reduction and bone biopsy included when performed) using mechanical device, one vertebral body, unilateral or bilateral cannulation (e.g., kyphoplasty); thoracic
22524: Lumbar
22525: Each additional thoracic or lumbar vertebral body (list separately in addition to code for primary procedure)
In addition, AMA intends to revise the following category III codes to include imaging guidance and will continue to include them in CPT for another five years:
0200T: Percutaneous sacral augmentation (sacroplasty), unilateral injection(s), including the use of a balloon or mechanical device, when used, one or more needles
0201T: Percutaneous sacral augmentation (sacroplasty), bilateral injection(s), including the use of a balloon or mechanical device, when used, two or more needles
Isodose calculation and planning
Teletherapy (77305-77315) and brachytherapy (77326-77328) isodose planning codes require the performance of a dosimetry calculation (77300); therefore, they meet the 75% rule.
According to ACR, AMA will create five bundled codes to reflect the current process of this procedure and delete current codes 77305-77315 and 77327-77328.
Diagnostic radiology
Codes will be added and/or deleted for the two breast-related procedures below.
Breast tomosynthesis
To describe these diagnostic and screening digital procedures, ACR, RSNA, and the American Roentgen Ray Society (ARRS) requested that AMA establish three new category I codes.
"The current mammography codes do not include the added physician work or practice expense involved in digital breast tomosynthesis and, therefore, new codes were needed to describe these additional resources," ACR stated.
Breast ultrasound
Code 76645 -- ultrasound, breast(s) (unilateral or bilateral), real-time with image documentation -- may be deleted for 2015, but ACR expects two new codes to be created to describe both complete and limited breast ultrasound procedures.
Other interventional radiology
Cryoablation for bone and liver tumors
Currently, this procedure is reported with an unlisted code, but in 2015 there could be two new CPT codes to describe percutaneous cryosurgical ablation.
Transcatheter placement of intrathoracic carotid vascular intravascular stents
Because AMA received a request to create a new code for this procedure, it will most likely make editorial revisions to codes 37215, 37216, 0075T, and 0076T. ACR said these revisions would "differentiate them from the new code and ... make them consistent with all other endovascular bundled coding."
Arthrocentesis
Three new codes were proposed to describe ultrasound imaging guidance as a component of arthrocentesis, aspiration, and/or injection of a joint or bursa. Fluoroscopic-guided arthrocentesis will remain component-coded, according to ACR.
Radiation treatment delivery
In 2015, three new codes could be created to report these services, and the descriptor will clarify which codes contain the technical component, professional component, or both. A proposal is on the table to delete the following codes:
Ultrasonic guidance for placement of radiation therapy fields: 76950
Radiation treatment delivery codes: 77403, 77404, 77406, 77408, 77409, 77411, 77413, 77414, 77416, 77418, and 77421
Category III codes: 0073T and 0197T
Revisions will be made to the following radiation treatment delivery codes: 77401, 77402, 77407, and 77412.
Not yet final
AMA cautioned that these changes reflect what was proposed at the panel's most recent meeting. However, future panel actions may affect any changes. Also, AMA does not assign codes and descriptors until just before publication of the entire set of 2015 coding changes in the CPT manual.
Jeff Majchrzak is vice president of clinical consulting services, radiology, for Panacea Healthcare Solutions. In his role as consultant, he conducts CPT coding assessments for both hospitals and physicians, evaluates administrative policies and procedures, and helps develop quality assurance programs to ensure complete and compliant coding and billing. Jeff trains both radiology and cardiology staff (on both technical and professional billing issues) in correct coding practices. Jeff contributes to numerous publications by MedLearn Publishing (a division of Panacea) and is a sought-after national speaker on coding and reimbursement for radiology, interventional radiology, nuclear medicine, and cardiology. Jeff can be reached at jmajchrzak@panaceainc.com, or visit Panacea Healthcare Solutions at www.panaceahealthsolutions.com.