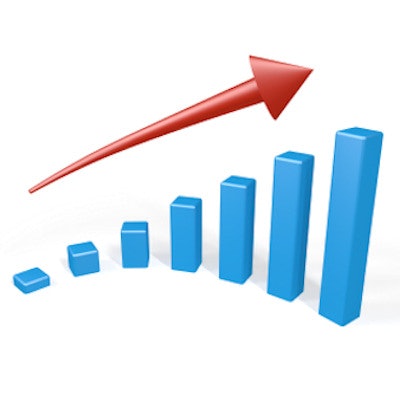 U.S. health spending will continue to increase through 2027, as demographic and economic changes overcome factors that previously kept costs growing more slowly, such as the Great Recession and the Affordable Care Act, according to a report from the U.S. Centers for Medicare and Medicaid Services (CMS) released February 20 in Health Affairs.
"Baby boomers will continue to shift from private insurance to Medicare throughout the projection period, and changes in the economy, such as faster growth in personal disposable income, will impact healthcare coverage as patients' demand for services increases," said economist Andrea Sisko from CMS' Office of the Actuary in a conference call.
For example, during the time frame of the projection, personal healthcare spending growth will average 5.5%, with an increase in personal healthcare prices expected to account for nearly half of that growth, according to the researchers.
"Inflation for healthcare goods and services, as measured by the Personal Health Care Price Index and inclusive of both economy-wide and relative personal healthcare price inflation, is projected to play a larger role in the coming decade," they noted.
Overall, healthcare spending will increase annually by 5.5% through 2027 -- translating to the country paying out 19.4% of its gross domestic product (GDP) on healthcare by 2027; total health spending will reach nearly $6 trillion by 2027. Among the major payors for healthcare over the 2018 to 2027 period, Medicare will see the most rapid annual growth, at 7.4%, while Medicaid will average 5.5% and private health insurance will average 4.8%.
"While the national health spending growth rate is projected to average 5.5% per year for [2018 to 2027], annual growth is expected to generally accelerate over much of the projection period," Sisko and colleagues wrote.
Projected annual growth rate for healthcare spending
2019
2027
Prescription drug spending
4.6%
6.1%
Hospital spending
5.1%
5.7%
Physician and clinical services spending
5.4%
5.4%
"During the past 10 years the lingering effects of the Great Recession, coupled with the coverage and payment provisions of the Affordable Care Act, have significantly influenced the trends in healthcare spending and enrollment in the United States," the group concluded. "Over the next decade, however, the outlook for health spending and insurance coverage is expected to be primarily driven by long-observed demographic and economic factors fundamental to the healthcare sector."