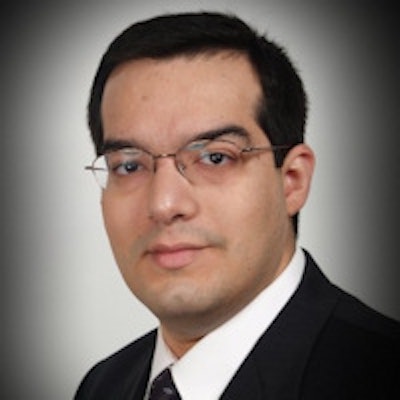 It's a brave new healthcare world out there, and radiology groups can be hard-pressed to prove that they offer significant value to the hospitals they serve. So how can a practice develop and sustain healthy hospital contracts?
Dr. Syed Zaidi, president of Radiology Associates of Canton in Canton, OH, recently shared his thoughts on how radiology practices can positively change the way they relate to hospitals in an article in the Journal of the American College of Radiology (June 10, 2015). AuntMinnie.com spoke with Zaidi, who offered further insights on the topic.
AuntMinnie: How has the relationship between radiology practices and hospitals been characterized traditionally?
Zaidi: Traditionally, it has been a vendor-client relationship, with radiology considered to be just one of a number of professional service contracts the hospital holds. Even though the radiology practice is private, the hospital acts as if it owns the group and feels it has the right to block the group's attempts to develop other hospital contracts -- or terminate its agreement with the practice at will.
What is prompting the need for radiology practices to change the way they relate to their hospital clients?
Because practices are seen as replaceable more and more often -- much like other ancillary services such as hospitalists, anesthesiologists, or even ER physicians -- it has become increasingly difficult for radiology groups to demonstrate their value. Hospital administrations need to understand that it's not so simple to replace a radiology group, and that it's not in the hospital's best interest.
How can radiology practices protect themselves from losing a hospital contract?
It's crucial to have a good line of communication with hospital administration, and to document your value so that you can share concrete results with the hospital CEO and the board. The American College of Radiology has some resources for this.
What we did in our practice is we came up with a comanagement structure that gives us shared governance with the hospital over radiology services. It's harder to be marginalized if we're part of the formal governance of the hospital.
Start with communicating directly with the hospital CEO, as well as progressive administrators and clinicians. If there's a leading primary care physician or surgeon who firmly believes radiologists have value and can't just be replaced, cultivate relationships with those people.
You need other physicians as allies -- that's how we worked with our hospital administration to develop the comanagement structure. You want to walk the hospital through the radiology value chain and show them how you're providing better service, and how that service improves not only patient care quality but also the hospital's bottom line.
It's important to align with the hospital's goals. What does that mean? It means finding a way to help the hospital achieve its strategic goals, whether that's improving care quality, shortening patients' length of stay, working with other physicians in a collaborative model, working with the hospital's [accountable care organization (ACO)], or developing certain markets or service lines. For example, if a radiology practice can help a hospital shorten patients' stays, that can have a big effect on the hospital's budget.
How has your group strategized about your hospital contract?
In 2010 we started having yearly strategic planning retreats, where we discuss how to work with our hospitals as well as our insurers. We've brought in outside speakers like Dr. Frank Lexa, Dr. Jonathan Berlin, and Dr. Larry Muroff to get some perspective on how to create good working relationships with hospitals. The group's culture has to be continually evolving, and you're going to have to invest both time and money into this kind of planning.
What kind of mistakes do practices make in dealing with hospital clients?
A big mistake is allowing things to become contentious. It can be easy for radiology groups and hospitals to lose trust in each other. Hospitals don't want to deal with problem people. They don't want drama or high-maintenance physicians -- at least not radiologists.
It's also a mistake to hold firm on some issue that perhaps you shouldn't. You have to be clear about what issues you really can't compromise on, and then which ones you can.
Finally, it's a mistake for radiologists to make the hospital contract all about them, rather than about how their group can serve the hospital. You need to be able to see things from the hospital's perspective and go from there.