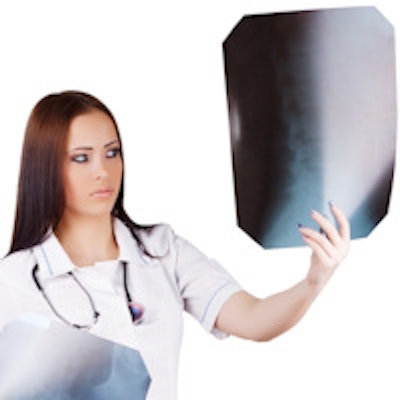 Nonphysician healthcare staff, such as nurse practitioners and physician assistants, are 30% more likely than primary care physicians to order imaging exams for patients, concludes a new study published online Monday in JAMA Internal Medicine.
While the difference in image ordering between these two provider groups may seem minor for individual patients, it could have important ramifications on care and overall costs at the population level, according to contributing author Dr. Richard Duszak Jr., chief medical officer of the American College of Radiology's Harvey L. Neiman Health Policy Institute.
"Under the Medicare physician fee schedule, advanced practice clinicians, or APCs, are paid at 85% of what primary care physicians are paid," he told AuntMinnie.com. "So some say that shifting more patient encounters to APCs will save 15%. But what's the downstream cost if they're ordering 1.3 times more imaging? It may be more expensive in the long term to use APCs."
Rising use of APCs
Concern about the shortage of primary care physicians has intensified as the U.S. population ages and as access to healthcare has increased through the U.S. Affordable Care Act, lead author Danny Hughes, PhD; colleague Miao Jiang, PhD; and Duszak wrote. This concern has some proposing that APCs be used more often for patient care.
"Many new models of care seek to expand the role of APCs to serve as the initial point of contact for a full range of patient care," the team wrote. "In this larger role, APCs' limited training and narrower expertise relative to physicians potentially increases their uncertainty when confronted with less familiar medical conditions outside of those explicitly covered by their scope of practice."
For the study, Hughes, Jiang, and Duszak analyzed more than 650,000 Medicare episodes of care from 2010 through 2011 to compare ordering patterns between advanced practice clinicians and primary care physicians (PCPs) following an initial office visit. Of these, 8% were performed by APCs and 92% were performed by PCPs (JAMA Intern Med, November 24, 2014).
APCs ordered imaging in 2.7% of patient encounters, while PCPs ordered imaging in 1.9%, the group found. In addition, APCs were associated with more radiography orders on both new and established patients, ordering 0.3% and 0.2% more images per episode of care, respectively.
For advanced imaging, APCs were associated with increased imaging for established patients, ordering 0.1% more images, but they did not differ significantly from PCPs in terms of ordering for new patients.
Image ordering rates 30 days after patient visit
PCPs
APCs
Odds ratio
p-value
Overall
1.9%
2.7%
1.34
< 0.001
New patient, x-ray
2.1%
2.9%
1.36
< 0.01
New patient, advanced imaging
0.7%
0.5%
0.69
0.10
Established patient, x-ray
1.3%
1.8%
1.32
< 0.001
Established patient, advanced imaging
0.5%
0.7%
1.28
< 0.001
More research is needed to determine whether these differences represent imaging overuse by APCs or underuse by PCPs, according to Hughes and colleagues.
"Efforts to expand access to care by simply substituting APCs for physicians without careful imaging appropriateness mechanisms may further elevate healthcare costs and potentially increase unnecessary radiation exposure," they wrote.
Clinical decision-support software could help standardize ordering behavior among nonphysician practitioners. There is considerable variation in the scope of practice for APCs across the U.S., with different states allowing APCs to order different tests, the authors noted. For example, the differential in ordered imaging for established patients between APCs and PCPs was twice as high for x-rays -- a test more APCs are authorized to order -- than other imaging exams.
APCs can serve an important and growing role in primary care access, according to Hughes, Jiang, and Duszak. But expanding the use of APCs must take into account additional cost, safety, and quality implications.
"Greater PCP and APC team coordination ... may produce better outcomes than merely expanding the scope of APC practice alone," they concluded.