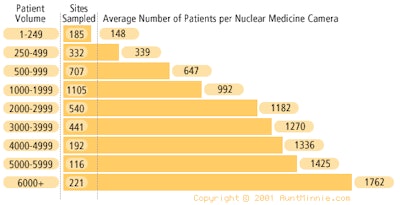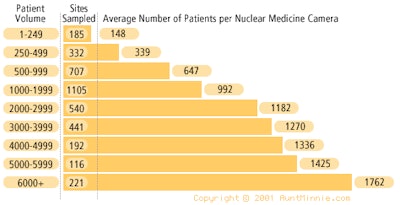 The productivity of nuclear medicine gamma cameras increases steeply as patient volume grows, according to IMV's 2000 Census of Nuclear Medicine Sites.
It appears that the threshold volume for acquiring a second camera is on the order of 1,000 patients a year. Between that level of demand and that of 6,000 patients a year, the productivity per camera increases about 70%, from 1,000 patients per camera to over 1,700.
MarketStat Archives
CT productivity per device
Mammography procedures per mammography unit
AuntMinnie's IMV MarketStat is provided to AuntMinnie.com by IMV Medical Information Division, Inc. of Des Plaines, IL.
Click here to buy complete IMV Market Reports
Copyright © 2001 AuntMinnie.com