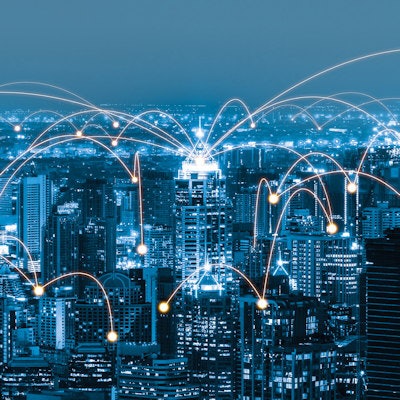 The rapid decline in global elective diagnostic imaging procedures during 2020 due to COVID-19, and subsequent second and third wave of rising cases in the second half of 2020, resulted in a significant drop-off in nonurgent imaging volumes and the demand for teleradiology services. Overall, however, the prospects for the sector remain promising, and there is good reason to be optimistic about the future.
While teleradiology is used to service out-of-hours reading services and has been sheltered to some extent from this impact, greater hospital/imaging center capacity caused by lower procedure volumes resulted in teleradiology reading service providers experiencing a significant drop in the number of reading volumes. The decline of vRad's imaging volumes by around 55% in April 2020 is just one example of dramatic declines reported by several vendors.
On the plus side, technology advances relating to artificial intelligence (AI) are having an increasingly positive impact on the success of teleradiology reading service providers. There is a growing trend for strategic partnerships between reading service providers, IT suppliers, and AI algorithm developers, with the aim of improving workflow and decision-support processes, as well as the accuracy/speed of radiologist reports.
There are very few examples of teleradiology vendors developing AI in-house due to the associated development costs, and so it is anticipated that vendors will increasingly partner with AI specialists. The table below highlights some examples of these partnerships.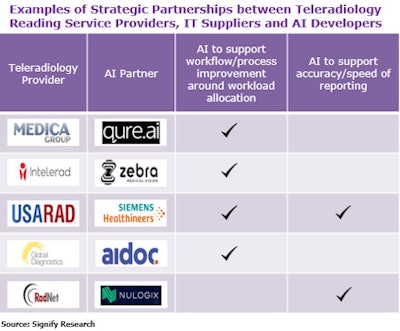 So what are the key points to note about the shape and composition of the global teleradiology market?
The sector is served by a broad range of vendors, including international players with operations in multiple countries and local vendors significant in their domestic country/subregion, many producing 100,000+ teleradiology readings of diagnostic images annually.
The teleradiology market consists of two key components: teleradiology reading services and teleradiology IT. Each of the different company types is explored below, with analysis of example vendors falling into each of the following four categories:
1. Full-stack (self-developed commercial IT and reading services)
This group includes teleradiology reading service providers that have developed their own IT, which they use to support their own services and make commercially available for third parties to purchase. Examples are:
Teleradiology Solutions (TRS) is an Indian-based independent provider of teleradiology services, which relies on its own technology platform arm (Telerad Tech) and third-party IT to offer its RIS/PACS cloud-based workflow solution (RADSpa). The vendor is the largest outsourcer of teleradiology services in India. Globally, it provides an estimated over 1 million reads annually to countries including the U.S., Nigeria, Tanzania, Uganda, and Singapore.
U.S.-based RadNet entered the teleradiology market 10 years ago when it acquired eRAD (IT solution) and Imaging On Call (reading services), with the latter generating approximately two-thirds of RadNet's annual teleradiology revenues. In terms of its IT, the target customers are teleradiology service providers, reading groups, outpatient imaging centers, and hospitals. The vendor was estimated to be a top-8 provider of U.S. teleradiology reading service volumes in 2019. However, revenue generated from its "Imaging on Call and Software" reportable segment has been falling in recent years, and with teleradiology accounting for <2% of RadNet's overall revenues, the ongoing decline in its teleradiology business could potentially threaten the company's long-term commitment to this market.
Philips acquired Direct Radiology's teleradiology platform and reading services business in March 2019. Philips kept the reading service element of Direct Radiology as a separate entity but integrated the Direct Radiology IT into the broader Philips portfolio of imaging IT, allowing it to develop a strong competitive edge in the teleradiology IT market. Direct Radiology was estimated to be a top-6 provider of U.S. teleradiology reading service volumes in 2019. In August 2019, Philips strengthened its platform offering with the acquisition of Carestream Health's Healthcare Information Systems (HCIS) business. Carestream was estimated to represent the fourth-highest share of global teleradiology IT vendor revenues in 2019.
2. Reading service provider (self-developed IT)
This group includes teleradiology reading service providers that have developed their own IT, which they use to support their own reading services, although the IT is not made commercially available at scale to third parties. Companies that fall into this category include the following:
vRad. Following several years of organic growth, U.S.-based vRad was acquired in 2015 by the publicly traded healthcare services/physician practice management provider Mednax. In 2018, Mednax reported 11.5 million radiology studies and revenue of $3.6 billion (3 billion euros), of which vRad accounted for 58% (6.7 million) and 6% ($232 million, 194 million euros) of the overall Mednax group volume and revenue, respectively. In 2019 vRad (via its network of 500+ radiologist reporters) performed a similar level of teleradiology reads, representing not just the largest teleradiology provider in the U.S. market but also globally. In December 2020, Radiology Partners finalized its $885 million (740 million euros) acquisition of the Mednax imaging business line, bringing together two of the leaders in U.S. radiology with a combined 2,400 radiologists across all 50 states, reading around 35 million exams annually. The move will allow Radiology Partners to begin offering teleradiology out-of-hours reads to its smaller practices.
Doctor-Net. Doctor-NET is the leading provider of teleradiology reading services in Japan, and a top 10 player globally, with an offering that includes diagnostic image reading, onsite (Doctor PACS) and cloud-based (Virtual-RAD) IT software, and AI interpretation services.
Telemedicine Clinic (TMC, Unilabs). Spanish-based TMC is a leading European provider of subspeciality teleradiology reading services. The vendor is a leader in the Nordic countries, where it serves the Swedish and Danish market, and a top-four player in the UK, where it is an approved supplier to the U.K.'s NHS Trusts. TMC also has Australian facilities in Sydney and Noosa for providing its "On-call" service (out-of-hour and emergency teleradiology reads) for European hospitals, whereas the "Elective" teleradiology reading service is provided for the U.K. and Nordic countries. In November 2017, the vendor was acquired by Unilabs, a European provider of lab medicine, radiology, pathology, and genetics, operating lab and diagnostic imaging facilities in 15 countries across Europe and the Middle East. The combined Unilabs and TMC network consists of > 550 radiologist reporters, interpreting about 4 million examinations annually for its European clients.
3. Reading service provider (third-party IT)
Similar to the above group in that it also provides reading services, although the IT platform is provided by third-party providers. Examples include the following:
Columbia Asia Radiology Group. Indian-based Columbia Asia Radiology Group is one of the largest hospital groups in Asia, with small and medium-sized hospitals across Malaysia, India, Indonesia, and Vietnam. It is a leading provider of teleradiology reading services domestically and also has international presence, including in the U.S., Europe, and Southeast Asia.
I-MED Radiology Network. I-MED is Australia's largest radiology network and third-largest imaging provider globally, with clinics in every state/territory. In 2018 European private equity firm Permira acquired the group for 1.25 billion Australian dollars (794 million euros) and has since supported I-MED's acquisitions of local radiology groups. Teleradiology is a relatively small part of the overall business; I-MED performs almost 5 million patient procedures annually, although emergency and after-hours teleradiology reporting from its "I-TeleRAD" group represents around 10% of its annual volumes.
The graphic below includes examples of reading service providers by country and shows that many markets are dominated by local vendors.
4. IT Only
This group includes IT vendors that sell either their standard imaging IT products (or solutions tailored for teleradiology) to teleradiology reading service providers. These include traditional imaging IT vendors such as Intelerad, Fujifilm, GE, IBM and OnePACS, and teleradiology IT specialists such as RamSoft and Meddiff Technologies.
Intelerad. Intelerad is a Canadian-based provider of teleradiology PACS, enterprise and workflow solutions. It features most prominently as a supplier of third-party IT for several teleradiology vendors, including I-MED Radiology Network (I-TeleRAD), Integral Diagnostics, Global Diagnostics, and Everlight Radiology.
Meddiff Technologies. With over 800 clients and more than 1,500 installations, Meddiff is the leading teleradiology platform provider in India. Its clients include India's leading medical institutions in both the public and private sector, such as Apollo, Fortis, Manipal, HCG, and overseas, such as Columbia Asia (Malaysia, Indonesia, Vietnam) and European Scanning Centre (U.K.).
Market outlook
Whilst the teleradiology reading services market has a clear market leader in vRad, the teleradiology IT market is not dominated by any number of vendors, with contracts often relatively small in value and fragmented. In recent years, there has been an increasing trend for vendors to have a mix of self-developed and off-the-shelf (third-party) IT solutions for teleradiology. Everlight Radiology, Medica Group, and USARAD are examples of vendors that use a commercial PACS solution from a traditional imaging IT vendor, in conjunction with a self-developed workflow solution.
A substantial proportion of the teleradiology market is served in-house; our analysis of the top 20 teleradiology reading service providers (based on annual volumes) shows that around 40% of vendors were using self-developed IT, almost 20% were using a combination of self-developed IT and third-party IT, and the remaining 40% relied solely on third-party IT.
However, the "captive" IT market (i.e., the effective value of that IT business had it been provided on a commercial basis by companies in the reading service provider/self-developed IT category) is anticipated to gradually decline moving forward, as increasingly off-the-shelf, third-party IT solutions are purchased. Overhead costs associated with the continuous development of IT solutions could in fact become a burden for the reading services providers developing their own IT, namely vendors included in the full-stack and reading service provider/self-developed IT company types, particularly for the latter; whilst this group of vendors may gain a competitive advantage by choosing not to make the IT commercially available at scale to competitors, the drawback is that their IT does not generate additional revenue.
Overall, it is anticipated that over the forecast period of our global 2021 teleradiology report, there will be a gradual trend toward IT vendors selling their standard imaging IT products (or solutions tailored for teleradiology) to teleradiology reading service providers.
There has certainly been an accelerating trend of consolidation of outpatient radiology groups and teleradiology reading service providers, particularly in the U.S., and demonstrated with the merger and acquisition activity highlighted above involving companies such as Philips/Direct Radiology and Radiology Partners (Mednax/vRad). While future acquisitions are gradually expected to take place in this dynamic teleradiology environment, it is unlikely to significantly alter the high level of fragmentation amongst the global supplier base, dominated by local providers.
In April 2021, Signify Research will publish its Teleradiology -- World -- 2021 market report. The report will examine the penetration that teleradiology has made into the overall number of diagnostic imaging procedures performed globally, including the impact of COVID-19, and, specifically, in 20 core countries and sub-regions. It presents our estimates and forecasts provided to 2025 for the market for teleradiology reading services (reading volumes, revenues, and revenue per read), teleradiology IT, and the competitive environment (from a reading service provider and IT vendor perspective) in each of the 20 countries and subregions mentioned above.
Arun Gill is a senior market analyst who leads the section on integrated care IT, EHR/EMR, and telehealth at Signify Research, a health tech, market intelligence firm based in Cranfield, U.K.
The comments and observations expressed herein do not necessarily reflect the opinions of AuntMinnieEurope.com, nor should they be construed as an endorsement or admonishment of any particular vendor, analyst, industry consultant, or consulting group.