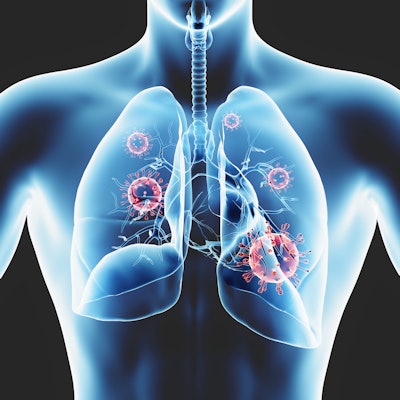 The COVID-19 pandemic will adversely affect imaging volume, cancer treatment, and research going forward, according to a series of reports published April 15 in Radiology and Radiology: Imaging Cancer.
The pandemic has already deeply challenged U.S. radiology practices, wrote Dr. Howard Forman and co-author Dr. Joseph Cavallo, both of Yale New Haven Hospital, in the first report. Measures taken to slow transmission of the SARS-CoV-2 virus that causes COVID-19 have also slowed demand for imaging overall.
"Outpatient-heavy practices will feel the biggest impact of these changes, but all imaging volumes will decrease," Forman and Cavallo wrote. "[Practices] should anticipate 50% to 70% decreases in imaging volume that will last a minimum of three to four months, depending on ... location ... and the severity of the COVID-19 pandemic in each region."
The Coronavirus Aid, Relief, and Economic Security (CARES) Act may help, but "additional congressional action will be necessary to stabilize healthcare markets," Forman and Cavallo noted.
"Radiologists are facing an economic crisis with a severity and length that few could have imagined," Cavallo said in the statement. "Practices will need to make short-term sacrifices to ensure solvency, stay agile enough to handle a quickly changing and uncertain fiscal environment, and be prepared for potentially permanent changes to the field moving forward."
In a second report, Dr. Gary Luker from the University of Michigan and Adeline Boettcher, PhD, scientific editor of Radiology: Artificial Intelligence and Radiology: Imaging Cancer, outlined how cancer care could be affected in the wake of the pandemic.
Dealing with COVID-19 has caused delays of cancer imaging that could create a surge in the future as facilities try to reschedule -- although it's also possible that cancer screening and nonemergency imaging volume could decline due to health insurance losses among people newly unemployed and patients' fears of even going to medical facilities, the authors noted.
"Some institutions expect there will be a high demand for scheduling appointments once stay-at-home orders are relaxed," Luker and Boettcher wrote.
Finally, the pandemic will negatively affect radiology research, resulting in "one to two years of lost scientific productivity," wrote a team led by Dr. Achala Vagal of the University of Cincinnati.
"The COVID-19 pandemic has disrupted research at all levels," Vagal said in the RSNA statement. "Short term and long-term ramifications ... include funding challenges, hiring and retention of research personnel, and impact on careers."
The full extent of the effect of the COVID-19 pandemic on radiology is yet to be determined, according to the RSNA.
"Administrators and practice leaders need to be proactive with practice modifications and financial maneuvers that can position them to emerge from this pandemic in the most viable economic position, while academic institutions need to rethink their approach to research funding, staffing, and processes," it said.