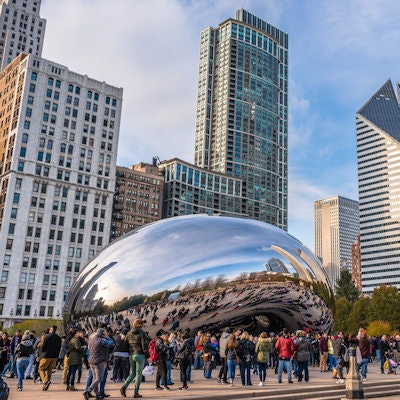 RSNA 2019 offers an excellent chance for radiology professionals to get a good look at what's hot in artificial intelligence (AI) and information technology (IT). Simon Harris and Steve Holloway of market research firm Signify Research discuss the major trends they expect to see at McCormick Place.
AI goes clinical
After years of promise and potential, this could be the year that AI finally arrives as a viable clinical product, according to Harris. He notes that 60 algorithms from 43 different companies now have clearance from the U.S. Food and Drug Administration -- and we appear to be near the tipping point for AI adoption.
"Two years ago you walked around RSNA and most of the AI was proof of concept or showing the potential for deep learning in radiology," Harris said. "We've gone from talking about the potential of deep learning in radiology to actually having a number of solutions that you can go out and use in daily practice," Harris said.
The functionality of most of the AI tools that vendors will be showing has also progressed. Initially, developers focused on algorithms for detecting abnormalities. Now, companies have been adding functionality such as automatic measurement and quantification, even up to providing a score for likelihood of malignancy.
"We'll see more than just detection, which is what we've seen in previous years," Harris said.
Indeed, Harris sees activity in the AI market separating out into three main segments: algorithms, platforms and marketplaces, and embedded systems.
Algorithms: This segment has received most of the attention, consisting of software developed for image analysis applications such as calculating bone age or identifying and classifying lung lesions. Harris believes that RSNA 2019 will see a wider range of algorithms become available for clinical uses that include the liver or prostate.
Platforms and marketplaces: Algorithms are great, but how do you get them into the hands of clinical users? This is where what Harris calls the "plumbing" comes into play -- marketplaces for AI that enable users to pick and choose the algorithms they want. While several marketplaces have already been announced, Harris believes that RSNA 2019 will see the launch of new platforms, particularly as PACS vendors see their value.
Embedded systems: This segment hasn't received as much attention, but it could eventually become the area where AI has the biggest impact, covering the incorporation of AI into modality scanners to perform tasks such as reconstruction of image data. In MRI, for example, AI could be used to analyze data more effectively and shorten scan times or enhance image quality -- or both. In CT, embedded AI could lead to major advances in dose reduction. But Harris sees ultrasound as the modality where embedded AI could make the biggest difference. Ultrasound is prone to operator variability and has a steep learning curve. Embedded AI could address both of these issues, making scans easier to interpret and reducing variability between readers.
This all sounds great, right? Maybe, but there are still challenges -- such as how clinical sites will get paid for using AI. Real-world case studies are needed that illustrate how customers can achieve a return on their investment in AI, Harris believes. And multicenter prospective studies would be useful for clinical algorithms.
But a big world of information technology still exists outside of just AI. Signify sees several major trends developing in this area, according to Holloway.
Enterprise imaging becomes a reality
Vendors have been talking about enterprise imaging for years, but it's typically been implemented in a hodgepodge fashion, with disparate image viewers used by various clinical departments that often operate on different software platforms. That's finally starting to change, and RSNA 2019 will see enterprise imaging being offered on a broader scale, on a single platform with a single user interface, according to Holloway.
At the same time, the gap between PACS and advanced visualization is closing, and functionality such as embedded workflow tools, business intelligence, analytics, and vendor-neutral archives (VNAs) are becoming more important.
The unknown is the extent to which there will be a push to integrate data from other -ologies with radiology in the enterprise environment, such as pathology images or patient genetic data. Either way, Holloway sees a major emphasis on bringing other data into the reading environment to help radiologists do their jobs.
"Enterprise radiology ... is the first step toward enterprise imaging, but the multiology part is harder to do," Holloway said. "That is going to take some more time, but it will still be discussed."
Healthcare eyes the public cloud
Finally, healthcare providers seem to be jettisoning their reticence toward storing images and patient data on public clouds -- storage platforms operated by firms such as Amazon, Google, and Microsoft. In the past, privacy concerns spurred providers to jealously guard patient data in on-premises archives that they operated themselves, but after numerous hacking episodes, many are now realizing that cybersecurity is best left to the experts.
And some of this shift in thinking is being driven by radiology, Holloway believes.
"The big health providers have already made investments in their electronic health record system, their own IT infrastructure, and their own data centers, but when they start to look at the volume of imaging, the volume of data that they are having to house and manage, and they look at the cybersecurity aspects as well, suddenly compared with Google or Amazon or Microsoft, who have massive scalability, the price differential starts to get quite interesting," he said.
There is a misunderstanding that the public cloud is cheaper -- it's not, Holloway believes -- but it confers so many other advantages in terms of cybersecurity, disaster recovery, and data accessibility that many providers may find the shift inevitable.
"Although not everyone is pulling the trigger on public cloud in big deals at the moment, most of them are asking that they want to see that option," Holloway said. "I don't think we are there yet, but it certainly is a direction shift."