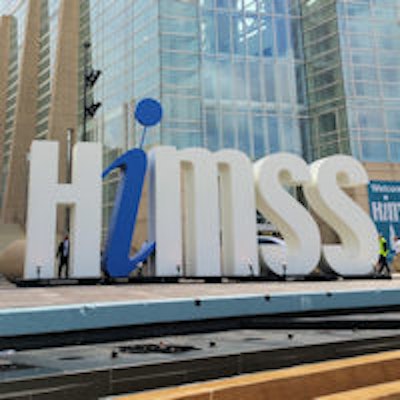 CHICAGO - The path to enterprise imaging is a seven-phase process that begins with ignorance and ends -- hopefully -- with success, according to a presentation on Monday at the Healthcare Information and Management Systems Society (HIMSS) annual meeting.
The seven stages of enterprise imaging are ignorance, frustration, confusion, being overwhelmed, fright, hope, and success, said Trent Conwell, director of enterprise imaging at Sentara Healthcare.
"If you don't manage each of these stages [of enterprise imaging], it's going to be a process that may not end up favorably for you," he said.
Sentara, a nonprofit healthcare organization in Virginia and North Carolina, is in the process of implementing an enterprise imaging platform featuring a vendor-neutral archive (VNA), a communication workflow engine, and health information exchange (HIE) capabilities.
It's critical to begin the journey by really educating yourself about the issues surrounding enterprise imaging and not to fall into the trap of believing you know more than you do, Conwell said.
"If you don't face the fact that there is some level of ignorance in what you're trying to do, you're going to struggle immensely, and as you try and deal with stages two and three, which are frustration and confusion, you're going to find that you have to revisit the fact that there is some level of ignorance initially," he said.
Conwell shared Sentara's experience to date with enterprise imaging during a joint presentation with Eric Rice of image management firm Mach7 Technologies.
Following the education process, it's still easy to become quite overwhelmed when it's time to build a request for proposal (RFP) and when RFP responses are received from vendors, he said. The next stage -- fright -- can come when it's time to sign the contract.
"It's the point where hope meets reality, and it's the point where all of the promises and what I call the untruths start to float to the top," he said. "It's amazing what you find out the day after you sign a contract. At that point, though, if you have done all of your homework successfully, you do start to go through an upswing and you will start to get to the last two phases. Ultimately, at the end of the day, if you have done everything correctly, you will get to the final phase, which is success."
The process is affected by concerns and stress within your own organization, and there will also be stress in dealing with the various vendors that will be influenced by a shift to an enterprise imaging model, he said.
"It's a highly integrated model that you are looking to put into place," Conwell said. "You are going to be dealing with your PACS vendors, you're going to be dealing with modality vendors, and you're going to be dealing with your [electronic medical record] vendor. They are going to put constraints on you, things you may not even be thinking about, [and] that [affects] the RFP process."
When dealing with prospective enterprise imaging vendors, Conwell recommends that you "trust but verify."
Sentara partnered with Ascendian Healthcare Consulting to help them through the process, he said.
A long journey
For Sentara, the main impetus for pursuing an enterprise imaging strategy was a desire to speed up image retrieval times for clinicians, Conwell said.
Sentara's journey toward enterprise imaging began in 2002 with implementation of a PACS from Agfa HealthCare for five hospitals. A sixth hospital came online in 2006, followed by a seventh in 2008.
In 2009, a first attempt was made for a business case for a VNA, but that failed, due largely to the vendor landscape at the time. So did a subsequent attempt in 2010, as they did not adequately assess and convey to the organization the impact of the VNA, Conwell said.
In 2011, an eighth Sentara hospital adopted a PACS from Fujifilm Medical Systems USA, and in 2012, two ambulatory imaging centers began using PACS from Carestream Health and Viztek. Two more hospitals began using a GE Healthcare PACS in 2013. In 2014, the 11th and 12th hospitals adopted PACS from Merge Healthcare and McKesson, respectively. Sentara also has a PACS from Philips Healthcare.
In early 2014, the enterprise imaging strategy business case was finally approved. Implementation of the enterprise imaging platform from Mach7 has been underway for about a year, and the ongoing process will likely continue for months or even years, Conwell said.
Imaging HIE capabilities are planned for 2016, and in 2017 the goal is to implement a PACS-agnostic approach that will include multiple image-generating specialties beyond radiology, according to Conwell.
"I want the control back," he said. "I don't want any vendor owning my images, owning my software, and owning my hardware. I need to own all of that so I can be flexible and I can ultimately determine what that HIE model needs to look like or what that deconstructed PACS model may look like in our organization."
The primary goals for Sentara's enterprise imaging strategy were to improve image retrieval response times, stabilize the PACS technology situation, decrease image storage costs, and address the need for a more robust clinical viewer. Secondary goals included implementing a solution to support other image-generating specialties beyond radiology, planning a flexible strategy to accommodate mergers and acquisitions, formulating a business continuity model, and implementing an image migration plan, Conwell said.
The road map for the next couple of years is to become PACS-agnostic and to include an imaging HIE strategy.
"Once we do become PACS-agnostic, that gives us the flexibility that we need to achieve whatever our future goals are going to be, whether we are on HIE or deconstructed PACS or so forth," he said.
Sentara projects that adopting the enterprise imaging platform along with information life-cycle management tools will save 2,600 terabytes of image storage by 2018.