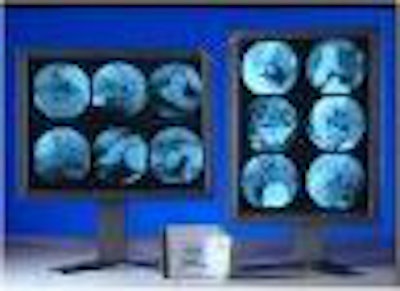 The PACS and RIS markets continue to converge, with vendors from each sector broadening and integrating systems to offer a wide range of radiology image and information management capabilities. There'll be no place better to witness this dynamic than the 2002 RSNA exhibit hall.
Perhaps inspired by the spirit of the Integrating the Healthcare Enterprise (IHE) initiative from the RSNA and the Healthcare Information and Management Systems Society (HIMSS), firms are improving access to clinical information with brokerless integration – that is, connecting PACS, RIS, and other healthcare information systems with no intermediary requirements. Some vendors will even showcase IHE functionality in their product lines, a welcome trend for many prospective PACS purchasers.
Clinicians will find it easier to enjoy the benefits of PACS, with additional viewing tools and improved Web-based access to images on display this year. Orthopedic surgeons, in particular, will appreciate the proliferation of orthopedic templates at this year's meeting.
Some PACS firms are emphasizing modular configurations, which allow customers to proceed to digital imaging in a step-by-step fashion, adding more modules when their needs change or grow. Workstation software continues to advance, with inclusion of new image manipulation tools and improved access to patient information.
Not surprisingly, the Health Insurance Portability and Accountability Act (HIPAA) continues to have an impact, with vendors lining up security as well as disaster recovery features. Flat-panel displays appear to have attained critical mass, with monitor manufacturers filling out their product lines and heavily marketing their new offerings. In archiving, activity in large-scale, online storage configurations is on the upswing, bolstered by interest in on-demand architecture.
AETmed
Booth #2945 (Esaote)
This Italian PACS vendor will debut the third version of its DICOMed PACS software in the booth of device manufacturer Esaote. The new release includes features designed to optimize integration with HIS/RIS applications and encourage user acceptance, according to the company.
Users will now be able to take advantage of macros, "favorites" commands, and user profiles. In addition, AETmed has added default display protocols, 3-D, and dedicated analysis for cardiovascular applications. The latest release is available now, according to the Genoa-based vendor.
Agfa HealthCare
Booth #7114
Agfa will be introducing Initia, a modular product suite designed to offer small and medium-sized hospitals and emerging markets a cost-effective entry into the digital imaging market, according to Greenville, SC-based Agfa. Facilities can add on additional modules as their needs change.
Initia consists of four building blocks and can be configured in several packages. Customers who already have a printer could make use of Initia CR 1000 (a digitizer, PC, and network switch). For customers who prefer 1:1 and full-size thorax images, a Drystar 3000 printer could be paired with Initia CR 1000, according to the vendor.
Customers comfortable with smaller images and their economical advantages could substitute Drystar 4500 instead of Drystar 3000. For institutions seeking to move to digital image management, the vendor's Basix entry-level Impax system could be combined with Initia CR 1000. Agfa believes this choice would be of particular interest to small and mid-sized facilities.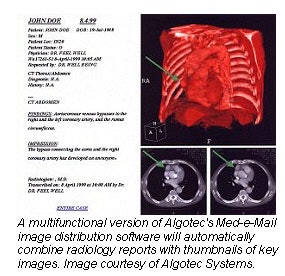 Algotec Systems
Booth #1965
Algotec will be emphasizing advances in systems integration and workflow improvements this year. In new enhancements to its MediPrime 3-D radiology reading workstation, Algotec has automated functions such as multiplanar reformatted views of CT studies and instantaneous display of MR angiography studies in MIP mode, according to the Raanana, Israel-based firm.
The new workstation also includes a separate, dedicated screen for integrated RIS and voice recognition, allowing for a quick view of entire patient files while reviewing current studies on the main image screen, Algotec said. Users will then be able to "pull" relevant prior studies on to the imaging screen for review and comparison.
In other product developments, Algotec has upgraded its MediSurf Web-based image viewer, which is now capable of serving as a primary diagnostic workstation. Without accessing a RIS, the new MediSurf release can retrieve entire patient files by searching archives for relevant patient information. MediSurf can support up to two high-resolution displays, and is suitable as a primary reading platform for small facilities and remote reading applications, Algotec said.
Algotec is also unveiling a multifunctional version of its Med-e-Mail image distribution software. The program automatically combines radiology reports with thumbnails of key images into a Web-enabled report, Algotec said. In addition, the software now supports CD recording, faxing, uploading to a Web site, and hard-copy printing, according to the firm. Files can also be downloaded to a computer or personal digital assistant (PDA).
CD-Surf Lite is a desktop archiving product targeted at smaller facilities, allowing the recording of entire studies and illustrated reports on CD-ROMs using a single CD burner. In MediStore enhancements, Algotec has added HIPAA-compliant features such as advanced access control, user authentication, central user management, audit trails, and data encryption.
American Medical Sales
Booth #1921
AMS will again be showing Catella, the firm's digital workstation family. Featuring voice-activated image manipulation control, Catella supports configuration of one to eight monitors and provides Web-based distribution of images via Image Armor encryption software, according to the Hawthorne, CA-based vendor.
In new product developments, Scribe provides report-editing capabilities, while Scan converts hard-copy images to a digital format for DICOM storage and comparison viewing. Catella's archive has storage capability ranging from 500 MB to 95 TB, AMS said.
Array USA
Booth #4751
This digitizer manufacturer will discuss the latest release of its AutoFeeder feature, which allows users of the firm's 2905 laser film digitizer to scan bulk films or single sheets without attaching or detaching the feeder. New bypass features allow for quick feeding of single sheets, and occasional bulk-film users can attach Array's Trip Plate for autofeeding of quantity films, according to the Brentwood, NH-based firm.
Shipping now, the upgraded AutoFeeder also can scan 7 x 17-inch films and has improved reliability features, Array said. It's available to new and current 2905 users.
Array will also show off its DICOM Scan Pro print option, which creates duplicates of x-ray film. With the upgrade, 2905 can also be set up to function as an automatic duplicator, according to the company.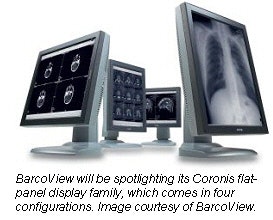 BarcoView
Booth #8523
BarcoView's Coronis flat-panel display line will highlight the Kortrijk, Belgium-based firm's exhibit this year. The gray-scale LCD family comes in one-megapixel, two-megapixel, three-megapixel, and five-megapixel configurations. The displays are bundled with a 10-bit graphics controller and the vendor's MediCal quality-assurance software.
BarcoView will also showcase MediCal Administrator, a client/server-based image quality management software package. MediCal Administrator is designed to manage soft-copy quality for a hospital's entire display base, according to the firm.
A digital lightbox system with resolution of 3078 x 2048 pixels, ImageTile supports enterprise-wide image distribution in a soft-copy reading environment, BarcoView said. It includes 20.8-inch portrait LCDs, 10-bit graphics controllers, and MediCal Pro QA management software.
Also on display will be BarcoView's MammoDesk and MammoMedis five-megapixel dedicated digital mammography offerings. The vendor will also unveil Medical Interlaced Video Display Module (MIVD) 1218.
A 18-inch, gray-scale landscape flat-panel display with resolution of 1280 x 1024, MIVD 1218 includes scan conversion functionality to convert imaging modality analog output signals to the panel's native resolution. BarcoView believes MIVD 1218 is particularly appropriate for legacy modalities that output interlaced video standards. MIVD 1218 will be released in December.
Cedara Software
Booth #8519
Cedara will showcase version 5.1 of its I-SoftView workstation. The new release includes HIPAA compliance features, advanced viewing protocols, and performance improvements such as the firm's SmartLoad image display.
With SmartLoad, relevant images (regardless of dataset size) can be displayed in an appropriate presentation in less than two seconds, according to the Mississauga, Ontario-based vendor. In other new features, Cedara has incorporated orthopedic tools and templates, as well as DICOM support for PET images.
A 3-D point-and-click classification option reduces the need for expensive CT or MR post-processing workstations, Cedara said. In conjunction with orthopedic tools and templates, the 3-D component allows orthopedic surgeons and specialists to plan surgical procedures in advance of the surgery, according to the firm.
Suitable for PACS installations of any size, I-SoftView 5.1 can run on Microsoft's Windows XP operating system, Cedara said. It's available now in the U.S. and the rest of the world.

In work-in-progress developments, Cedara will also discuss its plan to convert I-SoftView to a fully Internet-based application. This would allow users to gain access to I-SoftView functionality over the Internet, according to the vendor.
Cerner
Booth #8537
This healthcare information systems vendor will vault its ProVision Web browser-based report and image distribution application into the limelight. ProVision Web can be integrated with Cerner's Millennium software, enabling Cerner's FirstNet emergency information system or PowerChart electronic medical record to yield patient images, Cerner said.
ProVision Web comes with a suite of image analysis and manipulation capabilities, such as image layout tools, thumbnail views, zoom/magnification, and image compression, according to the Kansas City-based vendor.
It can be also be integrated with third-party PACS networks or deployed in a stand-alone configuration for sites without PACS, Cerner said. ProVision Web is available now throughout the world.
Codonics
Booth #3938
Codonics will be adding the GS and SF systems to its Horizon printing family this year. A gray-scale-only printer, GS can print on film and paper, in sizes ranging from 14 x 7 to 8 x 10 inches, according to the Middleburg Heights, OH-based firm. SF can print on all media, and is capable of handling small-format sizes. It can print in both color and gray-scale, Codonics said.
GS and SF will join CI in the firm's Horizon product line. Capable of printing in color and gray-scale on film and paper, CI can support sizes from 14 x 7 to 8 x 10 inches, Codonics said.
ComMedica
Booth #7063
London, U.K.-based information systems firm ComMedica will be emphasizing PACS teaching files developed in collaboration with the RSNA's Medical Image Resource Center (MIRC). When completed, the PACS teaching file module will be used alongside an image viewer and the firm's Patient Records Library System (PiRiLiS) electronic medical record.
ComMedica believes the offering will allow for the creation of a DICOM image database that can be accessed for teaching purposes and facilitating discussions of interesting radiology cases, according to the company. After a radiologist logs into PiRiLiS, he or she can search recent cases sent to the PiRiLiS server and save any cases to a separate database of PACS teaching files.
ComMedica's PACS customer the University of Southern California will be the first site to use the teaching-file module. ComMedica declined to estimate a commercial availability date.
Creative Computer Applications
Booth #2969
CCA will unveil Entera, an integrated RIS/PACS offering developed in collaboration with PACS firm eMed Technologies. Suitable for multispecialty clinics, hospitals, and imaging centers, the brokerless Entera combines imaging and information workflow into a single patient information database, according to the Calabasas, CA-based vendor. Entera will be available in the U.S. and the rest of the world in January 2003.
Data-Ray
Booth #3347
The Westminster, CO-based monitor manufacturer will be adding Precision 2 and 5 to its Precision LCD product line. Precision 2 is a 20.1-inch, analog and digital two-megapixel flat-panel display. Being able to operate with an analog system confers versatility to customers seeking a replacement for current 1200 x 1600-resolution CRTs, Data-Ray said.
Another entrant, Precision 5, is a 21.3-inch diagonal, five-megapixel LCD. Driven by a graphics controller, Precision 5 utilizes AMLCD technology and offers resolution of 2048 x 2560, Data-Ray said.
Data-Ray has also upgraded its Precision 1 one-megapixel grayscale LCD to include 1786 shades of gray. The company will add this feature as well to its Precision 3 three-megapixel flat-panel display, with availability scheduled for March. All of the firm's displays include Data-Ray's Dr. Kal calibration software.
Data Transfer
Booth #8933
Data Transfer will be highlighting its RadPro modular RIS. RadPro includes a number of features, including a ScanBio patient document-scanning module. A DataSafe capability provides real-time data backup, while a transcription module confers voice-recognition functionality. RadPro is available now.
The Thousand Oaks, CA-based vendor is also debuting SafeScriber, a transcription report management system. Available now, SafeScriber provides automatic merging of reports (without a header) to an examination record, and can interface to the firm's optional, two-way Webreport server, Data Transfer said.
Also new, the Webreport server allows radiologists to sign and send reports to SafeScriber or RadPro. Suitable for hospitals, imaging centers, and medical offices, the two-way Internet transcription and exam server is available now.
DeJarnette Research Systems
Booth #2932
Longtime PACS player DeJarnette will unwrap Migration DICOM Interface Gateway (MDIG), a device that connects old archives to new PACS networks. MDIG can perform DICOM query/retrieve functions to old archives, allowing for legacy images and reports to be migrated into a new DICOM PACS network, according to the Towson, MD-based vendor. Available now, MDIG is targeted at original equipment manufacturers and vendors.
DeJarnette will also debut the third version of its VisiShare multimodality diagnostic and clinical review workstation. A new relational database has been added for faster response time; new active worklists provide information such as the status of studies and whether they are being read. Pricing of the software-only VisiShare package begins at $400, and the product is available now, according to the company.
In work-in-progress developments, DeJarnette will display Breakaway, which allows CT exams of multiple anatomical regions to be split up into multiple studies according to a logical algorithm. For PACS networks, this will solve the problem of having to treat all of the images under one study accession number, DeJarnette said. Breakaway will be marketed to both OEM vendors and end users, and will be available in early 2003, DeJarnette said.
Another work-in-progress, TeleShare IQ version 2.1, confers improved navigation of images accessed over the Web, according to the vendor. TeleShare IQ 2.1 is a teleradiology system that includes both a traditional store and forward system and a Web server. Now available as a software-only package, TeleShare IQ 2.1 will be available to both OEM vendors and end users.
Dictaphone
Booth #4911
This speech recognition firm will point booth visitors to version 4.5 of its PowerScribe Workstation for Radiology software. Designed and built in a Web-based environment, the new release allows users to access the system from any location using a standard Web browser, according to the Stratford, CT-based firm. All client software is automatically downloaded and updated through the browser.
In other new enhancements, version 4.5 enables users to acoustically train individual words. It also includes an enhanced macro viewer, which allows for viewing, creating, and organizing of macros in a more streamlined fashion, Dictaphone said. PowerScribe 4.5 will be available in the U.S. and rest of the world in 2003.
Dictaphone will also showcase PowerMic USB, a speech recognition microphone that utilizes USB technology. By using standard USB technology, the microphone obviates the need for third-party sound cards, Dictaphone said. The microphone comes with ergonomic fingertip controls and an integrated laser scanner. PowerMic USB is shipping now to U.S. customers, with availability to international clients to follow in 2003.
DR Systems
Booth #6525
DR Systems will spotlight Web Dominator, a remote diagnostic reading station. With Web Dominator, radiologists can view cases remotely, interpret findings, and automatically mark the case as read at the host hospital or imaging center, according to the San Diego-based vendor.
An audio voice file can be attached to the case, as can a montage of key selected images. Web Dominator, which will be sold as a software license for home-only use, is scheduled for release in the U.S. in the second quarter of 2003.
Another new entrant, CD Ambassador, allows imaging facilities to provide patients or referring physicians with a CD including the patient's images and viewing software. CD Ambassador is available now.
Advanced Windows Catapult Technologist Workstation allows technologists to complete all required information and image management, document scanning, record editing, and advanced image processing while staying with the patient, according to the vendor.
The workstation's image-processing features include volume rendering, MIP, MPR, surface shading, virtual colonoscopy, color shading, 3-D, and tissue segmentation. Local storage information is possible, allowing for emergency back-up, according to the firm. The system will be available in the U.S. in the second quarter of 2003.
DR Systems has also upgraded its Instant Reporter application, adding integrated viewing of reports and browser-based reporting. Other enhancements include voice recognition, the ability to view external reports created outside of the DR PACS network, and new report template management. The new version is scheduled for release in the second quarter of 2003.
Eastman Kodak Health Imaging
Booth #1945
Kodak will emphasize its DirectView PACS family, a suite of products including hardware and software. The family includes diagnostic and clinical workstations, long-term and short-term archives, and a Web-based image distribution system.
Kodak representatives will also discuss the firm's Professional Services group, which offers services in project management, privacy and security, and network design, implementation, and support. The company's DryView laser imager family will also be demonstrated, according to the Rochester, NY-based vendor.
eDictation
Booth #1854
This structured reporting provider will be demonstrating several enhancements to its reporting system in its booth this year. Available now, Management Query System allows radiologists and practice managers to generate compliance reports, patient follow-up letters, market intelligence, and clinical research data, according to the Marlton, NJ-based firm.
Another addition called Advisor provides real-time advice to radiologists as they create reports. Technologist Workstation allows technologists to collect and record key clinical information without the use of paper forms, eDictation said. Advisor and Technologist Workstation will be available in the U.S. beginning in December.
Emageon
Booth #2158
Emageon will be highlighting the commercial availability of the IHE Year 4 framework in its medical image management software. The Birmingham, AL-based firm's software will also be running a fault-tolerant clustered archive in its booth, Emageon said.
The archive will showcase open systems integration and advanced visualization, with workstations offered by several third-party companies, as well as IBM's new nine-megapixel color display unit, according to the firm. Educational presentations on topics such as the digital image value chain, high-availability architecture, and adoption success management will also be presented in the vendor's booth.
EMC
Booth #4135
EMC will focus attention on its Centera software-driven network storage architecture, which provides what the firm calls content-addressed storage (CAS). Designed to address the information storage requirements of fixed content such as medical images, Centera does not employ traditional location-based addressing methods of storing data, which involve assigning a specific path to a physical location on the storage system every time an item is stored, EMC said.
Instead, Centera creates a 27-character digital signature for the object. This signature, which is based on the content itself, serves as the object's address, according to the Hopkinton, MA-based firm.
EMC believes this approach yields guaranteed long-term content authenticity as well as nondisruptive scalability and flat management overhead. Centera was released in April.
eMed Technologies
Booth #2921
eMed will shine the spotlight on Entera, an integrated RIS/PACS network developed in collaboration with IS firm Creative Computer Applications. Entera automates processes at every point of care, including scheduling, image acquisition, diagnostic reading, and delivery of results, according to eMed of Lexington, MA.
Driven by a single patient information database, the brokerless RIS/PACS offering includes Web-based scheduling and results distribution, eMed said. Entera is designed with imaging centers and smaller hospital enterprises in mind, and will be available in the first quarter of 2003.
eRad/Image Medical
Booth #1505
This Allentown, PA-based PACS firm will showcase new enhancements to its Practice Builder 1-2-3 offering. Customers will now have the option to use either a native or brokered HL7 interface, and enjoy benefits such as support for additional study management DICOM service/object pair (SOP) classes.
In addition, users will be able to receive and update procedure orders, and take advantage of automatic retrieval of prior exams based on scheduled orders, according to eRad/Image Medical. Bi-directional exchange of reports is possible, as is exam prioritization.
The system will also provide automatic correction of inconsistent patient and study demographic information, as well as customizable graphical user interface terminology to make PracticeBuilder consistent with terms used in the HIS or RIS, the company said.
PracticeBuilder will support Linux-based servers, as well as Windows (98 or later), Macintosh, Unix, or other browser-based workstations, according to the firm. The system can now also deliver diagnostic quality images to all enterprise users via any speed TCP/IP network. eRad/Image Medical plans to release the new version worldwide in early first quarter.
Go to page:
AETmed to eRad/Image Medical
Ferrania to Misys
NAI to StorComm
TeraMedica to Ximis