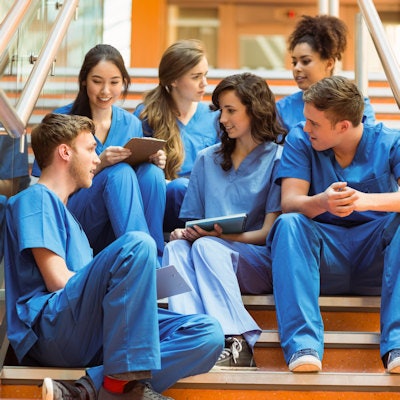 AI's impact on radiology is prompting concern, especially among medical students, according to research published June 20 in Academic Radiology.
A team led by Amir Hassankhani, MD, of the University of Southern California in Los Angeles, conducted a literature review and found that more than a third of medical students expressed anxiety about the effect of AI on radiology -- a statistic that prompts a number of important questions.
"As AI continues to advance and gain traction in the field of radiology, there is a need to understand how medical students and radiology trainees perceive and respond to these changes," the group noted. "Are they still as attracted to radiology as a specialty in the era of AI? Do they view AI as an opportunity or a threat to the field of radiology? What are their expectations and concerns regarding the integration of AI in radiology practice?"
To address these questions, the authors conducted a literature review, searching PubMed, Scopus, and Web of Science for research on AI and student, resident, and attending perceptions of it on March 5, 2023. In the end, the review consisted of 21 studies.
Out of the overall, pooled participant cohort across the 21 studies, 22.4% of respondents stated they were less likely to choose radiology as a career because of AI concerns. Medical students reported higher levels of concern about AI and radiology compared with residents and attendings. Yet the review also found that 79% of the pooled participant cohort believed that "AI will revolutionize radiology in the future," the group noted.
Medical student and radiology resident/attending radiologist perceptions about AI
Factor
Medical students
Radiology residents and attendings
Level of concern about AI
32%
9%
Level of basic knowledge of AI
35%
72%
Belief that AI threatens the job market
43%
6%
Belief that AI training should be included in medical curricula
70%
82%
It's possible that the higher levels of concern among medical students regarding AI in radiology could be due to a lack of knowledge about it, the team wrote.
"The heightened concerns expressed by medical students compared to radiology trainees and radiologists regarding the impact of AI on their decision to choose radiology as a medical specialty could be attributed to their limited exposure and experience in the field," the group noted. "Medical students are still in the early stages of their medical education and may lack a comprehensive understanding of the practical applications and limitations of AI in radiology. As a result, they may perceive AI as a disruptive force that could potentially threaten their future career prospects, leading to higher levels of concerns."
How can these concerns be addressed? Hassankhani and colleagues suggested the following:
Overhaul AI education for medical students, making it thorough and accessible.
Offer direct AI experience through using the technology in clinical workflows.
Be clear about AI's limitations and test them with clinical trials.
Train students on possible medico-legal issues prompted by AI.
"By implementing these recommendations, the field of radiology may better prepare for the integration of AI, ensuring that radiologists and other practitioners have a positive outlook and a realistic understanding of its impact," the group concluded.
The complete study can be found here.