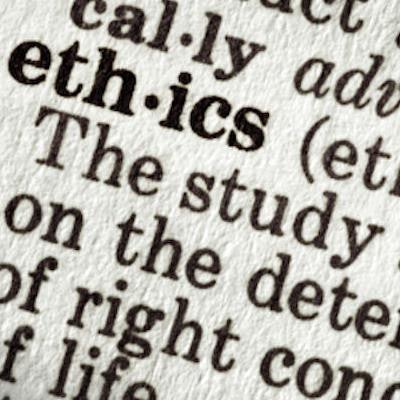 The rapid development of artificial intelligence (AI) technology for radiology applications has led to concerns over how to ensure its safe and appropriate use. In response, seven prominent radiology and imaging informatics societies in North America and Europe have teamed up to draft a statement on the ethics of AI.
The 34-page document -- jointly authored by the American College of Radiology (ACR), RSNA, European Society of Radiology, Society for Imaging Informatics in Medicine, European Society of Medical Imaging Informatics, Canadian Association of Radiologists, and the American Association of Physicists in Medicine -- discusses in detail the ethical issues arising from three main AI topics: data, algorithms and trained models, and practice.
"Establishing these regulations, standards, and codes of conduct to produce ethical AI will need to balance the issues with appropriate moral concern," the societies stated.
With the new statement, the societies aim to foster trust that radiology AI will do the right thing for patients and the community. The groups also said they would like to see these ethical aspirations applied to all aspects of AI in radiology.
"To encourage research on these topics, we describe ethical issues associated with designing and using autonomous and intelligent systems in radiology for the greater good of patients, understanding how they work, and avoiding harm by their use," the societies wrote. "To a lesser extent, we examine objectives for regulations and codes of conduct for this field, and illustrate the medical, cultural, and commercial factors which affect the confluence of AI, radiology, and ethics."
The radiology community has a duty to actively pursue AI and use it to improve the specialty. But radiology also must monitor the technology for any unintended consequences that would detract radiologists from providing the best patient care, according to the societies.
"New ethical issues will appear rapidly and regularly, and our appreciation of them will change over time," they continued. "Thus, while it is important to consider the ethics of AI in radiology now, it will be important to reassess the topic repeatedly as our understanding of its impact and potential grows."
The societies note that an ethical framework is needed to help steer AI technological development, influence how different stakeholders respond to and use AI, and implement these tools to make the best decisions for and with patients.
"Because some AI models are relatively easy to build and train, research and commercial AI-powered solutions are being produced by a large number of sometimes naive or unprofessional actors," the societies cautioned. "This increases the importance of extending existing ethical codes in medicine, statistics, and computer science to consider situations specific to radiology."
The draft guidance can be downloaded from the ACR Data Science Institute. The societies will accept comments on the statement until April 7. A final statement is then expected to be released within six months.